Darren Marks and his boys introduce some friends to hunting while thinning out some ferals to do their bit.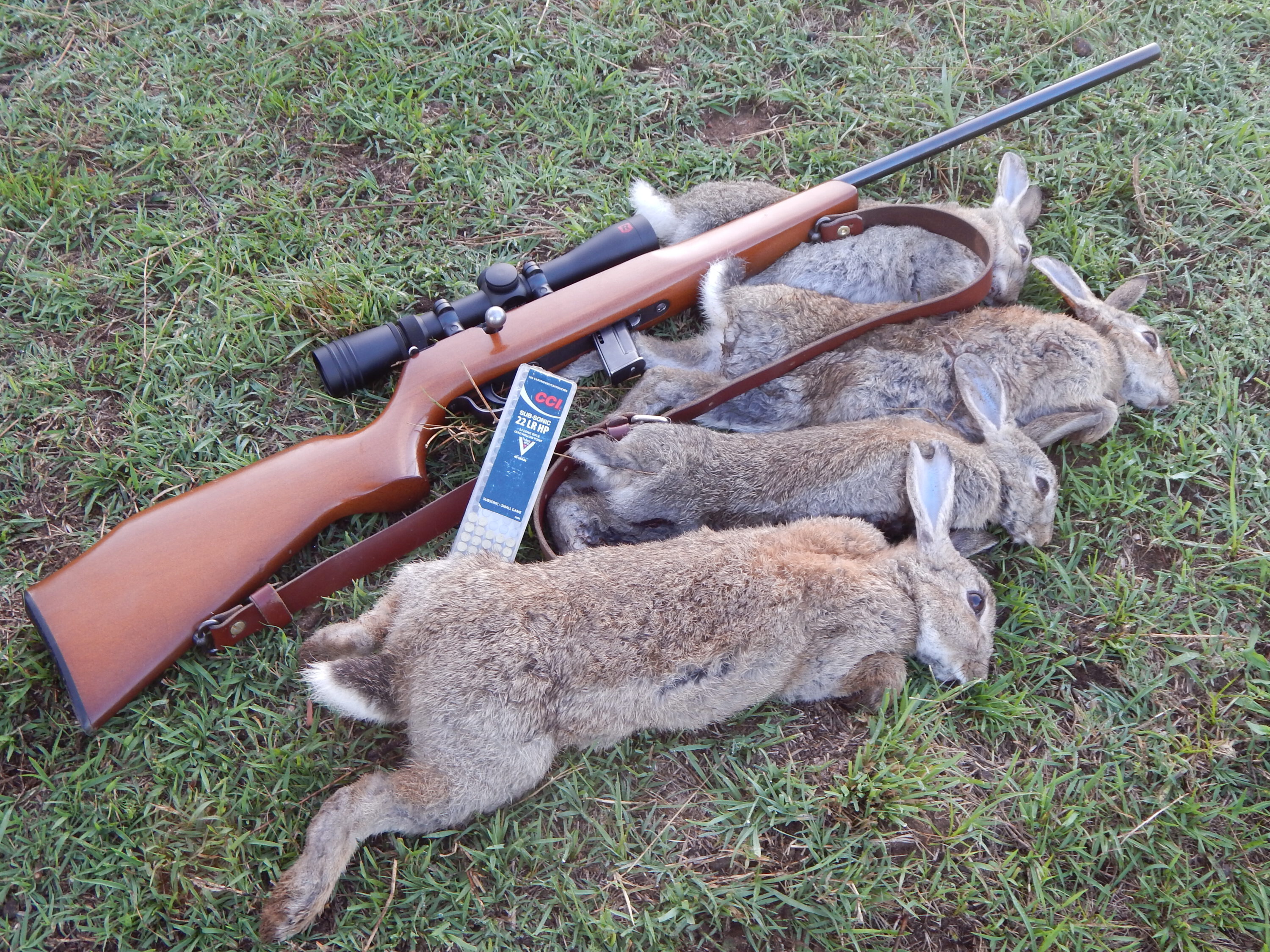 1. A brace-plus of coneys destined to feed the property owner's new pups. It's great to help out graziers for the privilege of hunting on their land.
If you have been hunting for a while, the excitement and enjoyment is always there. If it wasn't, we'd stop doing it and find another pastime. But who can remember the magic of their first hunting trip.
I remember mine and the waiting and anticipation was almost unbearable as a young fella. It was with these thoughts in mind that I drove west to the farm where I would be spending the next few days with my two sons, Damon and Jacob. The boys are both old hands by now at hunting, but we were going to have a couple of guests along on this trip. My mate Ric and his son Josh were meeting us at the farm for their first-ever hunting trip. Ric was keen to give camping and hunting a try but I think Josh had a few reservations. I was confident that once he saw what it was all about and experienced the fun and excitement of hunting and camping he'd be hooked.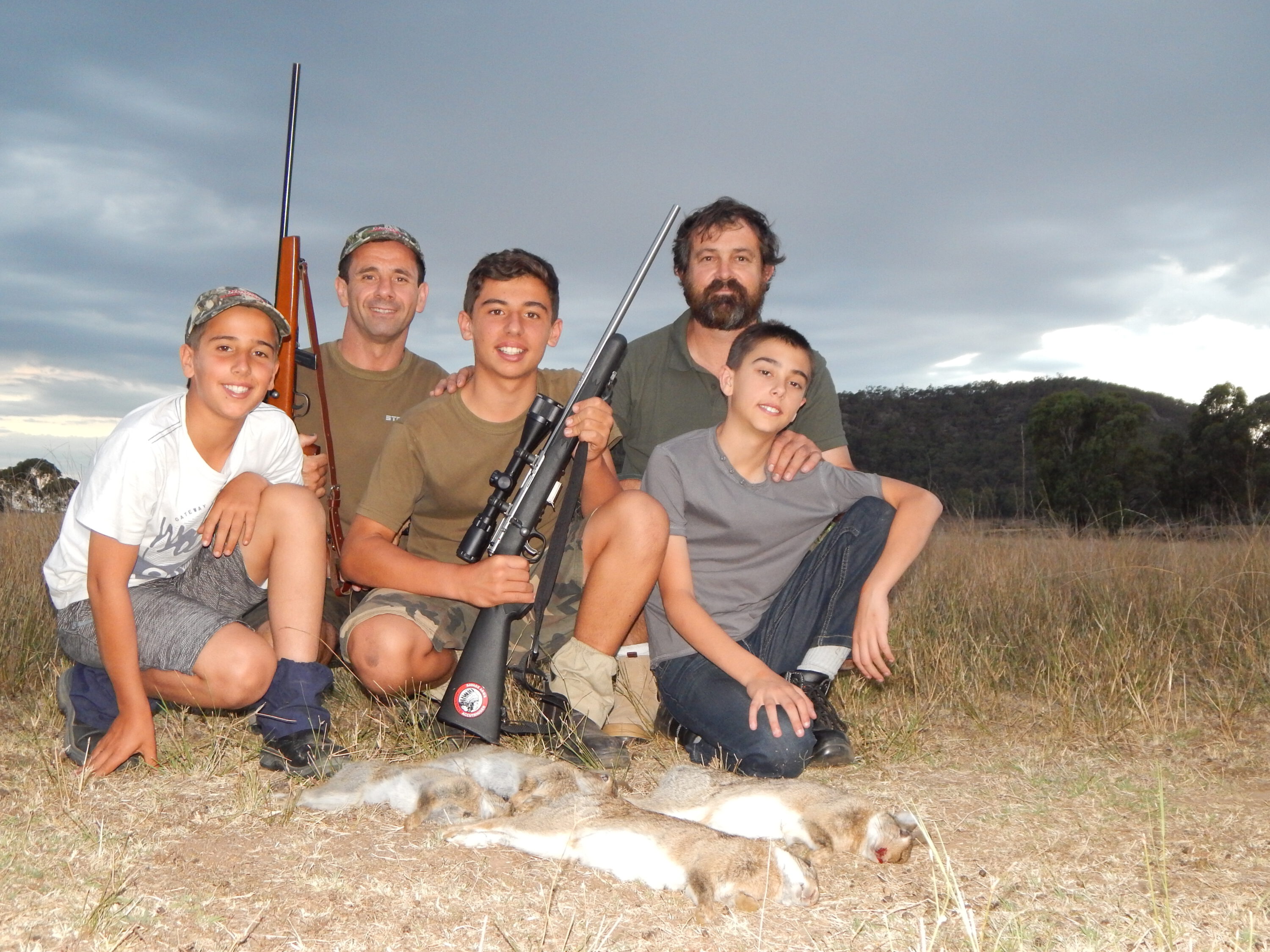 Ric and Josh arrived in the afternoon and after a barbeque dinner we got the hunting gear sorted and headed to the rabbit patch. I had my .22 loaded with subsonics and Damon was carrying his Savage .17 HMR so we had the close and long shots covered. Finding a good position overlooking the warren, we waited for the first bunnies to pop their heads out. Before long a healthy looking specimen hopped out of his hole and started feeding. Damon was up first, and lining him up in the Bushnell scope he let a shot go. The rabbit never even heard the shot as he rolled over. No more appeared for a while so we moved along the creek to a new position. Suddenly, the boys spotted a bunny half hidden behind a tussock and it was my turn for a shot. He was a good 100 metres away so I opted for the little Savage to do the job. Settling down behind the stock I cranked the scope to 12x and sought out my intended prey. There he was, nibbling on some grass with his back towards me.
Quartering his chest with the reticle, I squeezed off the shot. The tiny 17grain bullet flew out over the creek and hit him hard, knocking him straight down. We stayed in this spot for another ten minutes and collected a few more, then the boys couldn't wait to go down the hill and grab our prizes. After a quick photo session we took the rabbits to our host. She was glad to have a few rabbits as she had some new pups that needed feeding. It's great to be able to help out in some small way to show our appreciation for being able to hunt on her property.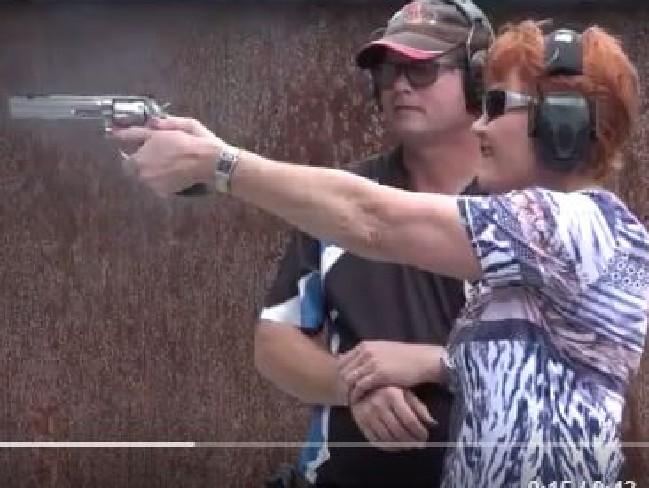 We headed back to camp and prepared for a night of spotlighting. Ric and Josh were really excited as these were all new experiences for them. For me, I was glad to be able to bring them out there so that they could share some quality time together doing something that they enjoyed. We rolled out of camp with Ric and Damon in the cab while I was up on the back with Jacob and Josh. I brought along my Ruger .223 and Damons little .17 was strapped into a rack on the back of the Rodeo. I made the rack so that we could always have a rimfire handy for any rabbits we came across. It wasn't long until we spotted a bunny, so I grabbed the .17 HMR and knocked it straight down.
As we headed over to the back of the property a pair of eyes were spotted down the hill and across the creek not far from our afternoon rabbit hunting spot. There were some sheep in this paddock so we had to be certain it was a fox before firing. Sure enough, a check through the scope confirmed it was a young redcoat prowling among the high reeds. He was a good 150 metres away but Jacob made no mistake, dropping him on the spot with a well aimed shot from the .223. We continued on over the hill into the next paddock and another pair of eyes lit up in the beam of the spotlight. Shutting off lights and engine immediately, Damon got the Scotch predator caller going out of the drivers window.
After about fifteen seconds Jacob flicked the spotty back on and a young fox pup was closing in on the sound. He was large in the scope as I aimed the Ruger. "Boom" went the shot and the pup never felt a thing as the 55 grain projectile hit him squarely. He hadn't long been out of the den and still had the cute puppy characteristics, but within a few months he would have become an efficient killing machine that wouldn't discriminate between domestic stock and native species so it was the only acceptable outcome. After a while things started to slow down so we headed to camp for a hot cuppa and some cake. Ric and Josh had both enjoyed it and we sat around the table chatting for a while before hitting the camp beds.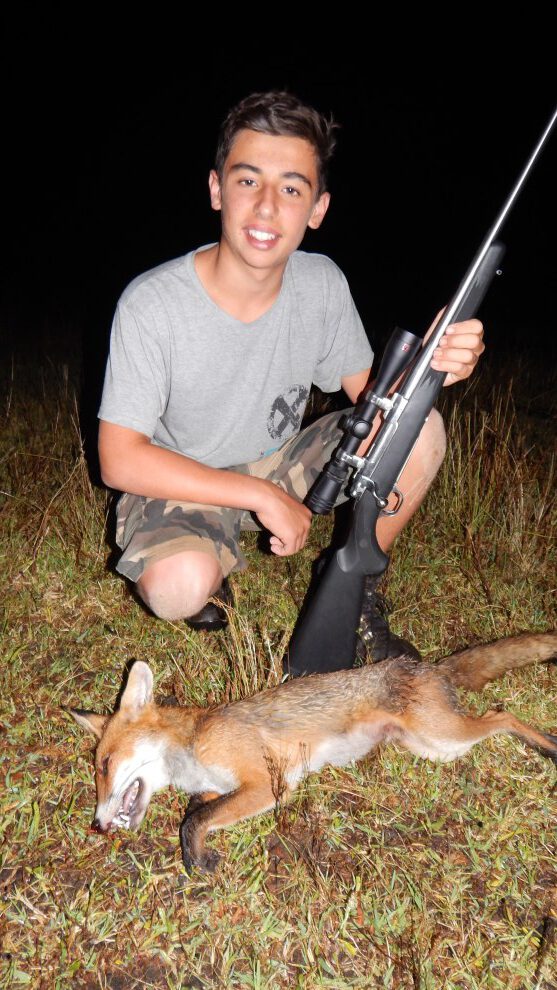 My alarm started buzzing at 5am and there were some groggy looking young blokes that I had to rouse from their slumber for the morning hunt. A quick cuppa and away we went to see if we could find a few more bunnies. The sun was just peeping over the mountains heralding the start of a beautiful summer day and after carefully crossing a fence, observing the correct safe method, we stalked along between the tussocks, alert for any rabbits having breakfast before returning to their burrows to sleep during the heat of the day. As we rounded a bend in the track, a rabbit sat upright to stare at us from 30m away. "Crack" went the .22 and down he went. It was hard going walking among the waist high thistles getting constantly spiked but we managed to collect two more before heading back to camp.
After breakfast we all headed down to the dam to spend an enjoyable day swimming and relaxing in the shade of a handy tree growing next to the water. Finally it was time for Ric and Josh to depart due to work commitments. They both had enjoyed themselves immensely and said they couldn't wait to do it again.
The boys and I had a delicious feed of curried sausages with mashed potatoes out of my Billyboil cooker before going for a walk with the .223 and a Foxpro electronic predator caller that I had for evaluation. With dusk already falling we sat ourselves down at the bottom of the dam wall and I started the caller. It's rendition of a distressed rabbit floated along the valley as darkness rapidly closed in. I flicked on my Eagletac LED torch and spotted a pair of eyes straight away about 500m out, so I extinguished the light and continued the calling. I gave it a little while then checked again and a young fox was within 80m and eagerly closing the gap to us. He paused at 40m and Damon took him cleanly with a head shot. "Got him!" I cheered, well pleased with Damon's shot. It doesn't matter how many times we do it, I still get excited when we nail a fox that we have tricked into coming to us.
After getting some photos we got organised for a spotlighting session. I was really keen to use my latest toy, a GRS stocked Howa in the brilliant .204 Ruger calibre. Topped with a 6-18×44 scope with an illuminated dot reticle it's the perfect medicine for foxes.
Things started out very quiet until a young male fox popped his head up out of the long grass. Almost as soon as we stopped the .223 sent it's report echoing off the hills as the juvenile reynard bit the dust. Then it was my turn so after quickly swapping the bipod over to my Howa we were away.
As we entered the road paddock a suspicious looking pair of eyes lit up near the boundary fence. He was a long way out but I didn't get a .204 to take all the easy shots and this rifle shoots like a house on fire. Close the bolt, light the red dot and snuggle in to the GRS stock. Wait for him to stop, squeeze and "Boom!" the little 40 grain V-Max pill left the barrel at nearly 4000 feet per second and went screaming out across the plain. The satisfying thump of a solid hit drifted back to me. Time was getting on so we called it a night and headed for camp.
Next morning was our last day so we were up early for one final hunt. Numerous stands were tried as we attempted to call in another fox but they just weren't interested. As we got to the bottom of the steep hill behind camp, I spotted a lone bunny sitting next to his hole, clearly deciding whether or not to bolt down it. Lining him up with the .22 I put a subsonic round into his chest cavity from about 35 metres, dropping him on the spot.
The time had come to head home so after packing up and making sure we had left the campsite as we found it we paid a quick visit to our host to thank her for the privilege of hunting on her land.
It capped off a great trip for me and was a fitting ending to our time away. We had managed to clean up quite a few destructive ferals as well as enjoying some great bonding time together and as a bonus, had introduced some newbies to the sport who had enjoyed the experience enough to enquire when we might be going again. With a little help and guidance from the boys and I, we may have swelled the ranks of responsible shooters and hunters by two more. I'm certain we'll all spend more time together in the beautiful Aussie bush.