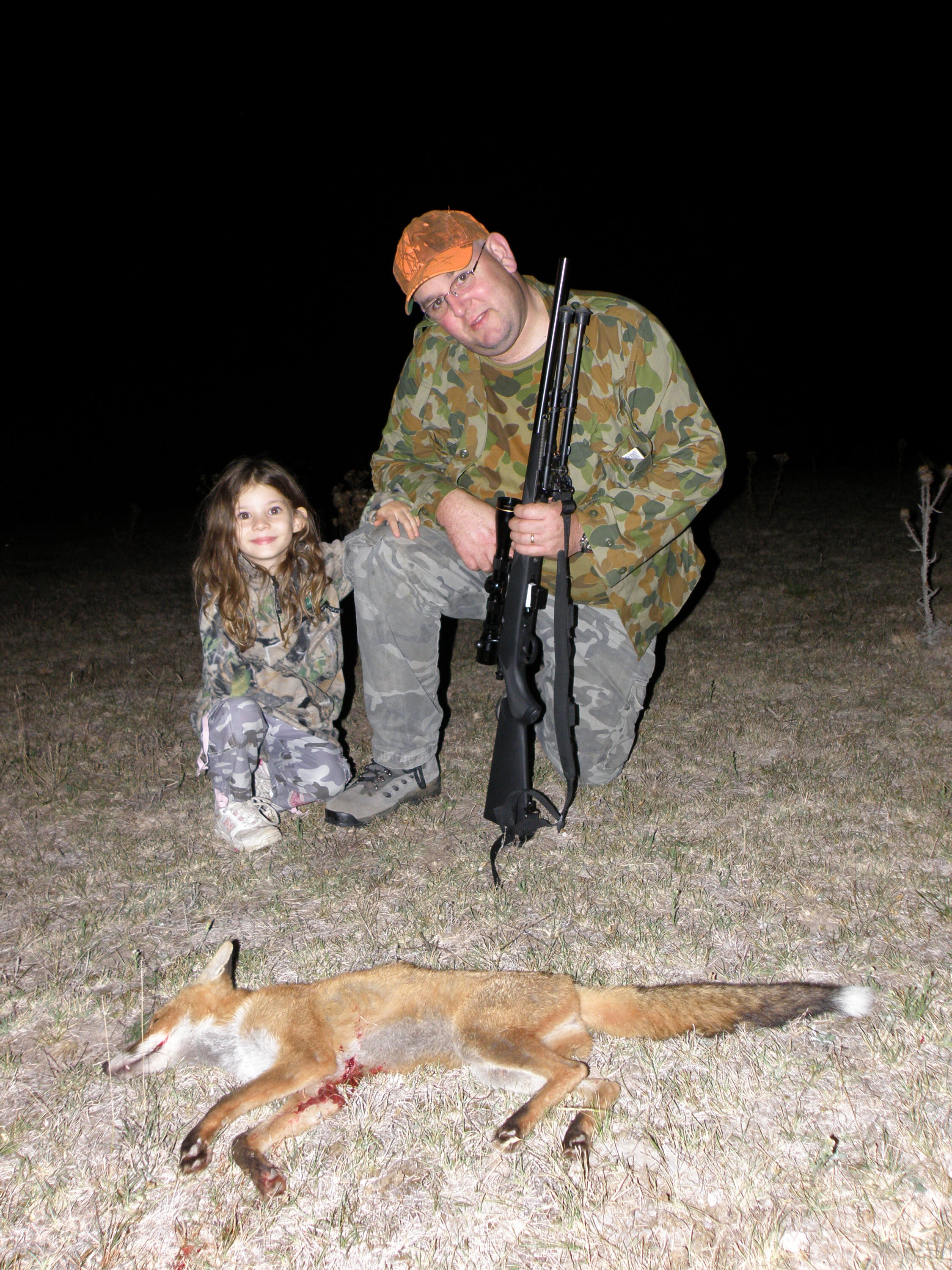 Ricky Howell documented his daughter's development into a serious hunter from well before she could touch a firearm.
It must have started when Georgia was 4 or 5. Georgia would often help my Father and I when we were reloading by cleaning cases or operating the press. I was also a Range Officer at my local rifle range and there were more than a few nights when my wife was out and I could not find a babysitter so I had no choice but to take Georgia along with me to range. Georgia soon became a hit with the members and would do her best to call out the range open and range closed commands. Georgia would help people clean up their .22LR brass cases much to my wife's displeasure as the cases would often end up in the washing machine.
Georgia's first hunting trip was in 2009 at the age of 6. A good friend of mine Andrew invited us out to a property he had access to for an afternoon walk and spotlighting session. My wife reluctantly agreed, but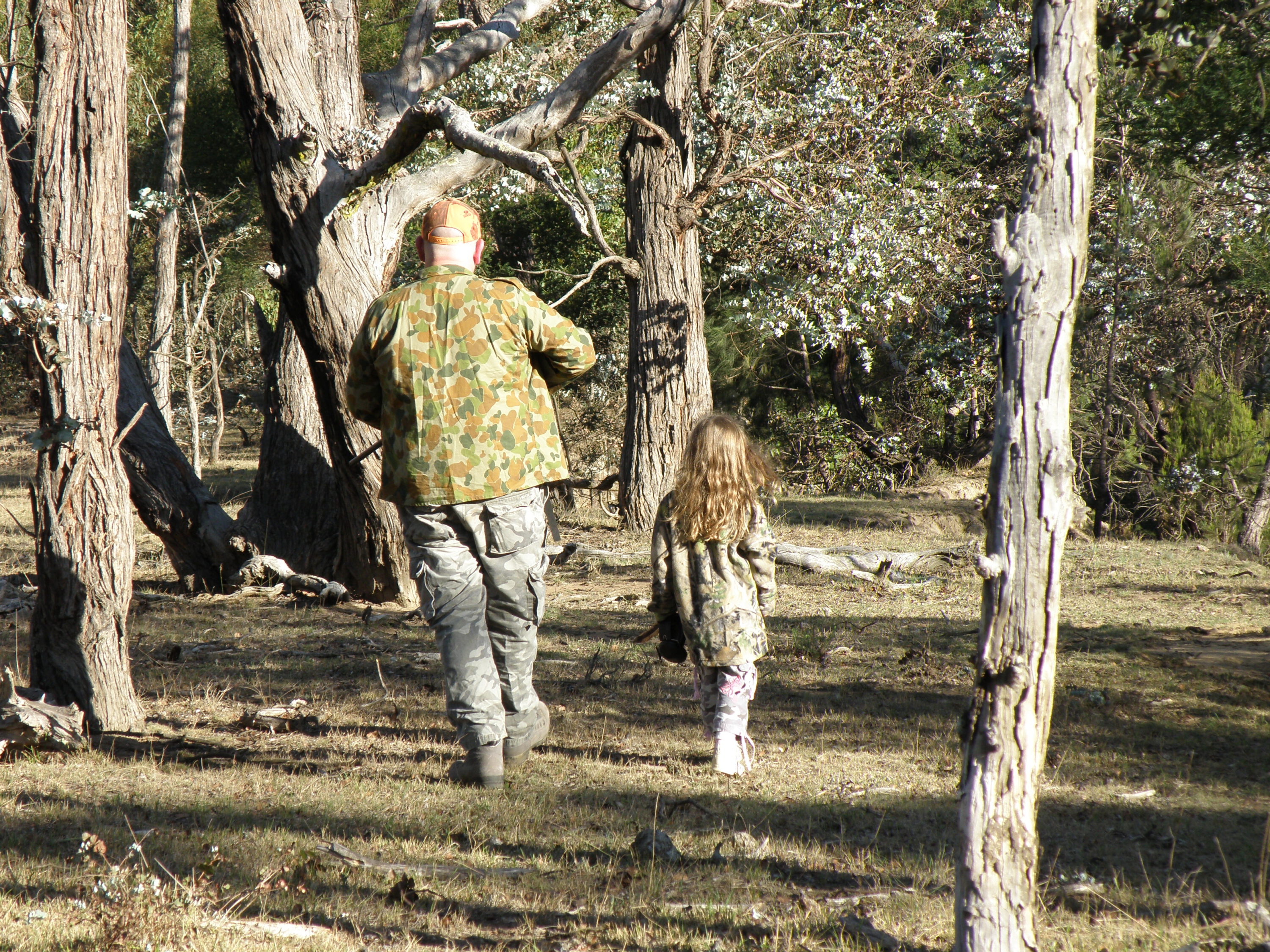 assumed Georgia would not enjoy it and would never go again,… was she so wrong! Georgia had a great time, Andrew and I showed her the importance of being quiet and safe when hunting and using firearms.
During this trip we came across a skull of Fox that Andrew had shot on a previous hunt there, Georgia took it as a memento of her first hunt and then took it to school for "Show & Tell". My Wife emphatically told me that I would be answering any calls received from the school, but none were ever received. Later in the year Georgia's teacher told me the Fox skull was a good change from the usual here is my dolly or here is my toy car that get paraded every Show & Tell.
Georgia would often accompany me on hunts whether it be on afternoon bunny busting with Andrew, or a couple of nights under the stars camping in a State Forest, or to a farm where I have access to. Georgia was always keen to come along and would often get upset when I could not take her with me. Things started to get serious when Georgia turned 10 as she wanted to shoot as well. I repeatedly told Georgia that she had to wait until her 12th Birthday before she could get her Juniors Permit. At the time we had started to do some big hunts out west chasing pigs and goats and all Georgia could do was follow and watch, or sit in the back of the AWD when we were out throwing a light around.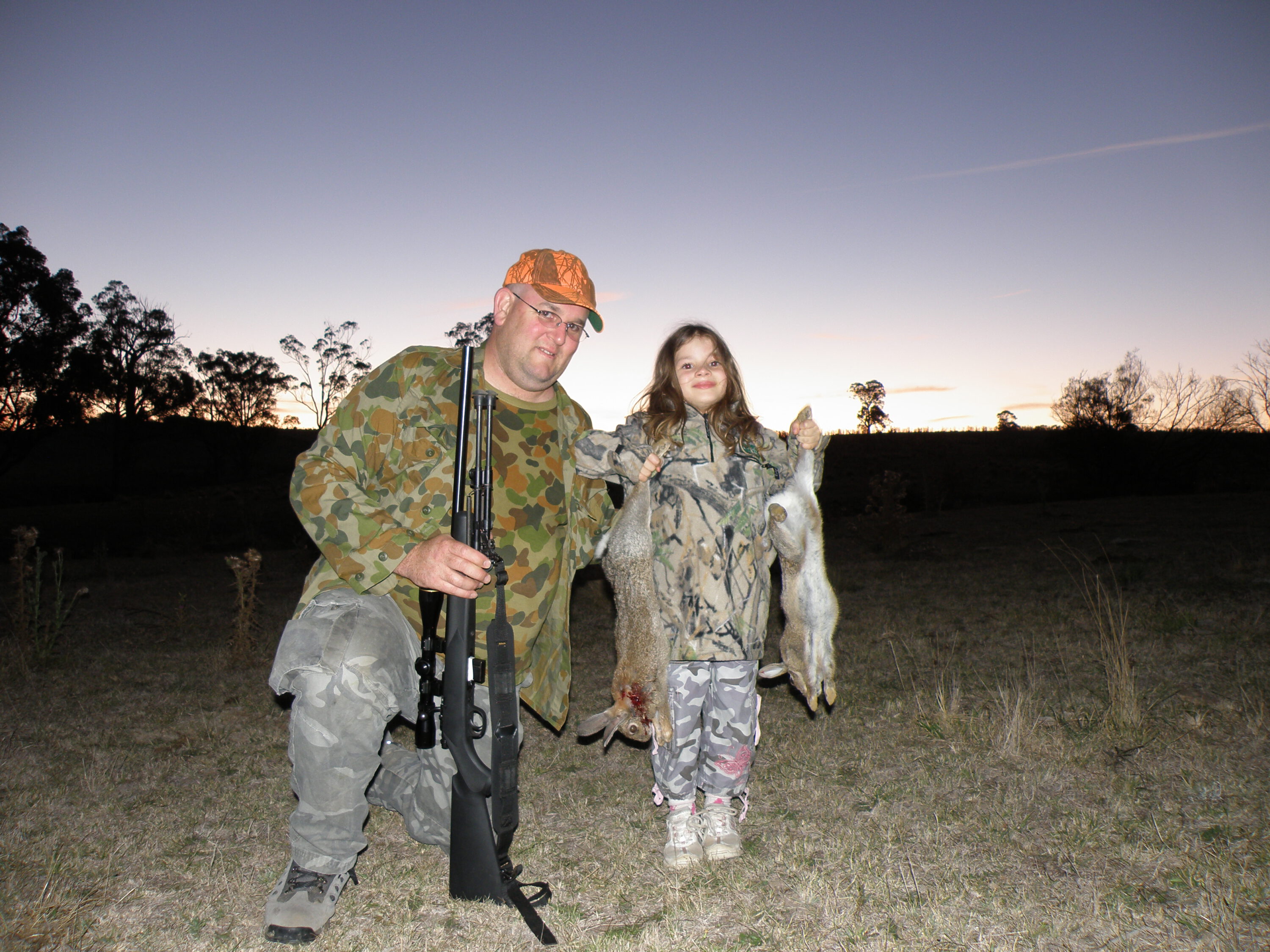 Part 2 – Georgia learns how to use the fox whistle
I had been playing with a Tenterfield whistle for a while and finally managed to get it to make a decent squeal as opposed to a lot of spit and no sound. I would practise in the car with my girls driving them nuts. Occasionally Georgia would try blowing it, but with no tips on how to I was in the clear.
While we were driving down the highway to go hunting Foxes with Andrew I was doing a little practice on the Tenterfield when Georgia asked if I could teach her how to use it. I explained what she needed to do and within 5 minutes she was piercing my eardrums and saying, "how do you like the payback Dad!!!"
We arrived at Andrew's place where Georgia took great delight in showing off her newly learnt skills. Andrew was embarrassed as he has never been able to master the Tenterfield. We loaded our gear and we set off on the short drive to the gates of the property for our hunt.
That afternoon we hunted bunnies along the hillside with the 22LR and Hornet. After the sun went down we had a bite to eat and Andrew set up the spotlight ready for the night.
Georgia's first night on the whistle was a great night. Not long after starting we caught a glimpse of a couple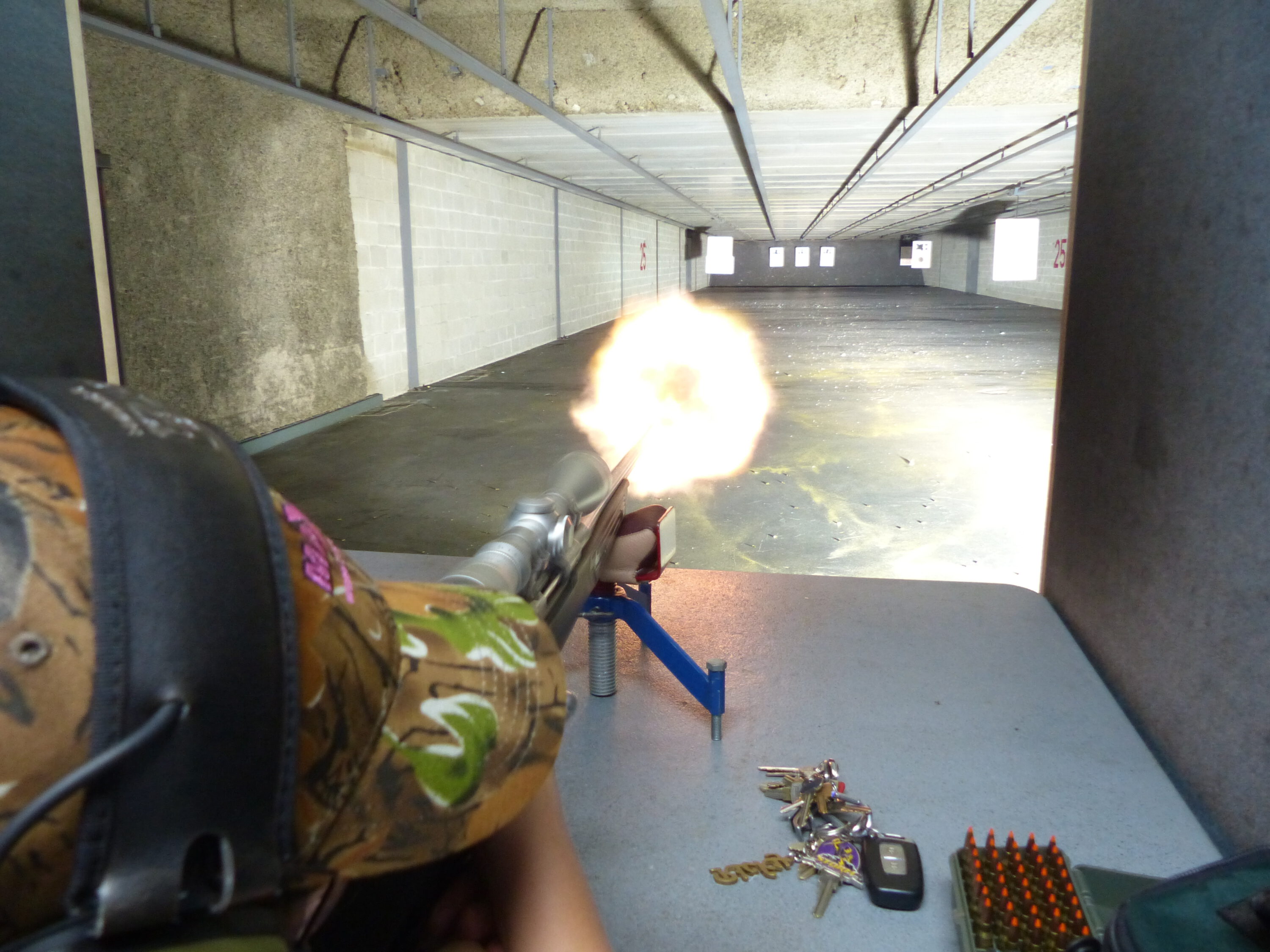 of Foxes on the prowl. Georgia hit the whistle and before we knew it we had three foxes coming towards us at speed and I managed to get two of them. Georgia blew the whistle again and another Fox appeared but would not come out of the timber. I held off shooting it and decided that that was it. Starting the AWD back up, Andrew swung the light around to see another fox sitting only 50m from us. Over the course of the night several Foxes fell to the combination of my .204 and Georgia on the whistle.
Part 3 – Georgia meets the Silva Fox!!!
In February 2014, I decided to head to Bendigo for the Wild Deer Expo which was also Georgia's 11thBirthday. To say Georgia did not play the "it's my Birthday today" card would be a lie. Through the entry gates we were greeted by the Victorian SFP who tried to sign me up. I explained to them I was a NSW SFP member and had been for several years. However, that did not stop Georgia from scoring a free Tenterfield with the "it's my Birthday today" line.
We started to look around and Georgia hears another person on a whistle which turns out to be the Old Silva Fox Ron, so we make our way to his booth. Georgia shows Ron her new Tenterfield and blows it, then proceeds to tell Ron how I taught her and how well she had done on the foxes on her first time out! Ron congratulated Georgia, smiled and said to her "have you tried one of mine?" and passed her a Silva Fox Whistle, Georgia blew it straight away no problems at all. By the look on Ron's face he was very impressed. Georgia tells me this new whistle is better and "it's my Birthday". After a bit of a haggling by Georgia, I parted with my cash and she has a new Silva whistle.
We continue around the Expo, and as you do would double back here and there so I can get a better look at some of the stalls. Every time we passed Ron, he would call her over and ask her to show people how easy it was to blow the Silva Whistles. Ron would tell everyone there that Georgia had only picked it up that morning. This continued over the day and I was glad when we left as my ears were ringing.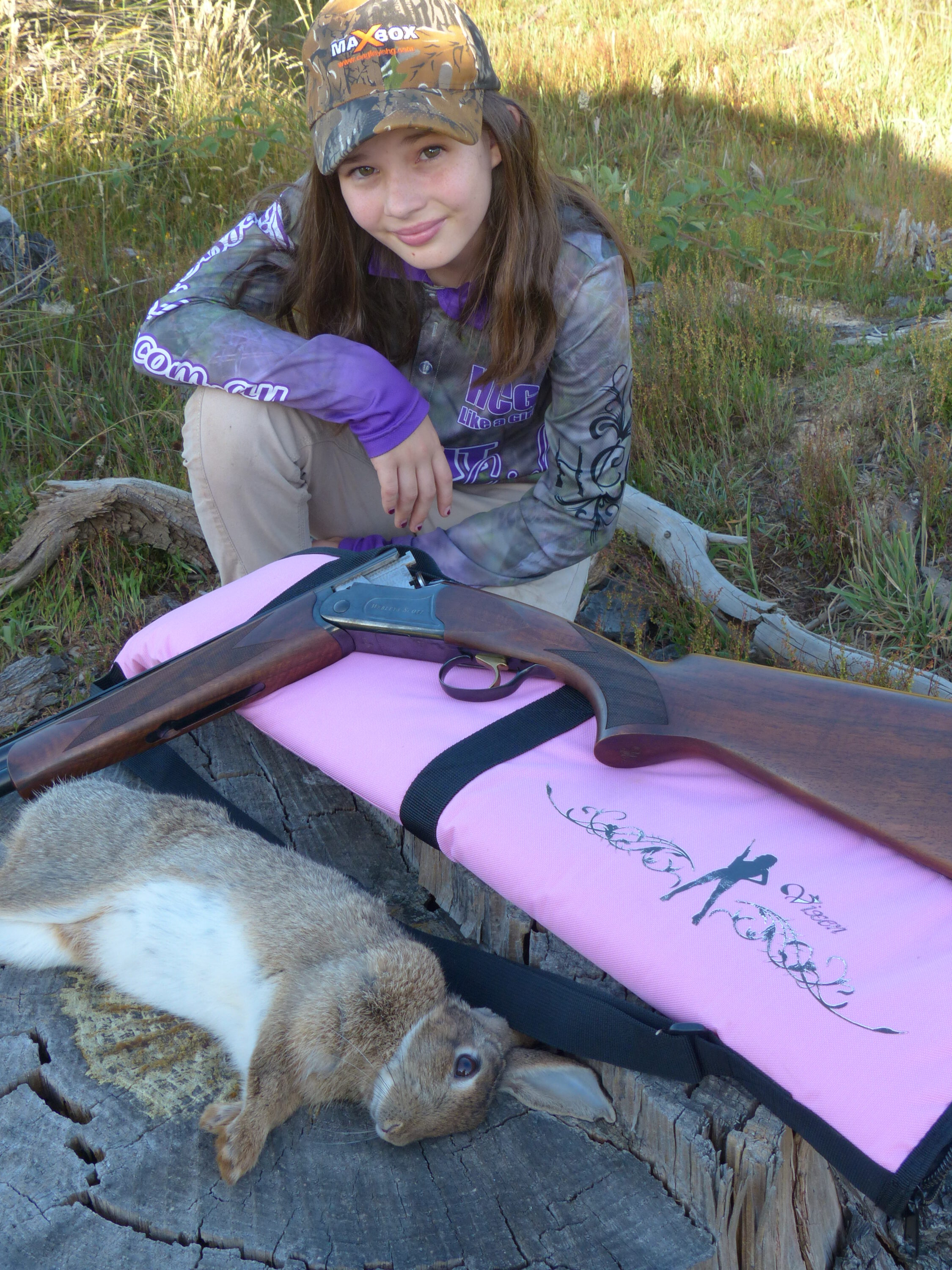 Part 4 – Lets go to the show Dad
Fast forward a few months and we attend the Sydney Shot Show and bumped into the guys from Eagleye Hunting who were selling the Silva whistles. Steve remembered Georgia from the Wild Deer Expo and started to chat with her about how she is going etc. Steve then sees a few people looking at the Silva whistles. Georgia asks Steve if she can show people how to blow it. Steve was more than happy to oblige her and before long Georgia informs me that she is going to stay and help out on the stand!
After a couple of hours we had to leave, but before we go Steve asks if we were going to the ASHOE show in Tamworth that Ron was organising to which I replied "I'll have to check it out".
I soon find myself driving Georgia north to Tamworth to help out at the ASHOE where she spent the weekend showing her whistling abilities to visitors of the show of both the Silva Whistle and the new Mini version Ron had presented her with on arrival at the show.
Part 5 – 12th Birthday and Beyond…
After counting down years, months and days Georgia's 12th Birthday finally arrives. Subsequently, I make all the necessary calls and get her Junior Permit application forms and book her in for the firearms safety test as a Birthday present. Georgia passed the test no problems then mailed all her forms to Firearms Registry. Georgia counted the days until her permit arrived, which made for a very happy girl when the postman delivered it. Georgia also done the DPI R-Licence test so that she could now come along on hunts into forest with me as a hunter not just a passenger.
We recently travelled to Melbourne for the Shot Show where Georgia helped out the Eagleye Hunting team again with the Silva whistles. Yes, we are planning on heading to Tamworth for this year's ASHOE show as well.
Recently, I have bought Georgia a Ruger Hawkeye .204 that she can use whist out in the field with me. Once confident, I also have for Georgia a Ruger American 7mm-08 for her first Deer. Georgia tried my 20 gauge O/U and shot a rabbit with it, but found it a tad punchy. I have Georgia practicing at the range regularly with the .22LR and .204 showing more confidence. Georgia will be out in the field again very soon as we head west for a school holidays hunting trip, so stay tuned for more…