Steven Spiekman relates his own experience with the most prolific "Big 7".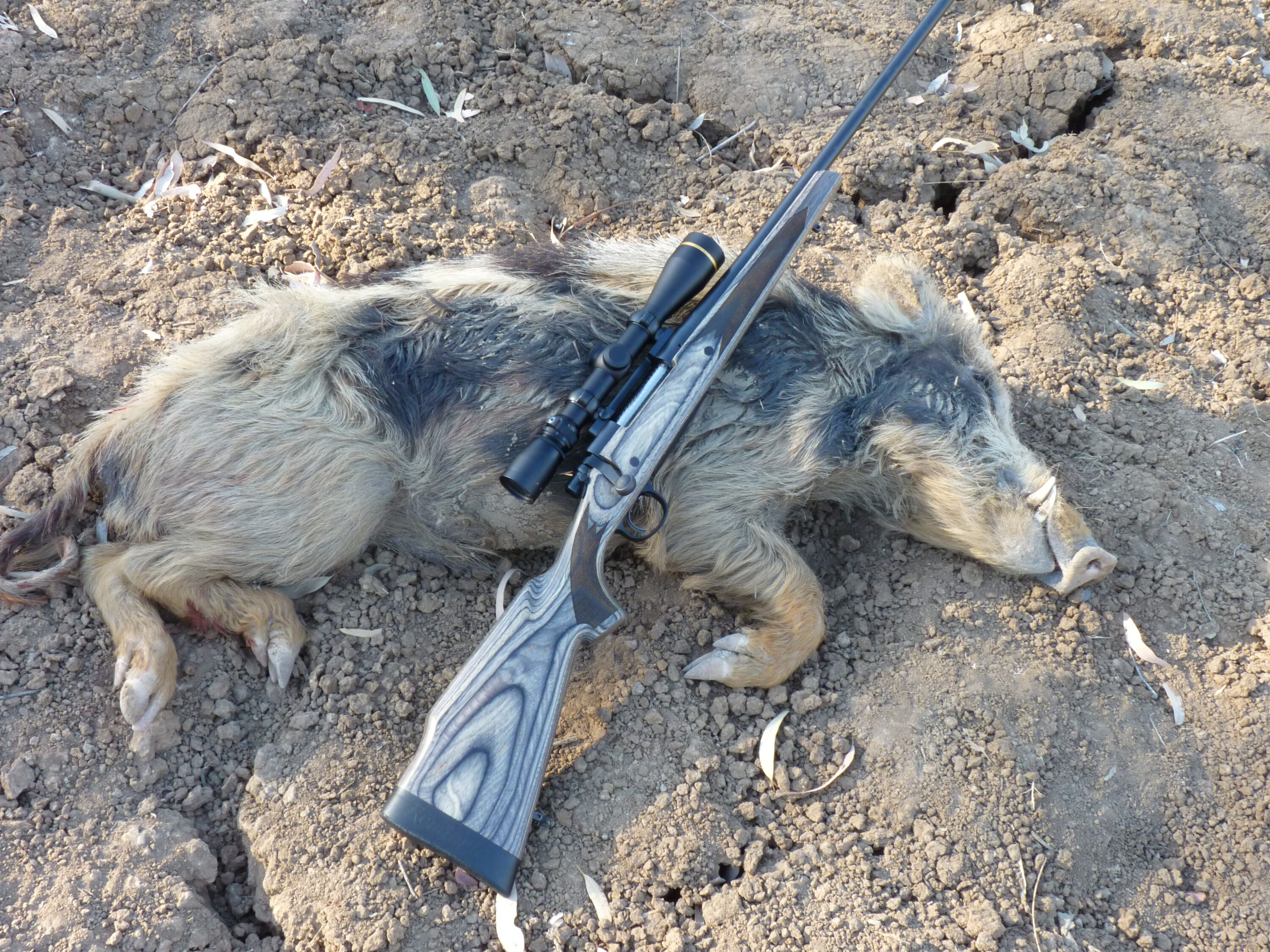 Any excuse to buy a new rifle is a good one, and with my well worn Ruger M77 .280 Remington starting to lose its appeal another rifle in a different cartridge was pretty much a foregone conclusion. In fact, I'd already decided on a 7mm Remington Magnum months earlier. The only decision remaining was which rifle to choose, and with so many different brands available my final choice wasn't going to be easy. At first, I was rather keen on the Winchester model 70 super grade, but unfortunately it wasn't available in 7mm Rem Mag. So after some pondering and perusing the aisles of several gun shops, I decided on a Remington model 700CDL. It had all the features I needed as well as a reputation for good accuracy, and of course, having a soft spot for Remingtons certainly helped. So the deal was done!
Once ordered it took nearly six months for the dealer to call saying my new bang stick had arrived and was ready to be picked up. After finally taking possession, I had a few alterations and additions to make to the new rig before getting into the serious business of load development and range testing before finally taking it afield. First up, I had to find a suitable scope. Considering I wouldn't be shooting over extreme distances, I decided on a Leupold VX3 3.5-10×40. I have the same scope on my Winchester model 70 laminated classic in .270WSM and it's always performed well and never let me down, so I was confident I'd made the right choice. Next up was scope fitting, I gave it some thought and ended up getting Burris Signature rings and bases simply because I like the way the plastic inserts prevent scope tube damage, which I suppose is an important feature on an expensive investment like a quality scope.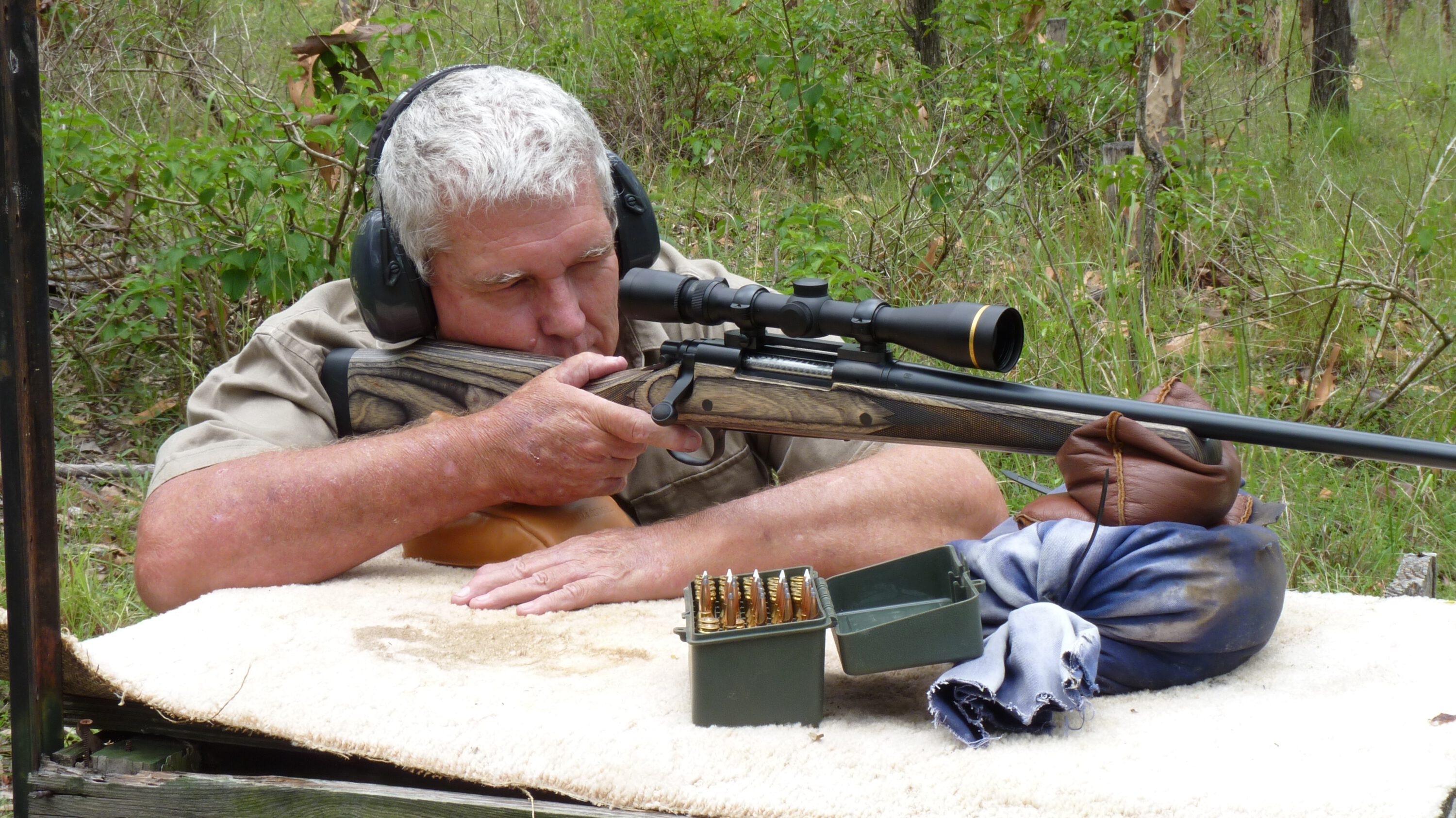 As it turned out, I was just about to take my rifle to a local gunsmith to have the barrel free floated and action bedded, when a mate called offering me a new take off stock from a Remington model 700LSS. It was a grey laminated stock with laser cut chequering and it looked rather flash. In fact, it was that damn flash I bought it immediately. So, the following week I took everything to the gunsmith's and waited anxiously for the call saying my rifle was ready to be collected. Let me say, when I finally picked up the finished product, I was happy with the gunsmith's work, he did a first class bedding job and lightened the trigger to a nice crisp 1.1kg.
Previous experience had taught me that a good bedding job and light trigger can aid in shot to shot consistency. That is, of course, if the bloke behind the trigger does his job. Now all I had to do was spend a little time developing a few good hand loads.
LOAD DEVELOPEMENT
Having owned several different 7mm's I knew there was an extensive range of .284 calibre bullets available for the 7mm Remington Magnum with every weight from 100gn to 175gn covered by various manufacturers. There is also a good variety of suitable powders, including 2213sc, 2217, 2225, W780, RE22 and RE25. So I had all bases covered when it came to components, I just needed to come up a few combinations that would prove accurate and perform well on game. To get started, I loaded some150gn Swift Scirocco's, 154gn Hornady Interlocks and 160gn Nosler Accubonds with a variety of suitable powders. I'd used all three bullets previously in other smaller cartridges and they'd all performed well and shot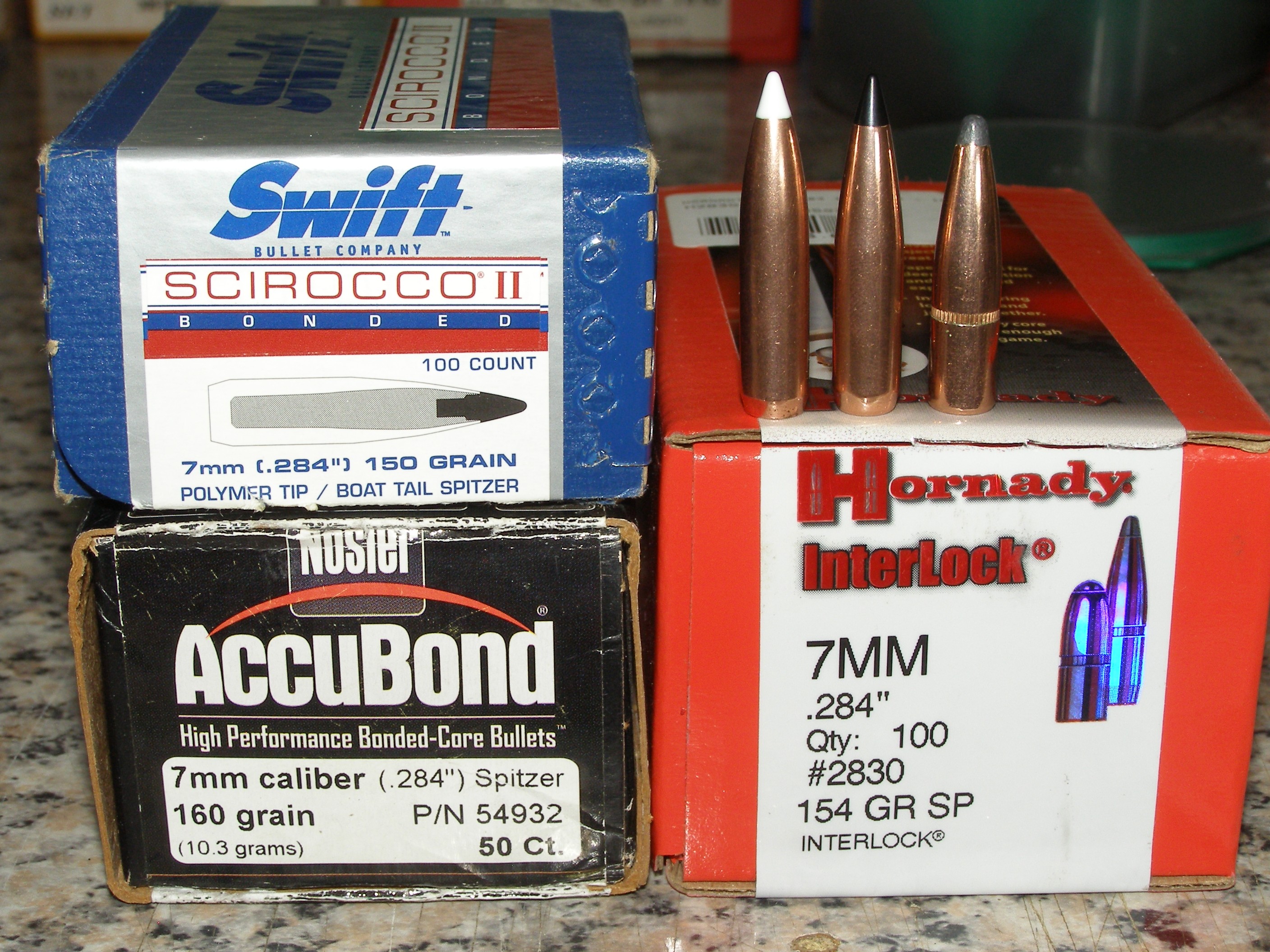 accurately I just needed to find the right load for my rifle. And of course, I was hoping it would only take a few range sessions to get me where I needed to be in terms of finding a good accurate hunting load as I didn't want it to become an endless, tiresome and expensive exercise.
At the range, I started with the 154gn Hornady Interlocks and 71.5gns of RE25 which produced 3150fps over my chronograph and acceptable accuracy of around 1.0 MoA. Next up was the 150gn Swift Scirocco and 68gns of Winchester 780 Supreme. This load produced a 5 shot average of 3080fps but accuracy was poor at around 3.0MoA. The following week I tried the 160gn Nosler Accubond with several powders including 2217, 2225, RE22 and RE25. While all four powders produced good results and velocity within 50fps-80fps of each other, it was a max load 70gns of RE25 which really stood out. It produced a velocity of 3000fps and accuracy around 1.0 MoA. Over several more weeks, I tried about a dozen more bullet and powder combinations, and while most gave good velocity and relatively acceptable accuracy, I ended up settling for the 154gn Hornady Interlock and 71.5gns of RE25. It ticked all the right boxes in terms of top velocity and good accuracy in my rifle. Of course, the only thing remaining was field testing, and I had just the place to do it.
FIELD TESTING
My regular property near Windorah in far Western Queensland had been crawling with pigs during my last visit, so what better place to give my new outfit a test run.
I promptly organised a quick two day trip with my cousin Jason. We planned on running out in late October, by then it was be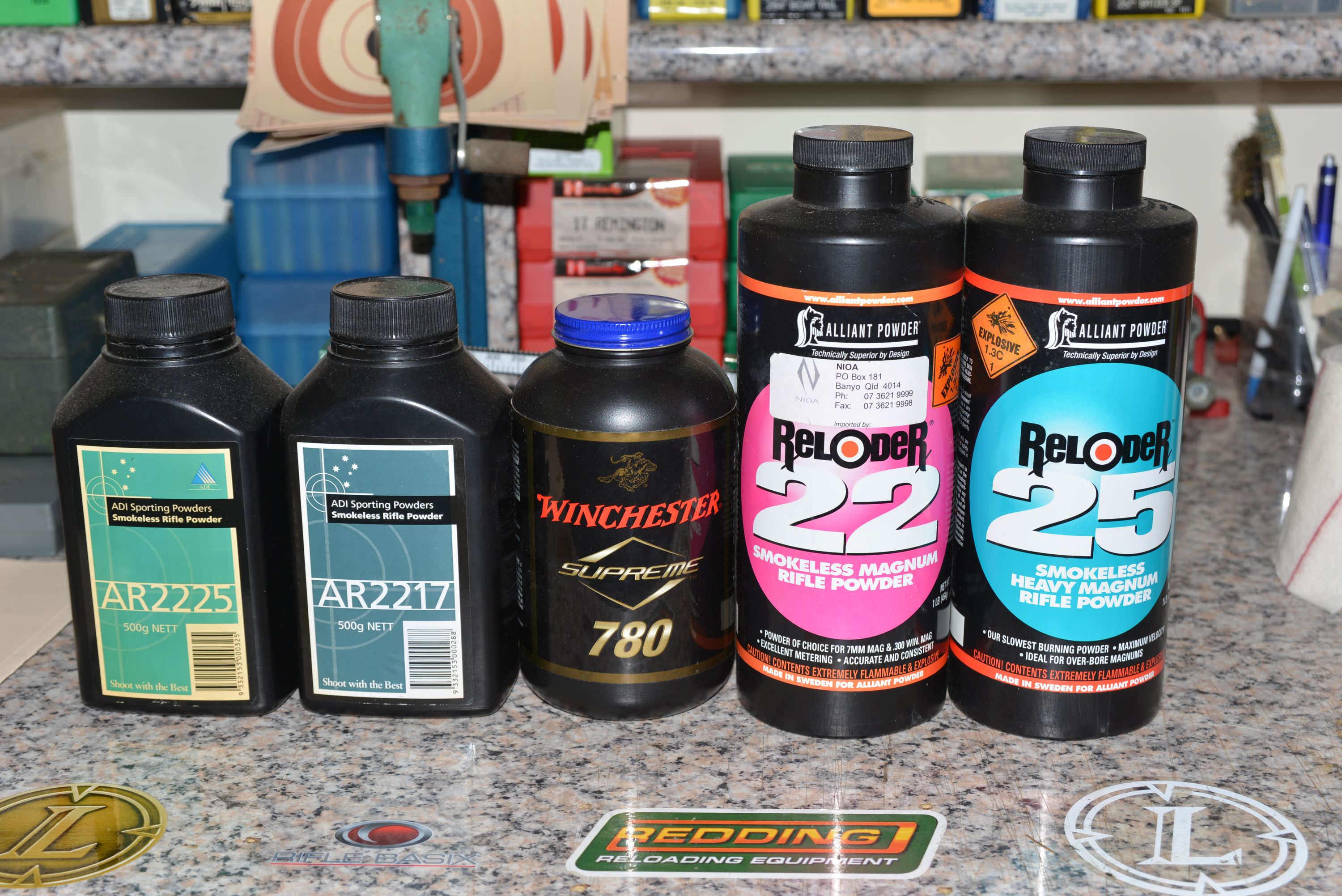 getting quite warm which would hopefully assist us in finding a few porkers that are usually camped around the properties ever dwindling water supply.
On our first day we left camp at daybreak, dust billowed in our wake as we motored along a well used track toward the river. I remember thinking "Crikey, these are drought conditions and we're going to have trouble finding pigs out here" but we continued on before eventually stopping adjacent the river. Well, it wasn't a river any more it was just a string of sparsely spaced muddy waterholes, but there was the odd bit of pig sign around which kept us motivated. The temperature was on the rise so we didn't plan on walking too far. I didn't think we'd see much anyway, so I just grabbed a handful of cartridges and shoved them in my pocket.
So now, after all the range testing I was finally going to see how my hand loads would perform on game, well, hopefully. But we were at the mercy of some pretty tough conditions so only time would tell if success would come our way.
About 30 minutes later we came across some dead cattle in a muddy waterhole. They'd obviously bogged themselves while trying to drink from the rapidly shrinking water supply. But what struck us immediately was how each carcass was surrounded by well used pads and dusty earth indicating porkers were about and unlikely to be too far away, thanks, of course, to the temporary food source. It wasn't long after when we spotted our first porker, a large mottled boar was standing under a shady tree looking toward us only 50m away. He didn't appear to be too concerned by our presence and it was just the opportunity I'd been waiting for. So I quickly placed the crosshairs on his shoulder and touched off a shot which landed dead on target. After a few rubbery steps the boar fell over stone dead. On closer inspection, we noticed the 154gn Hornady Interlock entered squarely on his shoulder pad and was located just under the skin on the off side. So, all in all, bullet performance was good. We poked around for another few hours but saw nothing, so we spent the remainder of the day at camp trying to keep cool and working on a strategy to find more pigs.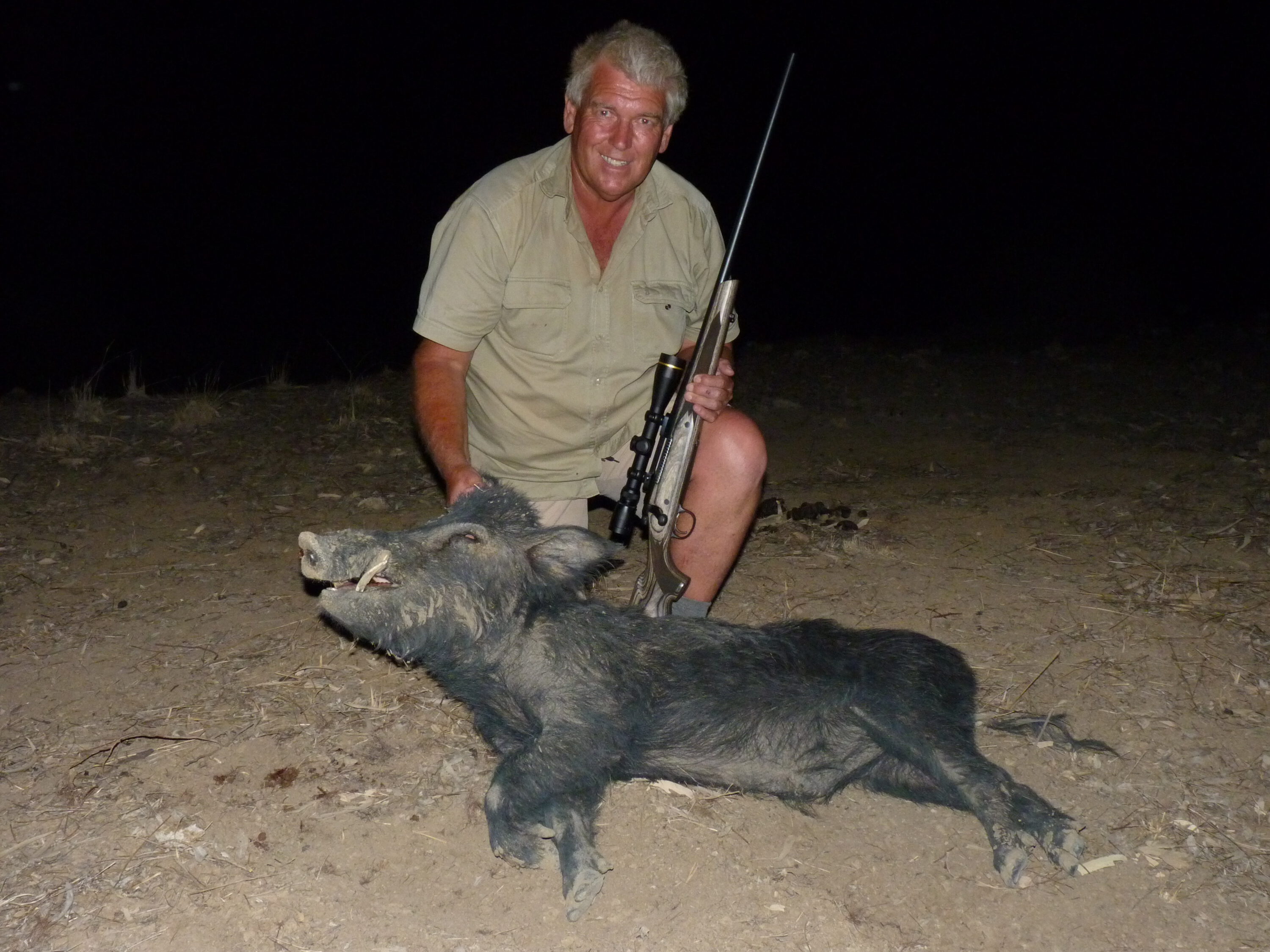 Later that night we gave spotlighting a go because with daytime temperatures being rather high we thought pigs would be out and about feeding during the cooler nights. First up, we went back to the cattle carcasses as they seemed to be the only reliable food source within several kilometers and if pigs were about this is where they'd probably be Rather than risk spooking porkers, if any were about, we stopped 300m out and walked in using our torches. I have a 900 lumen Olight SR51 Intimidator that's as good as spotlight at close range, so as we approached my cousin lit up the area around the carcasses to see what was about, and sure enough, standing about 20m away was a big black boar. Not surprisingly, he started to wander off the instant he sensed something was amiss. But my cousin had him well lit up with the torch though, and a shot from my 7mm Rem Mag quickly followed. He dropped like a bag of spuds, but when we walked over to check him out we got the surprise of our lives. He was an absolute monster, well, at least in the tusk department he was. His body was small and malnourished due to drought conditions, but in good times with plenty of tucker this would have been a truly good boar.
With our short trip at an end, I was left to ponder how the big 7mm Remington Magnum performed. To be honest, it went well, the bullets used performed as expected and killed like the hammer of Thor. I would have liked to have tested it at long range using bigger bullets like the 160gn Nosler Accubond. But at the end of the day, it killed everything I shot at, and it is certainly capable of taking anything from pigs to deer and everything in between, although having a 65cm barrel is something I'd need to get used to, as I much prefer my walkabout sporters to have 55cm barrels. These days I use the 7mm Rem Mag for special occasions rather than as my all purpose rifle. I suppose, it's like horses for courses and is entirely dependent on what you're planning on using it for, although it's certainly a capable performer on mid and large sized game.
A final caution. Always begin at the recommended starting load in a published manual when conduction load development and never exceed book maximums with recommended components.