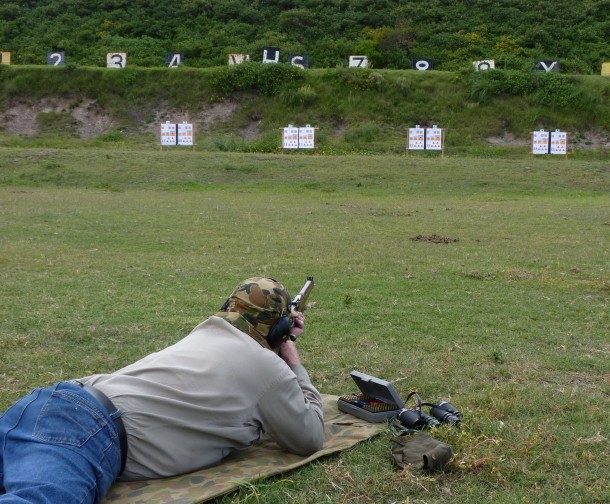 All target-licensed shooters are invited to bring their .22 Rimfire rifles to shoot an historic Miniature Military Rifle Match on traditional military targets with timed snap, rapid and deliberate-style serials. The event is hosted by the Military Rifle Clubs Association Inc.
Rifle Categories. All legal .22 Rimfire rifles in good condition are permitted. Classes of rifle:
Scoped Sporting Rifle eg Brno Model 2 with scope

Rimfire Military .22 Training Rifle

eg SMLE No2 Mk4
Ammunition. Any suitable .22 Rimfire target or hunting ammunition may be used for these matches. 100 rounds will be more than adequate.
Prizes.There will be prizes awarded to:
Best score Scoped Sporting Rifle – Fixed Blade Hunting Knife

Best score .22 Military Training Rifle – Pocket Knife

Best Lady – Brick of CCI Standard Velocity .22 Ammo

Best Junior (under 18) – Pair of Compact Binoculars

Best Veteran (over 65) – Ridgeline Fleece Pullover
Match Formats. There are two matches in this match, both shot at 25 yards :
Match 1 – THE MINI METHUEN – see Mini Methuen article. Requiring 50 rounds, this match's aim is to recreate a British Army Fullbore Rifle Match which is conducted from 500 to 100 yards and shot predominantly in the lying prone position but with a short sitting and standing position serial mid way through. It is shot on five different styles/sizes of target and many serials are shot in a time limit. Timings will be extended for shooters new to the match on the day and there will be coaches available to assist.
Match 2 – THE SKIRMISH. In effect, this match is a smallbore Mad Minute. Maximum ammunition needed depends on how many you can get away in the time. Shooters have 60 seconds to fire on eight black 2-inch egg shapes, two per egg, and then repeat.
SHOOT FEES.
Adults – $15
Minor's Permit Holders and Pensioners $10
NOTE: At the completion of the Rimfire Shoot, there will be a short lunch break and shooters are welcome to use their .22 rifles to shoot in the 100 metre Fullbore Military Shoot starting at 1.00pm. There is a $10 Markers fee payable for this shoot.
For More Information
Call 0425 263 205 to book your place, as there is security on the entrance gate and you need a contact club. Quote the "MRCA Rimfire Shoot at the Horseshoe Range" and the guard will direct you. Website: www.mrca.com.au

NOTE:YOU MUST REGISTER WITH THE EVENT ORGANISER ON THE ABOVE CONTACT NUMBER AT LEAST TWO DAYS PRIOR TO BE PERMITTED TO SHOOT THE EVENT.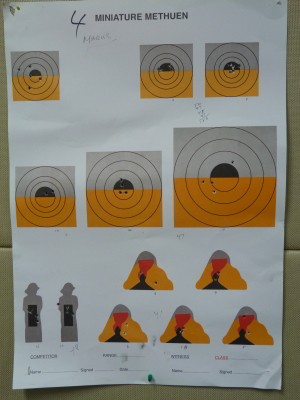 Mini Methuen Target above