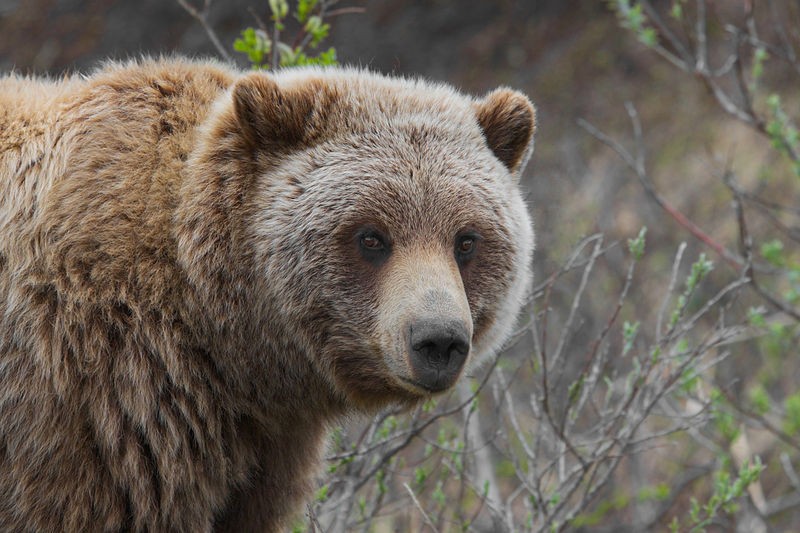 Two Canadian hunters nearly killed by a grizzly bear last September have raised more than $30,000 in honour of the search teams who came to their rescue. 
According to an article on the CBC News website, Chris Eyre and his friend Robbie Austin were sheep hunting on Sept. 6 about 200 kilometres south of Fort Nelson, British Columbia, when the bear attacked. 
"She tore up my face really badly and my arms, and chest. She broke my skull and broke my ribs," Eyre said.
Despite having a rifle on him, Eyre says there wasn't much he could do in the time between spotting the sow and her sprinting 100 metres towards him. 
"It happened all so fast," he said. "I only had about three or four seconds before she was basically on me." 
The grizzly's two cubs looked on as she ripped and tore at his flesh. When his companion yelled at the bear, she grabbed and bit him.  
"If it wasn't for my best friend, she would have killed me, for sure. That's what her intent was," Eyre said. "He got a puncture to his carotid artery, which caused him to have a stroke."
Somehow, Austin managed to fire his rifle and the bear ran off — either because she was wounded or in search of her spooked cubs. 
As Austin lay on the ground, paralyzed by the stroke, Eyre called for help using an emergency satellite communicator. 
But the horror of the catastrophe wasn't over yet. Because it was dark by time team crews were deployed, the two men had to spend the night among the trees in freezing temperatures before the crew from CFB Comox was able to rescue them.
Both men were airlifted to hospital the next morning with the crew's help and the use of long ropes to pull them out of the bush. 
This week, the men decided to honour the rescuers who came to their aid. 
"We kind of thought about it and we really wanted to give back," he said. 
Eyre says they couldn't donate money to CFB Comox because it's part of the military. So they decided to donate $33,000 to Prince George Search and Rescue - the closest rescue group to their home in Fort St. John. 
They ran several fundraising events to come up with the donation money, Eyre says, as well as a crowdfunding page.
They also got to meet the CFB Comox team that saved them. "It kind of brings closure to the whole thing," he said. 
Neither man has been hunting since the attack, but they both intend to get back into the bush as their emotional scars heal.
Eyre says conservation officers were unable to track the bear.