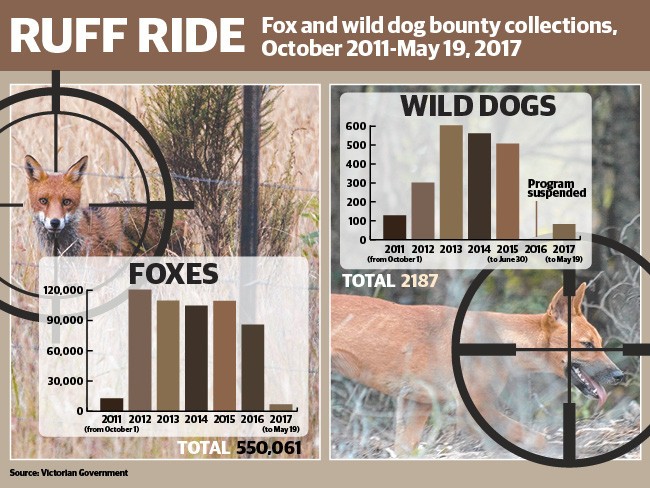 The latest figures supplied from the Victorian Government show a huge decrease in fox scalps being collected under the 2017 bounty. Only 6700 fox scalps have been collected -a significant reduction on the 85,000-plus collected last year and 109,000 in 2015.
This program rewards eligible Victorian hunters with a $10 bounty reward for each fox killed, and $120 bounty for each wild dog killed.
Locals beleive that the failure of the 2017 program stems from the re- opening of the program being poorly communicated and advertised.
According to latest government figures, the $10 fox bounty has seen 550,061 scalps collected since October 2011 for a payout of more than $5.5 million. Wild dog skins are also tracking well down this year, with just 83 collected since March, bringing the total since 2011 to 2187
Agriculture Victoria biosecurity manager John Matthews said the bounty was experiencing lower participation rates since collections resumed in March. Under the bounty programs, scalps and skins are collected between March and October.
"Anecdotally this has been contributed to by the extended wet period of 2016 and a larger than anticipated harvest season for both grain and fodder," Mr Matthews said.
"A favourable early break to the season has also further impacted hunting activities as farmers and hunters redirect their priorities and effort to essential on-property activities such as shearing, cropping and sowing."
Mr Matthews said the department had "no control over hunter participation or effort — it is purely a reward for effort system".
Latest figures show the biggest year for the fox bounty was 2012 when 120,590 scalps were collected.
Ballarat has been the biggest centre for the fox bounty with 75,984 scalps, followed by Bendigo (70,908), Hamilton (52,433), Horsham (51,169) and Swan Hill (31,545).
The biggest year for the wild dog bounty was 2013, with 604 skins. Bairnsdale has been the wild dog hot spot, with 879 skins handed in, compared with Wodonga's 563 and the Ovens' 409.
Opposition agriculture spokesman Peter Walsh said the bounty needed to be better promoted.