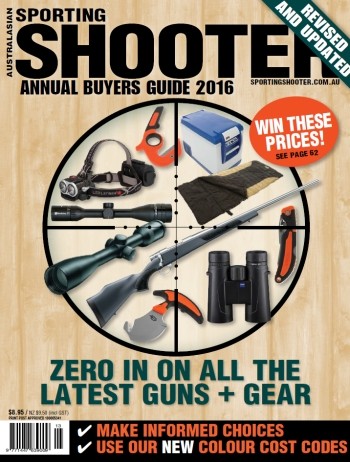 The long-awaited prize winner list  from our Sporting Shooter 2016 Annual Buyer's Guide appears below.
1. Weatherby Vanguard Stainless Synthetic .223 went to Arthur Nunn, NSW.
2.Swarovski z5 3.5-18×44 P-BT Riflescope – Mitch Dee, NSW
3. ARB 47-litre Portable Fridge-Freezer – James Angel, NSW
4. LED Lenser Xeo Headtorch – Anthony Brentson, SA
5. Zeiss Terra ED 10×42 Binocular – Lloyd Pattison, QLD
6. ARB Sleeping Bag – James Bartlett, VIC
7. Gerber Knife Range – Warren Fenwick, ACT
8. Nikko Stirling Panamax 3-9x40AO Riflescope – Allan Leighton, VIC
We thank all our generous sponsors for supporting this terrific competition and congratulate all the winners.
Sponsors: NIOA, Swarovski Australia, Outdoor Sporting Agencies, Winchester Australia, ARB, and Zen Imports.