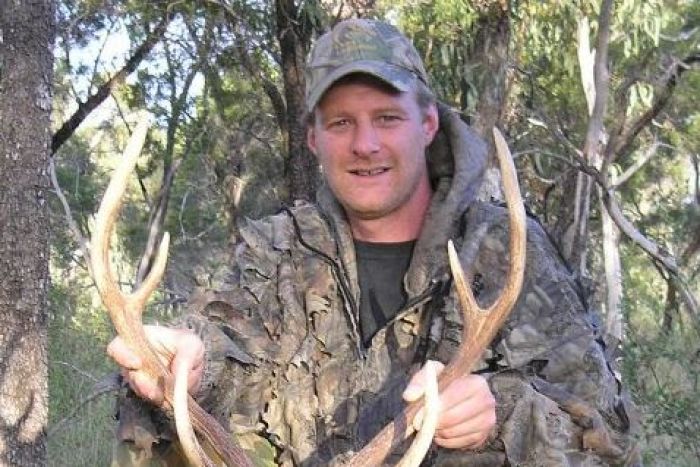 It can be revealed that Bryce Airs' last words — "I've been hit by lightning" — muttered to a passer-by who came to his aid, are central to the police probe.
Victoria Police detective Inspector Stuart McGregor said this was viewed as a vital clue.
Bryce Airs wasfound on Mansfield-Woods Point Road, about one kilometre out of Jamieson, shortly before 1.15amNovember 26th 2017.
It issuspected that Illegal hunters that drive without their lights on looking for deer have commiteed the hit and run. When they spot the animal, they turn on all the hunting lights to stun the deer, then shoot and kill it.
"It may be that these guys were driving without lights at the time, lights may have come on and that's why he was saying he may have been hit by lightning and also mentioned a car," he said.
"Just to leave him on the side of the road dying — it takes someone without a heart and without any morals."
Mr Airs' sister Corina Stuchbree urged the culprits to turn themselves in.
"I don't understand how they can carry on with everyday life as if nothing has happened knowing what they did," she told theHerald Sun.
"Have a heart and come forward,"
Today would have marked the passionate hunter's 44thbirthday – but instead of celebrating with family, his sister pleaded with his killers to come forward.
Detectives have been told a large stag was known to be grazing in Matthews Reserve, next to the site where Mr Airs was struck.
Police believe spotlighters had been cruising the area looking for the stag about the time Mr Airs was hit.
The post-mortem examination of Mr Airs' body revealed he was standing at the time he was hit, and he was struck by a vehicle with a high clearance and which most likely had a bull bar, police said in a statement.
Police urge night hunters to speak up and 'bring closure'
Detective Inspector McGregor said police hoped the new information would prompt someone to come forward with a breakthrough.
"I have no doubt there are other people who know what happened that night," he said.
"We want to hear your side of the story, come and tell us what happened, maybe panic kicked in, maybe alcohol was involved, maybe people were scared because they knew they were hunting illegally.
"What matters is we work through what occurred and provide some sort of closure for Bryce's grieving family.
"We're not going away … we're going to be knocking on the door sooner than you think."
Detective Inspector McGregor said it was well known hunting was not allowed around Jamieson between sunset and sunrise, but police knew illegal hunters operated in the area at night.
"I want to make this very clear; we are not associating this splinter group with responsible, law-abiding hunters," he said.
"Our investigation has very clearly led us to a small rogue group of illegal hunters who break the law, they hunt during the night and they hunt for deer."
Anyone with information is urged to contact Crime Stoppers on 1800 333 000.