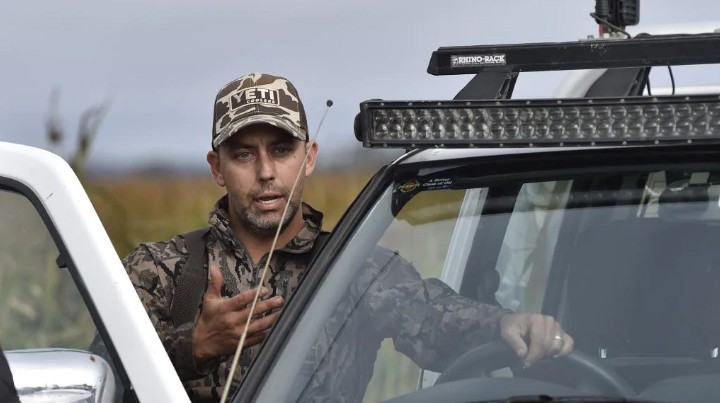 Thankfully justice has prevailed with duck hunterBen Collyer having his careless driving charge dismissed after he struck a protester at low speed.
Police dropped the charge that stemmed from a confrontation with animal rights activists in Geelong.
The weekly times reported the incident occurred soon after 6am on March 31 last year while Mr Collyer was preparing to launch a boat at the game reserve.
Prosecutor Sergeant Mick Graham said a group of seven protesters were at the carpark when Mr Collyer performed a U-turn in his car so he could reverse his boat towards the water.
He said it was "complete darkness" and Mr Collyer had his high beams activated when the car made contact with one of the protesters while travelling at about 2km/h.
Sgt Graham said the protester, Bronwen Baker, then stepped out of the path of the car, before Mr Collyer proceeded to launch the boat.
Police were subsequently called to the scene and spoke to Mr Collyer when he returned from hunting.
The Eastern View man provided dashcam footage to police, while officers also obtained mobile phone footage from a protester.
At a contest mention hearing on Tuesday, defence lawyer Michael Brugman argued the protesters had caused the incident before calling media outlets to the scene.
"This was a deliberate and calculated act to get attention and to disrupt a lawful activity," he said.
"This person placed herself in the path of my client's vehicle while he was performing a U-turn."
Video footage of the incident was played to magistrate Mark Stratmann, who raised doubts about the prosecution's ability to prove the careless driving charge.
"I'm not entirely sure the evidence is sufficient," he said. "I do think there are some difficulties with the prosecution case."
The prosecution withdrew the charge following Mr Stratmann's comments.
Outside court, Mr Collyer said he was relieved the case was over and that it had been a stressful period for his family.
The duck protesters have little regard for the law and duck hunters legal hunting activities should take place undisturbed.