Farm leaders and hunting groups fear the Victorian election has spawned a dangerous new alliance of animal welfare groups, according to a report in The Weekly Times.
The RSPCA has joined forces with Animals Australia in the final days of the state campaign to oppose duck hunting. The Victorian Farmers Federation say the partnership signals a new era in animal activism.
"I believe it is part of a bigger strategy to wear the animals industry down," VFF animal welfare spokesman and egg group president Brian Ahmed said.
Mr Ahmed said the traditionally conservative RSPCA was now steering a "different course" towards extremism.
He said the policy was driven by funding needs and Animals Australia's success in attracting public donations.
"It is big business now and they are all competing for the same dollar," Mr Ahmed said.
He said the new alliance would likely continue after the election and target farmers afresh with other campaigns.
The RSPCA, which already attracts significant Victorian Government funding, joined with Animals Australia to pay for large newspaper advertisements asking the ALP to end the duck hunting season if it wins government.
Meanwhile, President of the Australian Deer Association (ADA), David Voss, says the ADA have been concerned for a number of years about the increasingly aggressive stance the RSPCA has taken against hunting.
According to Voss, campaigns and advertisements such as the one pictured below highlight the very real danger of the RSPCA acting as a government sanctioned regulator on animal welfare while simultaneously behaving as an ideologically driven, populist 'animal rights' group.
You can vote in the Weekly Times poll about whether the RSPCA is becoming extreme HERE.
You can also see a good example of the RSPCA's anti-hunting stance on page 11 of their State Election Priorities, in which they call for a total ban on jumps racing and duck hunting.  This election priority is illustrated not only by emotive and misleading language, but also by a photograph of a domestic muscovy duck – which serves only to show how ignorant they are of the very activity they would like banned.
If you still need convincing (and I'm picking you don't), you can have a read of the RSPCA's website and their anti-hunting stance in relation not only to ducks, but also to pest animals.  Think about that next time they come knocking on your door with the hands out.
Finally, to finish with a bit of a laugh, here's a piece from the Sydney Morning Herald reporting that RSPCA tackled the problem of rabbit warrens at their ACT headquarters by pouring concrete into them.  It seems that when it comes to animal welfare, as far as the RSPCA is concerned it's a case of do what we say, don't do what we do.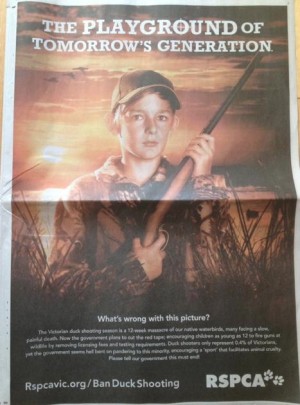 According to David Voss from the Australian Deer Association, ads like this one show the RSPCA is moving away from its role as a government sanctioned animal welfare regulator towards being an ideologically driven, populist animal rights group.