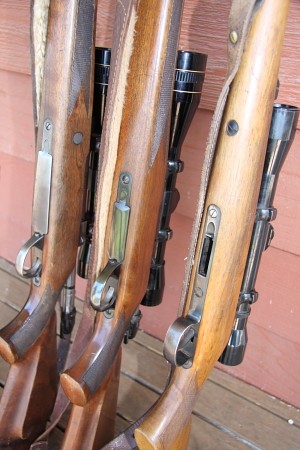 Thediscvovery that a NSW man owns322 firerams has led Greens to call for a 5-gun limit
Somewhat surprisingly, an Upper Hunter gun club president has expressed surprise after a Cardiff gun owner with 322 registered firearms topped the state in individual gun ownership.
"That sounds unbelievable, and I wouldn't have the faintest idea who that might be," said Upper Hunter Gun Club president, Ron Wakem, after NSW Greens justice spokesman David Shoebridge released NSW Police data showing more than 100 individuals in NSW own more than 70 firearms.
Apparently the figure does not includedealers and collectors. Firearm registration data obtained under freedom of informationin this article by the Newcastle Herald, shows 15 of the100 peoplewith highest gun ownership live in the Hunter or Central Coast.A Williamtown owner has 167 registered firearms, and a Muswellbrook owner has 144. That's awesome information for criminals looking to steal firearms, so well done to the Firearms Registry for helping out with that.
The datashowed850,634 registered firearms in NSW in July 2015. More than100 postcodes havemore than 2400 guns, and ninehavemore than 10,000.
The "private arsenals" were"honeypot targets for criminals", Mr Shoebridge said at a media conference on Sunday, in which he called on the NSW Government to tighten gun ownership requirements.
Gun owners must provide a genuine reason to have a firearms licence, and a good reason for registering a firearm. Mr Shoebridge said a system that allowed licensed gun owners to register up to 322 firearms, just by ticking a box saying they had a"good reason" for owning them, was a system that needed to change – which is, of course, complete garbage. The truth is that applicants for firearms licences need to provide proof of their genuine need, they can't just tick a box.
Shoebridge further called on the NSW Government to mandate a five-gun limit for individual owners, with people required to provide aseparate and extraordinary reason for each gun beyond the limit.
"Every time you get these large firearm collections in one place, that's a real threat to communities," Mr Shoebridge said, without elaborating on how that might be.
His call came only days after former Prime Minister John Howard, who introduced tough gun laws in Australia after the Port Arthur massacre, called for tighter gun laws.
Mr Wakem said he knew of one gun owner who was not a collector and had 59 firearms registered, but most were given to him by former army veteran mates.
The Greens have launched a website, toomanyguns.org, to mark the 20thanniversary of the Port Arthur massacre, which shows criminals which NSW postcodes have the most guns. Sensibly, NSW Deputy PremierTroy Grant said there were no plans to change gun ownership laws.