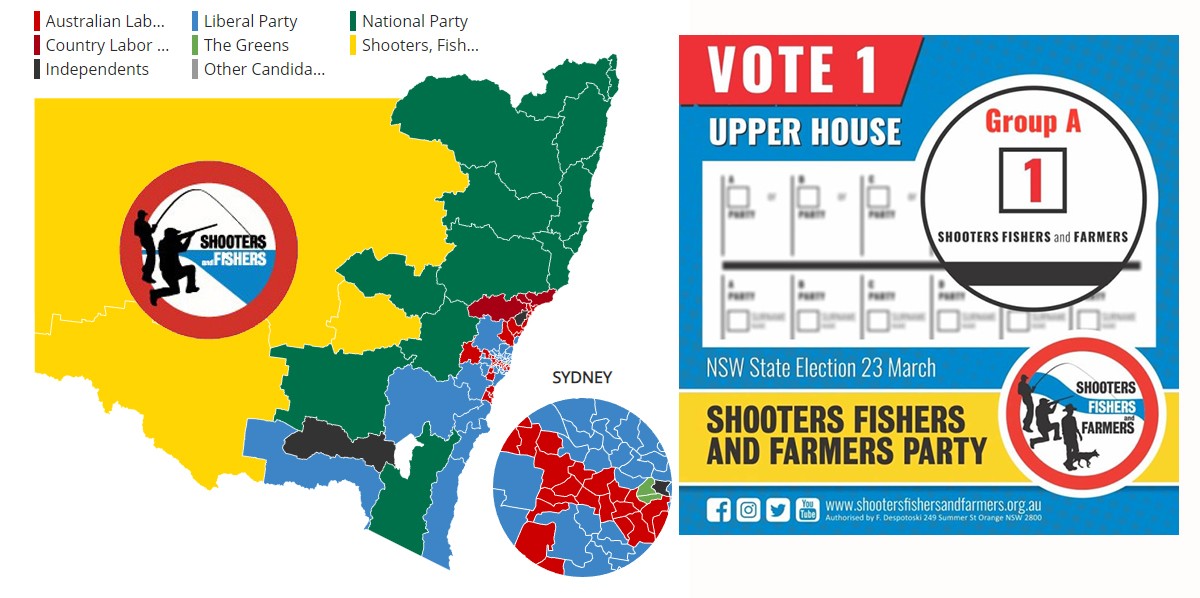 On the back of a historical three-seat win at the NSW election the Shooters, Fishers and Farmers Party set their sights on the Federal election campaign targeting National seats.
Shooters upper house MP Robert Borsak said the party would run in as many as six regional NSW federal seats and would field a Senate ticket.
"We are going to give the federal election a shake. We've got candidates knocking on our door already," Mr Borsak said.
He said the party had not decided which seats it would contest, but would concentrate "on those parts of the state that have been our strengths."
The result hands the Shooters a total of three seats in the NSW Legislative Assembly, on par with the NSW Greens.
The Sydney Morning Herald reported "We're quite ecstatic," Mr Borsak said. "It took the Greens about 25 years to get three seats in the lower house and we've done it in three years."
The Shooters made their first bid for a lower house seat at the 2016 Orange byelection and won by fewer than 100 votes. Incumbent MP Philip Donato vastly improved on this margin on Saturday after securing over 50 per cent of the primary vote.
"We were pretty confident we would get Orange back, but certainly nowhere near the vote we got," Mr Borsak said.
Psephologist Kevin Bonham said the results in Murray and Barwon were devastating for the National Party.
"There's some booths where the Nationals have been gutted – they have barely got a vote," Dr Bonham said.
For example, at the Menindee Civic Hall booth in Barwon the Nationals received seven of 269 votes.
Menindee, a town on the banks of the Darling River in far western NSW, had been a hotbed of anti-Nationals sentiment after the mass fish kills prompted an outcry over the government's management of the river system.
Mr Borsak said water security was the dominant issue in both seats and "we stayed on message about that throughout the campaign".
Dr Bonham said the Murray outcome was "extraordinary" given the Shooters had lost a byelection for the seat in 2016.
"Normally, at byelections you get a big protest vote, and then at the election it calms down. But this time the Shooters won with an 8 per cent swing," Dr Bonham said. "I don't remember seeing something like that before."
The Liberal Party repeatedly attacked the Shooters during the campaign, with Premier Gladys Berejiklian labelling the party "dangerous".
Mr Borsak said the Liberals negative campaign "didn't wash" with regional voters.
"Given the results on those three seats at least, there was no impact. In fact, I think there was a reaction against the Liberals trotting out Howard," Mr Borsak said.