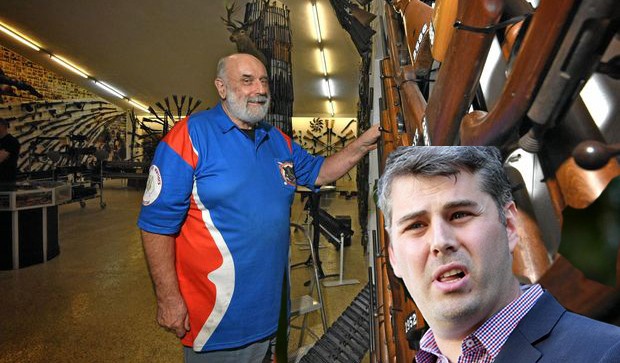 Ron Owen's letter to the editor,
Re Mark Ryan Bragging that Labor won't relax Gun laws.
So Labor will follow the Dinosaurs into Extinction.
Why, because of the increase in law abiding licenced shooters. In 2003 Mark Ryan hero John Howard dictated that all licenced shooters would be recorded on Crimtrac, last year the figure was just under 2 million this year it will be well over it.
Year 2012–13 2013–14 2014–15 2015–16
Total number of firearms 4.6 million 3.7 million 5.0million 5.8 million
Total number of licences 1.7 million 1.5 million 1.9 million 1.97 million
From the Crimtrac Annual Report 2016–2016, these figures are over 12 months old but to give some idea on the annual increase Craig Rolls Manager Weapons licencing, QPS, reported in March 2016,
"This figure represents a significant concern for Weapons Licensing as we are receiving approximately 350 applications a week, a 50% increase in the last 3 years and cannot continue to effectively process applications with this percentage, or a similar high percentage".
Mark Ryan must be living on the dark side of the moon if he is unaware of the hostility towards Weapons Licencing, righteously held by the law abiding firearm owners. They have to put up with the injustice of this politicians created nightmare. Maybe he just reads the garrulous, feel good reports from Police media, like his two predecessor Police Ministers who have already faded into obscurity. For Firearm Owners the LNP policy, nor One Nation, nor the Katter Party policies will never go far enough, they have suffered 20 years of impositions and injustice, they want an end to Weapons Licencing, it serves no purpose it does not save life, or catch criminals, they want it out of their lives altogether. Legislation should be based on evidence, the law abiding firearm owners are not causing any problems, they are the pillars of our society. The Conservative side of politics seems to have worked out the increase in numbers and have done the surveys, they know its an issue that firearm owners will change their vote for. Its nice to know that Labor is going to lose this coming election.
Mark Ryan, seem oblivious to the truth that farmers, primary producers, have a genuine reason to acquire a Catagory H firearm. If they did not they would not have paid the exorbitant renewal fees and Mark Ryans Weapons Licencing would not have given them a Category H Licence in the first instance. Mark is a country boy from Nambour, he should understand what its like to jump into a stockyard, working with both hands, with big animals, such as bulls or stags. If something goes wrong a hand gun on the belt can save a human life, or that life can be lost for the lack of it. Feral Pigs are in plague proportions, farmers working on their own, far from their designated security safe have to defend themselves, or others. Provision for these 'good reasons' are in the legislation, but Marks 'hard working police' have created their own policy, not just on this subject but on many others. They believe that they write the law, and they enforce it. If the law does not suit them they employ another word, "Police policy". Hard working farmers in dangerous occupations should not have to apologies for that Police policy.
I find it amazing that Labour Lawyer Mark Ryan showers John Howard with so many accolades for his un in formed gun laws which parodied the 23 points of the UN civilian Disarmament Treaty. John Howard betrayed Australia for a foreign power, he took our civil rights, our right to defend ourselves, our right to own property legally obtained and our rights to enjoy our pursuits of our sports and hobbies. He left us serfs, in an occupied country. Mark Ryan wants to continue this injustice.
To this end he states, There has been no fatal mass shooting incidents in Australia since the introduction of the NFA and initial gun buyback in 1996.
So his main premise, that there has not been another massacre since 1996, as it is irrelevant what the tool, is as bad people who want to kill will kill with a Truck, a bomb, Pressure Cookers, a box of matches, poison, or sarin gas. A truck was used in Nice France to kill 68 people, do we ban trucks? The Panadol poisoner, do we ban Panadol? Mark cannot relate Gun Control Laws to massacres, Gun laws are meaningless to a person who decides to commit murder. Doctors decide to kill their patients, do we ban doctors, an ex policeman in London kills 61 people with a neck tie, do we get all emotional and ban ties? If we ban firearms, completely remove everyone of them, besides the massive injustice to the people who have and use them that have done no wrong, the bad people will make their own tools.
For Example;
Snowtown massacre May 1999 Snowtown, South Australia 12 dead attack by John Bunting, Robert Wagner, and James Vlassakis, a total of 12 bodies were found in acid filled barrels and rainwater tanks.
Childers Palace Backpackers fire 23 June 2000 Childers, Queensland 15, Arson attack by Robert Paul Long, which killed 15 international backpackers.
Monash University massacre Oct. 21 2002 Melbourne, Victoria Australia Australia 2 people dead 5 wounded, Sent to psychiatric hospital. Melbourne, A shooting spree by Huan Yun Xiang, a student at Monash University
Churchill Fire 7 February 2009 Victoria Arson attack by Brendan Sokaluk that killed 10 people.
Victoria Fire 9 February 2009 Victoria, Australia 135 people dead, Mass arson. that the fires were in indeed due to arson (and potentially "arsonists") and thus the deaths are a mass murder and fit the definition of massacre.
Lin family massacre 18 July 2009 North Epping, New South Wales 5 Blunt instrument attack which killed 5 members of the Lin family
Hectorville massacre 29 April 2011, South Australia 3 people died, 3 wounded. A shooting that took place on 29 April 2011, in Hectorville, South Australia. It began after a 39-year-old male, Donato Anthony Corbo, shot four people on a neighbouring property (three of whom died), and also wounded two police officers.
Quakers Hill Nursing Home massacre 18 November 2011 Sydney, NSW 11people Arson attack by Roger Kingsley Dean, a nurse, which killed 11 people
Hunt family massacre 9 September 2014 Lockhart, New South Wales 5 people Murder-suicide shooting spree by Geoff Hunt who killed his wife and three children before turning the gun on himself .
Wedderburn massacre 22 October 2014, 3 people died. A shooting murder of a neighbour family (Greg Holmes, 48, his mother Mary Lockhart, 75, and her husband Peter Lockhart, 78) by Ian Francis Jamieson, 63.
Cairns Children Massacre 19 December 2014, 8 people. (perpetrator) Stabbing attack. 8 children aged 18 months to 15 years killed. Thirty-seven-year-old woman also found injured. The woman, Raina Mersane Ina Thaiday, was later charged with the murder of the children, 7 of whom were hers, plus her niece.
2014 Lindt Cafe Sydney hostage crisis – Two hostages and hostage-taker Man Haron Monis were killed, during a 16-hour siege inside a Lindt cafe in Martin Place, Sydney, with six other people injured. (It appears that the hostages were killed by the police)
Melbourne gangland killings – 36 underworld figures murdered so far in gang related violence between 1998 and 2010.
Port Lincoln Wharf murder–suicide 4 January 2016, South Australia 3 dead, by drowning and shooting.
17 October 2016 Sydney, New South Wales 4 dead by Gassing.
Melbourne car attack 20 January 2017 Melbourne, Victoria 6 people died, 30 wounded Vehicular attack. Dimitrious Gargasoulas drove a Holden Commodore into Bourke St Mall.
See https://en.wikipedia.org/wiki/List_of_massacres_in_Australia
If Mark Ryan or John Howard succeeded in removing ever legally owned firearm from Australia, as they are not the problem, it would not make any difference at all to Massacres or murders, or suicides, people just find other means and his laws will not stop them. It just exuberates the problem when he removes the rights of people to defend themselves.
All of these murderous events will continue, whilst the emphasis is placed on disarming victims instead of protecting them. Bad people will always find the tools. Gun controls are not only 'not relevant' the reliance on the wrong 'fix' increases the likelihood that it will continue to occur. History shows that gun control, or peace treaties will never protect the defenceless.
Ron Owen
President
Firearm Owners Association of Australia.