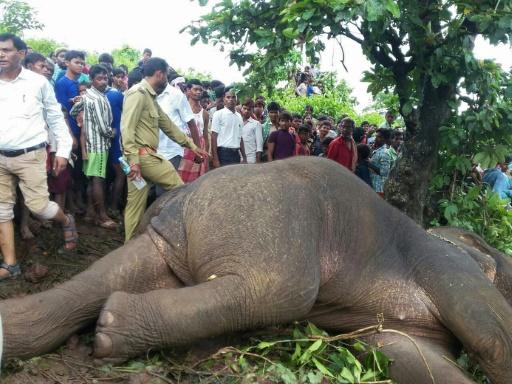 India's top hunter told on Saturday how he felled a rogue elephant which had killed 15 people in a series of attacks since March.
Nawab Shafat Ali Khan told AFP he shot the elephant late Friday just hours after being called in by authorities. Saturday was World Elephant Day.
Khan said he shot the elephant at point-blank range, but before the animal fell it tried to swing its trunk at the hunting party, forcing him to fire a second time.
"If we had been hit by his truck it could have been fatal. It was a dangerous operation," Khan said of the hunt in Sahibganj district of the eastern state of Jharkhand.
The marauding elephant, believed to have lost its way after becoming separated from its herd, crushed four victims in Bihar state in March before crossing into neighbouring Jharkhand and killing 11 more.
Jharkhand's chief forest and wildlife conservator L.R. Singh said the decision to kill the elephant came after a week-long operation to try to tranquilise and capture the animal.
"It was quite a difficult operation because of the thick bushes and since the animal had turned rogue it charged at us before I pulled the trigger," Khan said.
About 100 people including forest officials and villagers took part in the hunt, but Khan said he was the only person authorised to shoot.
The area is inhabited by the Paharia tribe, one of the poorest indigenous tribal communities in India.
Khan, who has carried out 24 previous government-sanctioned hunting missions, said he was baffled by the elephant's behaviour.
"This entire belt is inhabited by native tribal communities who have co-existed with wildlife for centuries, the elephant's behaviour — that he was literally stalking humans — is still a mystery," he told AFP.
The sharpshooter was last roped in by authorities in western Maharastra state, where he tranquilised a killer tiger.
The environment ministry estimates a human dies every day in India in clashes with endangered animals — the vast majority crushed by elephants.
Experts say violent encounters between elephants and humans are increasing as forests are cleared for human settlements and industry.