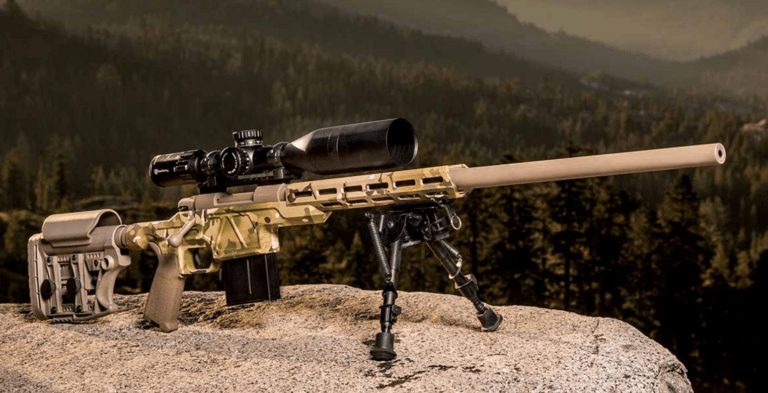 US based Legacy Sports International, Inc. announces the new HOWA Chassis Rifle (HCR) at SHOT Show, 2017 in Las Vegas, NV.
Developed for long-range shooting, the HCR is available in MultiCam® Cerakote FDE or black, and with or without a Nikko Stirling optics package. The HCR is the first HOWA rifle to feature the new Legacy Sports International Lifetime Warranty and Sub-MOA Guarantee.
According to Gene Lumsden, President and CEO of Legacy Sports International, "The new HCR combines the legendary accuracy of the Howa 1500 heavy barreled action with a precision-engineered aluminum chassis system resulting in a rifle that outperforms all other factory long-range rifles."
"The HOWA Lifetime Warranty and Sub-MOA Guarantee are a testament to the confidence we have in our HOWA rifle lineup, and the commitment to our North American customers that they will enjoy their HOWA for years to come," Lumsden stated.
"Take advantage of the accuracy and modularity of the Howa HCR and configure the rifle to your specific needs," says Lumsden. "The HCR is thoughtfully constructed to fulfill the demands of today's most uncompromising precision long-range shooters and hunters," he added.
The fully adjustable LUTH-AR MBA-3 stock has adjustable length of pull, and an adjustable comb height to compensate for scope height over bore. "The flexibility of this rifle ensures quick and accurate shots every time," he added. The Howa HCR stock is mounted on an AR-style buffer tube system, and features an ERGO MSR grip and 3-position safety. The rifle is offered in Howa 1500 20" and 24" heavy barreled options, and 22" standard barreled options. They are equipped with a 2-stage, creep-free H.A.C.T. trigger, and each rifle comes with an AI-Style 10-round magazine, and a 20 MOA EGW rail for optics (scoped package only).
The HCR scoped package comes equipped with the purpose-built Nikko Stirling Diamond Long Range 4-16×50 scope backed by the exclusive Nikko Stirling LIFETIME WARRANTY. Built to fulfill the various needs of long-range shooter while maintaining a budget friendly price tag, the Diamond Long Range riflescope utilizes the exclusive Nikko Stirling glass-etched HOLDFAST reticle. The riflescope features fully coated Microlux ETE GEN III glass coatings, ¼ MOA click adjustments, resettable zero-stop turrets, aircraft grade 30mm main tube, dual red/green illumination, enhanced light gathering construction, and is magnum caliber rated.
Additional Features of the new HOWA Chassis Rifle (HCR):
Available in 22" Standard Barrel Contour in .204, .223, .243, 6.5 Creedmoor, 7mm-08, .308
Available in 20" and 24" Heavy barrel Contour in .223, .243, .6.5 Creedmoor, .308
Black or MultiCam 6061-T6 Aluminum Chassis with Free-Float M-LOK Forend
LUTH AR MBA-3 Buttstock with LOP Adjustment from 12.5" to 16.75"
Adjustable Comb
6-Position Buffer Tube
10 RD ACCURATE Mag / Detachable AI-Style Mag, Teflon Coated
2 Stage H.A.C.T. Trigger
3 Position Safety
EGW 20 MOA rail
PACKAGE INCLUDES: Nikko Stirling Diamond Illuminated Long Range 30 mm 4-16√ó50 Scope Option
With Hold Fast BDC Reticle and Side Parallax Adjustment
Quick Release Steel Rings on scoped packages models
Available in MultiCam® or Black