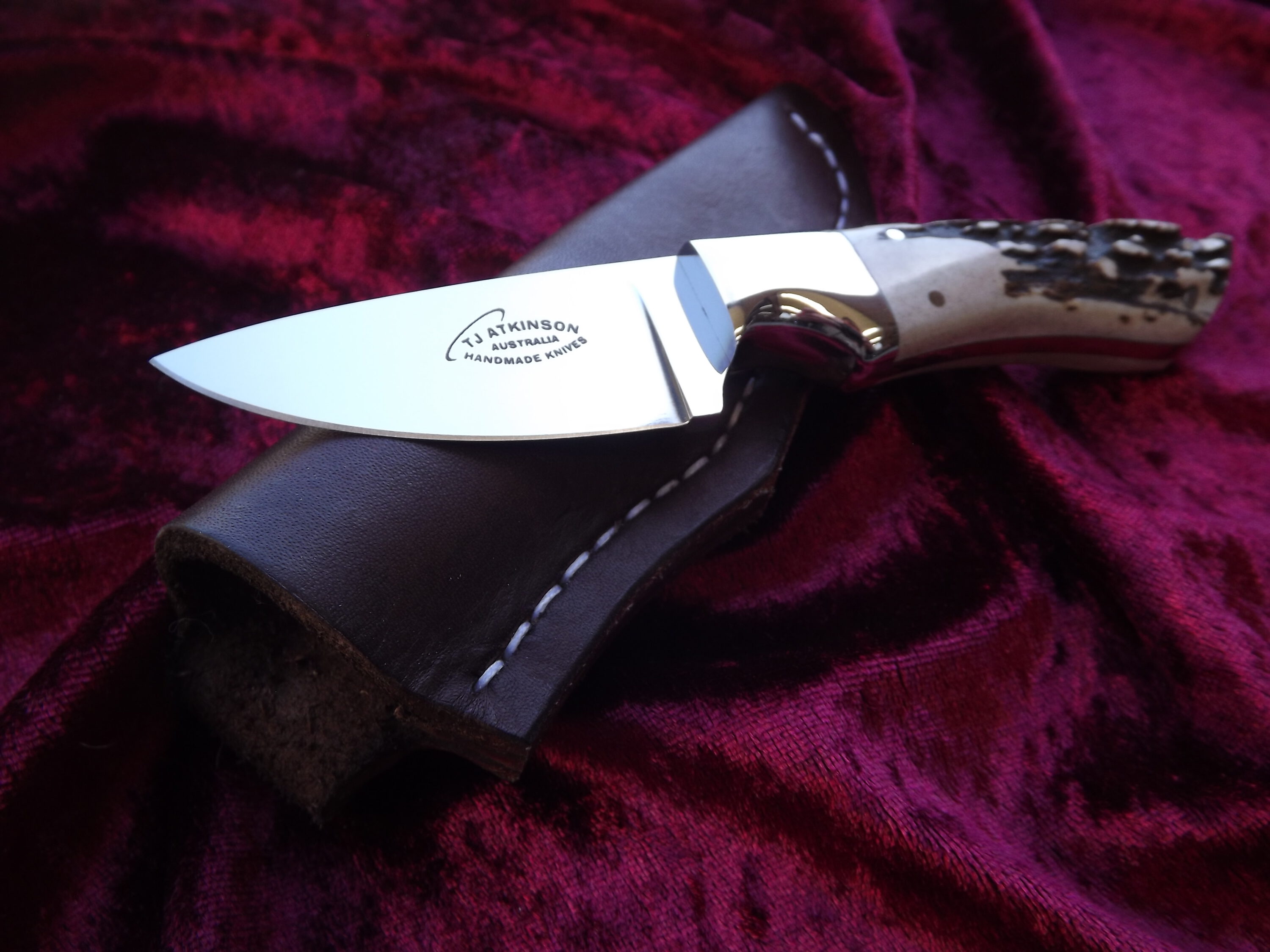 16-year-old Tyler Atkinson has stunned old hands with his beautifully-finished custom knives.
My love for knife making started from a young age. I was always in the shed with Dad doing one thing or another, building and playing with different things, I've always loved working with my hands.
When I was around 10 years old, Dad had a couple of kit knives that he had purchased to put handles on, I was really intrigued by this and finished off a couple with him. We were discussing this one day at our local archery club and member said he had a few laying around that I could have and put handles on. This just fuelled the fire, and I managed to sell them to have enough money to purchase approximately a dozen blades off eBay. Around this time a fellow turned up at the archery club who was a well-known knife maker, Adam Parker, he really took me under his wing and taught me the initial basics in making a blade, and helped me out with my very first belt grinder. This was at the age of 13, now at 17 and almost half completed in my furniture making apprenticeship my passion for creating knives and hunting knives in particular is only growing stronger.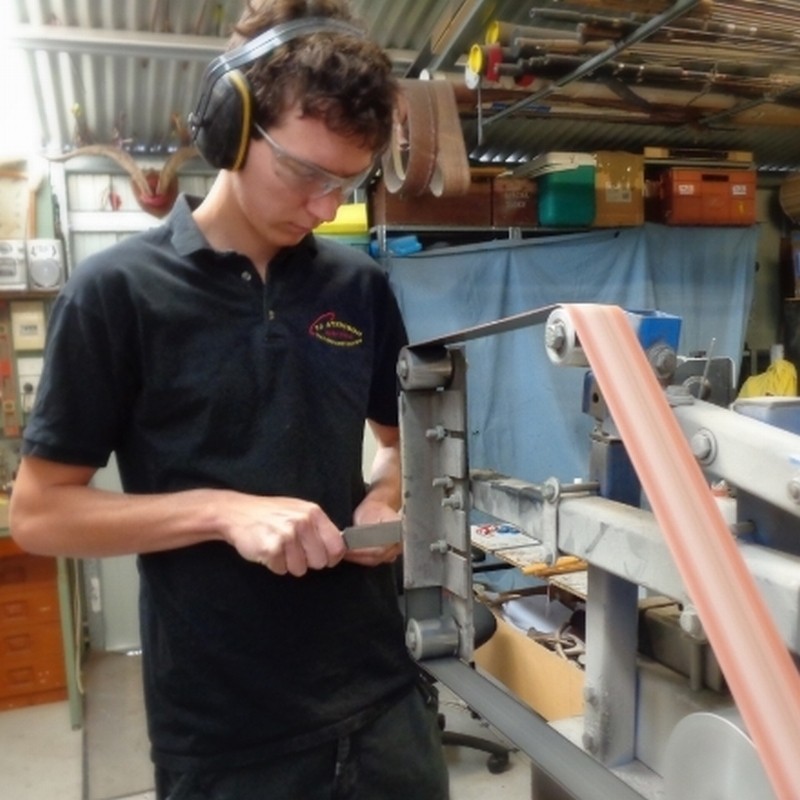 I have primarily sold the knives I've produced through the Bowhunting and Hunting forums, but now mostly run them through my Facebook page; TJ Atkinson Handmade Knives Australia.
The primary blade steel I use to create my knives is ATS-34 stainless. I have found it to be the best all round steel, holding a good edge whilst not being too difficult to sharpen, and bringing up a nice mirror polish. My preferred handle materials are G10, linen Micarta and canvas Micarta, it is completely stable and will last the life of the knife where as other handle materials will shrink and break down over time. I also use a fair bit of antler as I find it aesthetically pleasing. The Micarta and antler both have a textured finish to help prevent the users hand from slipping when the knife is in use. The steel I use is imported from Admiral Steel in America and is heat treated by another local knife maker. G10 and Micarta are sourced from Jantz Knife Supply. Most of the antler I have has been traded for knives over the years, or people have given them to me, this I can't thank people enough for as antler can be hard to come by. Antlers that have been cast for a long while generally aren't good quality, as they are normally sun bleached and have a porous almost chalky texture.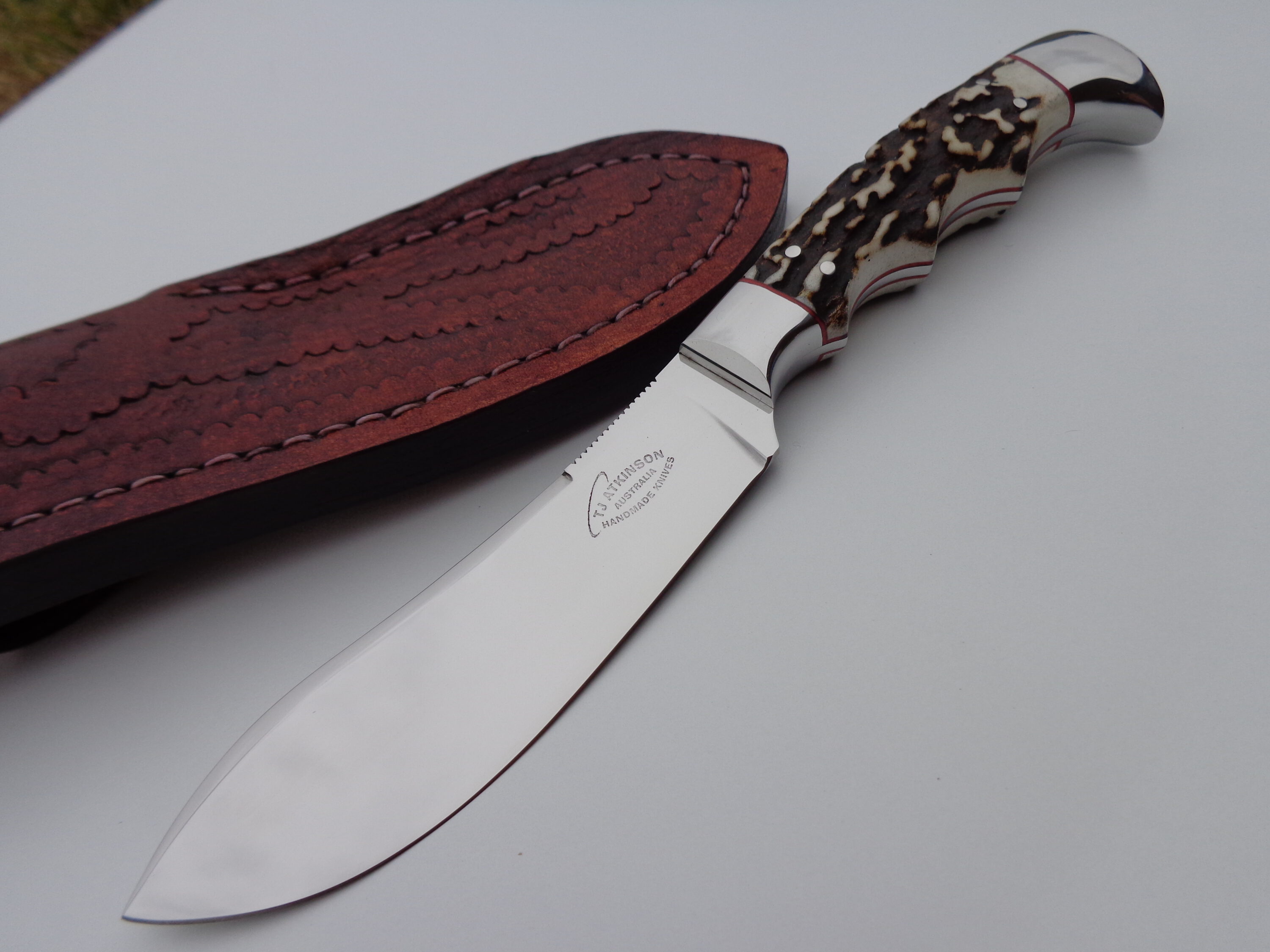 The first steps to making a knife are the initial shaping, which I do with a band saw, and then do the finished shape with a belt grinder. I then grind the main bevel, starting with 50 grit and step down to a 400 grit, then hand sanding down through various grades of paper from 400 grit down to 2000 grit. Followed by drilling handle holes and tapering the tang on a 36 grit belt if the knife requires it, the knife is now ready for heat treatment. When it comes back from heat treatment the blade requires re-sanding and then finishing on a cloth buffing wheel to attain a mirror polish. I use an electro chemical etching machine to put my maker's mark into the blades, which is done through a cloth stencil. Drilling and tapering holes in the stainless steel bolsters follows, and peening the pins in which holds the bolsters to the blade. I now cut the rough shape and outline of a piece of the chosen handle material. Squaring the front of the material to match the angles of the guard and add the coloured liner, I drill the pin holes into the material, gluing up and clamping the handle. I then rough shape the handle on a belt grinder and finish hand sanding to 1200 grit and cloth buff to a gloss finish. Following the completion of the knife, I tailor make a sheath to suit the finished product.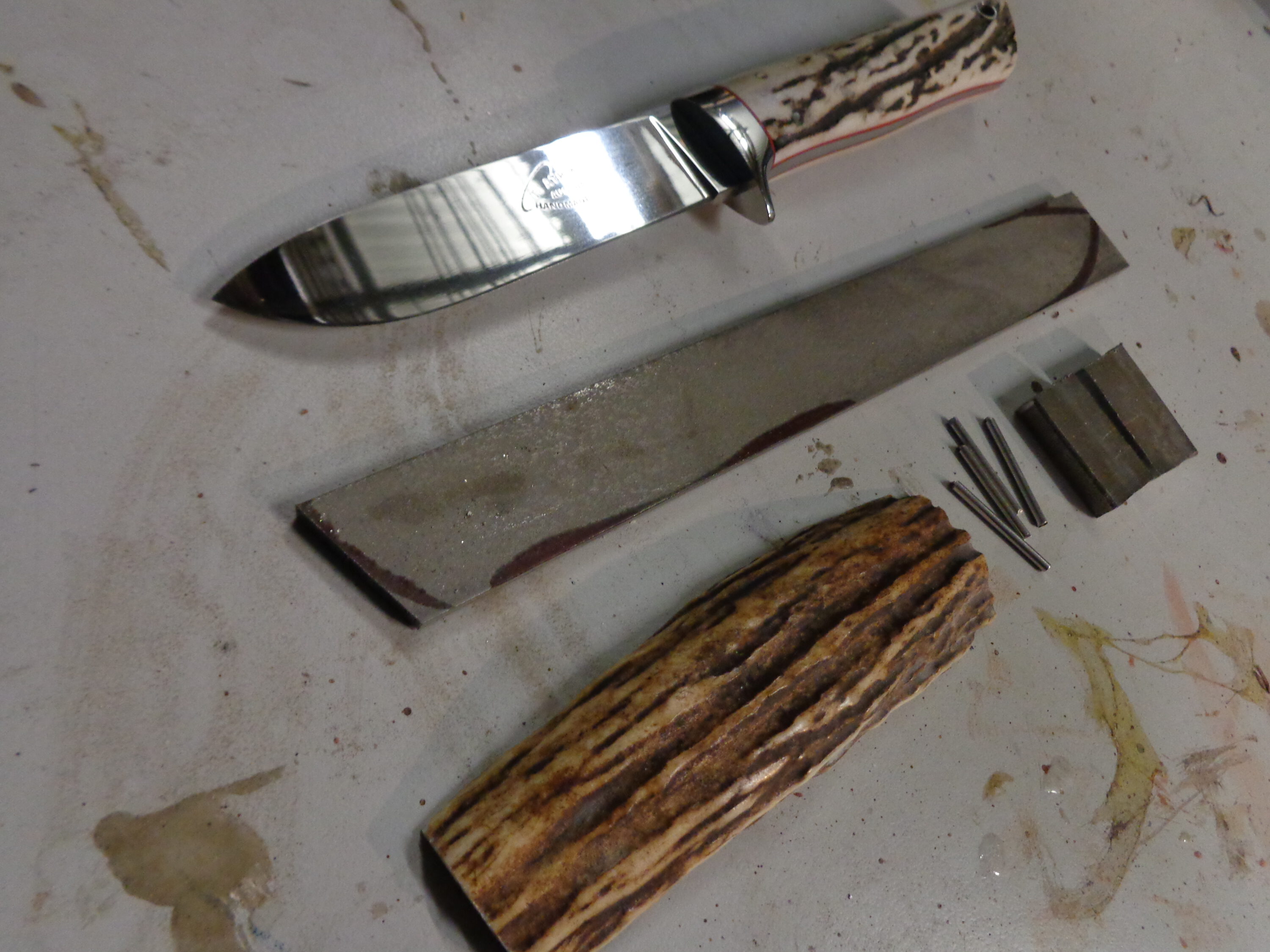 Personally, my favourite styled knife is a 4-inch drop point. In my opinion it is the best all round shape for field dressing and most general work.
The best way to contact me with any questions is by email tjknives@gmail.com