It took John Moses Browning less than a month to design the Winchester Model 1892 lever-action rifle, yet it sold in the millions, was renowned all over the world, became a Hollywood favourite, served in war and is still popular today, almost 130 years later.
Winchester's iconic lever-action rifles are synonymous with the Frontier West era of American history from the 1860s to early 1900s. The Winchester Model 1873 rifle is known as "the gun that won the West", while their Model 1894 is the most successful commercial centrefire hunting rifle ever produced, with more than 7.5 million manufactured.
The Model 1892 sits between those two iconic models and is equally part of the company's legend.
The Model 1873 rifle, chambered in .44-40, was for many years the definitive Winchester rifle, but it had a drawback – it was suitable for pistol cartridges, nothing that could handle buffalo, moose, bear, or other dangerous game. The beefier Model 1876 was introduced to fill the gap, and ten years later Browning made his mark on Winchester's history by creating the Model 1886, which superseded the 1876.

The Model 1886 had a completely redesigned locking action and block, and was designed for powerful hunting cartridges such as .45-70, .38-56 Winchester and .50-110 Express. It was a success, particularly with big game hunters, and 160,000 of them were made before production ended in 1935.
By 1892 there were considerably more cartridges on the market than in 1873 and Winchester felt it was time for a new rifle chambered for the sort of rounds which had made their Model 1873 such a resounding success.
Browning designed the Model 1892 using a scaled-down version of the Model 1886 action, and chambered it for several popular handgun cartridges of the era – generally .25-20, .32-20, .38-40 and .44-40, with a very few also chambered for the .218 Bee cartridge.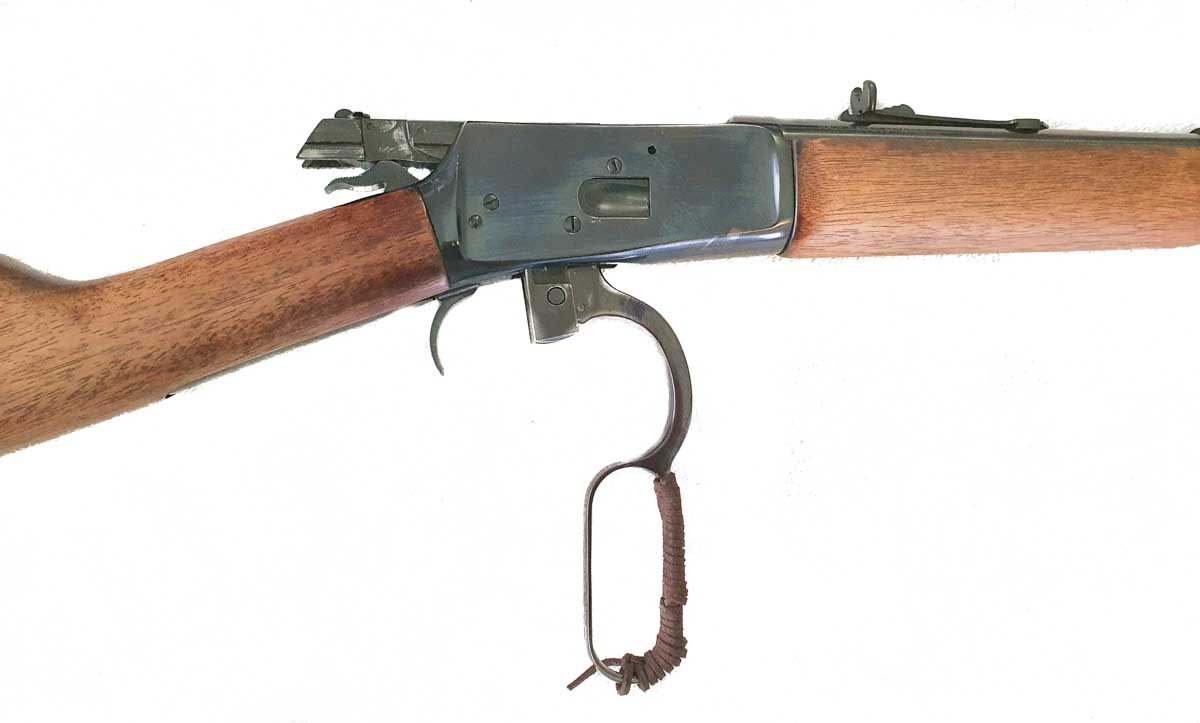 As part of a bet between Browning and Winchester vice president Thomas Bennett,  Browning reckoned he could design the new rifle in 30 days. If he did it, Winchester would pay him $20,000 (about $A750,000 today) for the rifle; if not, Browning would give Winchester the design for free.
He'd already drawn up preliminary plans by the time his train got him back to Utah, and two weeks later Browning had made a functioning prototype, with the production model ready to go well before the 30-day deadline arrived – and Winchester duly wrote Browning a cheque for $20,000.
The Model 1892 was offered in four significant configurations: a Sporting Rifle with 24-inch barrel; a Carbine with 20-inch barrel; a Trapper's Carbine with a range of barrel lengths between 14 and 18 inches; and a Musket with a 30-inch barrel and full wood fore-end. The carbine versions came with a saddle ring on the left-hand side of the action, which was designed to help secure the rifle while being carried in a scabbard on horseback. The ring was retained well after horses stopped being a primary transportation method, largely because people liked the way it looked and it fitted in with the Wild West aura.

The Model 1892 rifle was a huge success for Winchester and went on to sell just over one million units before production was discontinued in 1932, with the rifle still appearing in their catalogues up until 1941.
When first introduced, the Model 1892 retailed in the US for $18 (about $A620 today) while a takedown version was available for $25 (about $A850 nowadays). 
The Wild West era was starting to wind up by the time the Model 1892 came on the scene, but the rifle still managed to make an impact, finding its way into the saddle-holsters of cowboys, ranchers, rangers, lawmen and hunters across the Americas – North, Central, and South.
Harold F. Williamson noted in his 1952 book Winchester: The Gun That Won The West that the short-barrelled versions of the Model 1892 were particularly popular with fur trappers in the Northern US and Canada:
"In running a line of traps for smaller animals these men would not infrequently catch a wolf or bear and a Model 92 with a 14-inch barrel was effective in dealing with these animals. 
The short-barrelled Model 92 also proved to be popular in the jungles of Brazil for use on the rubber plantations."
Annie Oakley had a Winchester Model 1892 especially made for her, chambered in .44-40 but with a smoothbore barrel so blanks and birdshot cartridges could safely be fired from it as part of her act in Buffalo Bill's Wild West shows of the era.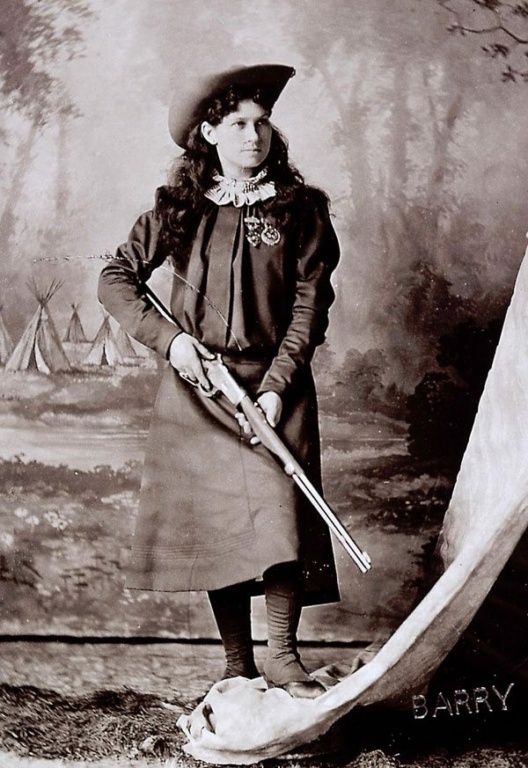 Her rifle is now in the Cody Firearms Museum at the Buffalo Bill Centre of the West in Cody, Wyoming, USA.
The Model 1892 rifle had another claim to fame – US explorer Admiral Robert Peary carried one in .44-40 calibre on his arctic expeditions, including his historic 1909 expedition to the North Pole.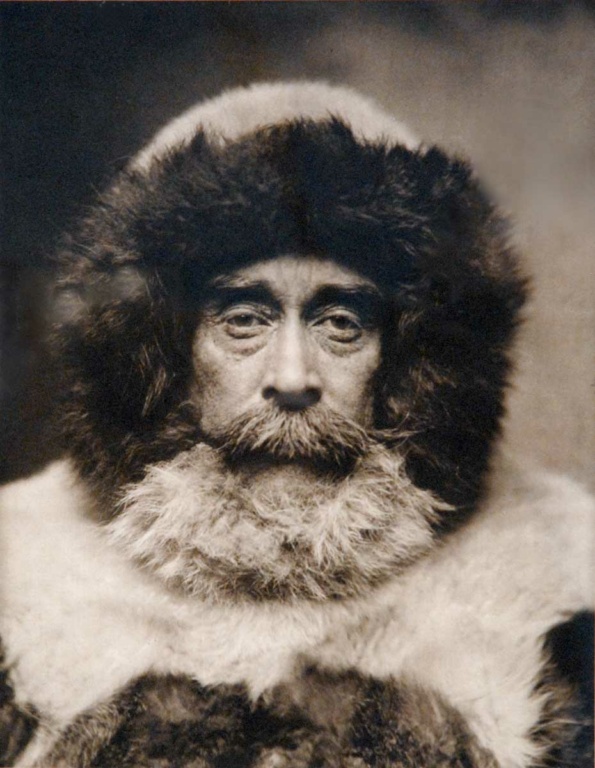 Admiral Peary himself said in a 1909 testimonial that he always carried a Winchester rifle and on his polar expedition: "I had a Model 1892, .44 calibre carbine and Winchester cartridges which I carried with me right to the North Pole. After I left the ship I depended on it to bring down the fresh meat we needed." So assuming one believes Admiral Peary's claims of reaching his destination, the expedition's Winchester Model 1892 has the distinction of being the first rifle carried to the North Pole.
The Model 1892 was also extremely popular in Australia, both as a hunting arm and with police. Numbers were issued to prison guards as well as the Western Australian Police. 

Original Model 1892 rifles in Australia are generally chambered for the .32-20 or .25-20 cartridge and feature a half-stocked five-round magazine; besides being popular kangaroo hunting rifles back in the day, many were also taken in and then issued as reserve rifles during World War II as the .310 Cadet round could be safely (by the standards of the time) fired from a .32-20 rifle.
Model 1892 rifles were shipped to Perry Bros in Brisbane in the period between the 1890s and about 1920, who retailed them as "Stinger" rifles. These rifles have a picture of a wasp and 'The Stinger' inscribed on the barrel above the Winchester details and were advertised as retailing for 67s/6d (about $430 nowadays) in 1901 for the .32-20 version.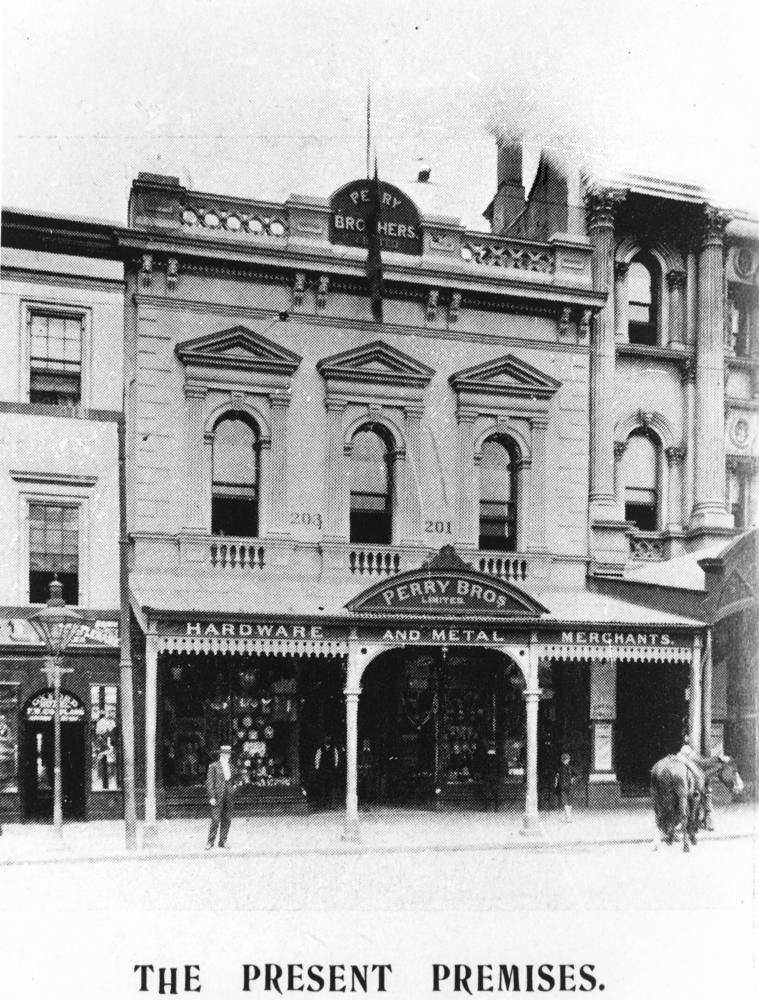 Just to be confusing, the Stinger trade name was also used by Perry Bros on later rimfire or pistol-calibre Winchester arms, including the Model 1902 bolt-action .22, the Model 1905 semi-automatic and Model 1906 pump-action rifles as well.
Model 1892 rifles imported and retailed by Lassetter & Co in Sydney and Melbourne around the same era were marked as "The New Daisy Rifle", differentiating them from their "Daisy Rifle" marked Model 1873 rifles – neither of which have any relation to the modern Daisy air-rifle brand. An 1892 ad from Lassetter's in the Australian Town and Country Journal mentions .32-20 ammunition costing 7s (about $40 now) per 100 rounds, with .44-40 ammo being 8s ($46) per 100 rounds.
Most of the original Model 1892s exported to Australia before WWI saw hard service on cattle stations, farms and in the bush. Surviving examples from the era are generally optimistically described as "pretty average at best".
While the Model 1892 was certainly popular in Australia, it had its biggest foreign success in Spain.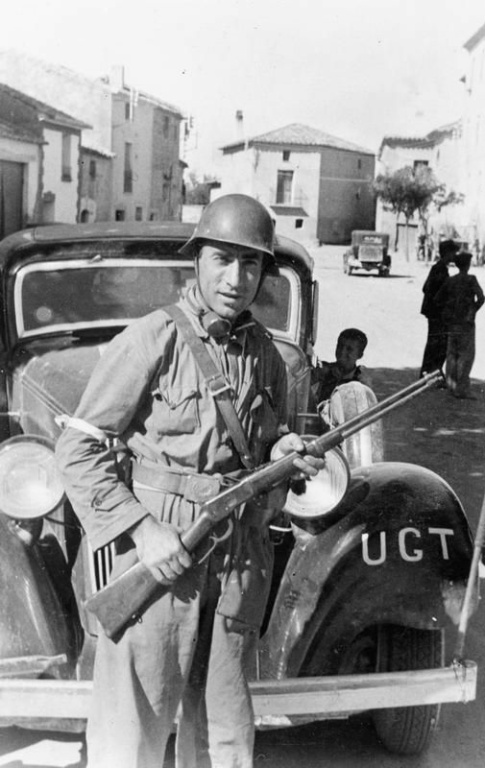 An almost exact copy of the Model 1892 rifle was made by Garate Anitua y Cia in Eibar, Spain as the El Tigre rifle, chambered for .44-40, with a 22-in barrel and 12-round magazine. 
Intended for use by the Spanish Civil Guard, El Tigre rifles were also issued to police and military reserve units, and were popular with civilians for hunting. 
More than a million of these rifles were manufactured – almost as many as Winchester themselves made – and El Tigre rifles saw extensive use on both side of the Spanish Civil War, marking one of the last major conflicts were lever-action rifles were an issued arm and used in action. 
El Tigre rifles were very well made and a lot of them made their way to the USA in the 1950s, where numbers ended up as prop guns in movies and TV shows.
On Screen
The enduring legacy of the Model 1892 has come not just from decades of use throughout the world, but from a prominent screen presence in the Golden Age of cowboy movies and TV shows in the 1950s and 1960s.
Hollywood bought the Model 1892 in great numbers for film and TV production. It looked like a cowboy gun and it was plentiful. So too was blank-firing pistol ammunition to suit it. The Internet Movie Firearms Database lists well over 100 appearances in everything from Treasure of the Sierra Madre with Humphrey Bogart to Firefly to the recent Mad Max: Fury Road.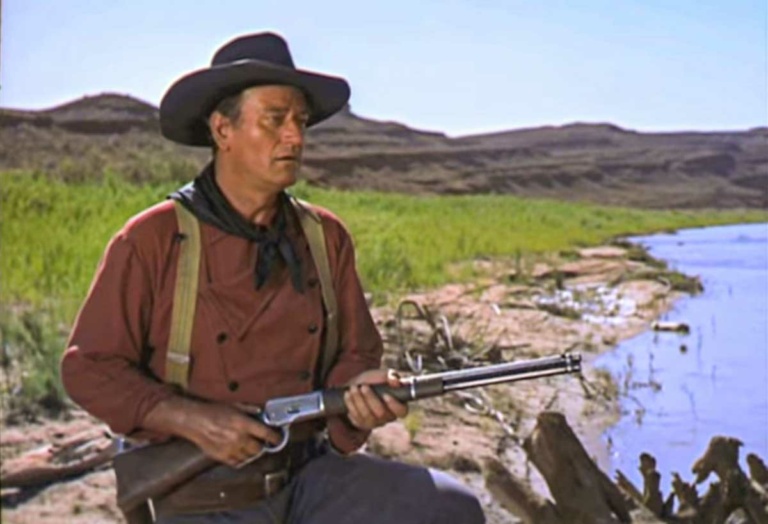 Unsurprisingly, the Model 1892 rifle appeared in numerous John Wayne movies, including The Searchers and True Grit. The Duke was known to have owned a number himself, including some with an oversized loop lever. It was also carried by actor Chuck Connors in his starring role on The Rifleman TV show. 
In short, if it was a TV show or movie about the Wild West, there's a pretty good chance a Model 1892 was in there somewhere.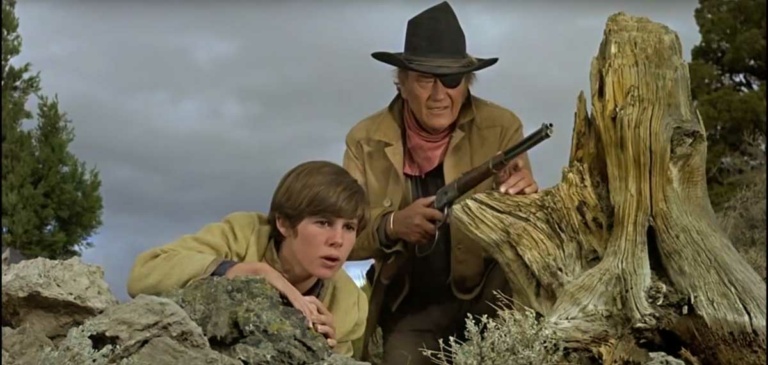 One version of the rifle, known as a Mare's Leg and which is best described as being a sawn-off Model 1892 with a large loop lever, was used by Steve McQueen's character in the series Wanted: Dead or Alive (as well as the science fiction series Firefly) and became an iconic gun, with a modern variant available today from Chiappa and another made by Henry Repeating Arms (albeit not on a Model 1892 action).
Modern production
Presently, three companies produce the Model 1892 – Winchester (manufactured by Miroku in Japan), Rossi (manufactured by Taurus in Brazil) and Chiappa (manufactured in Italy).
All three manufacturers offer the rifle in modern pistol cartridges, with .357 Magnum, .44 Magnum and .45 Long Colt being the most popular.
While the Winchester and Rossi rifles are almost identical to the original design, Chiappa also offers the traditional rifle in a takedown configuration as well as a modernised version known as the Alaskan rifle, featuring a synthetic stock, fibre-optic sights and a larger, more angular lever guard.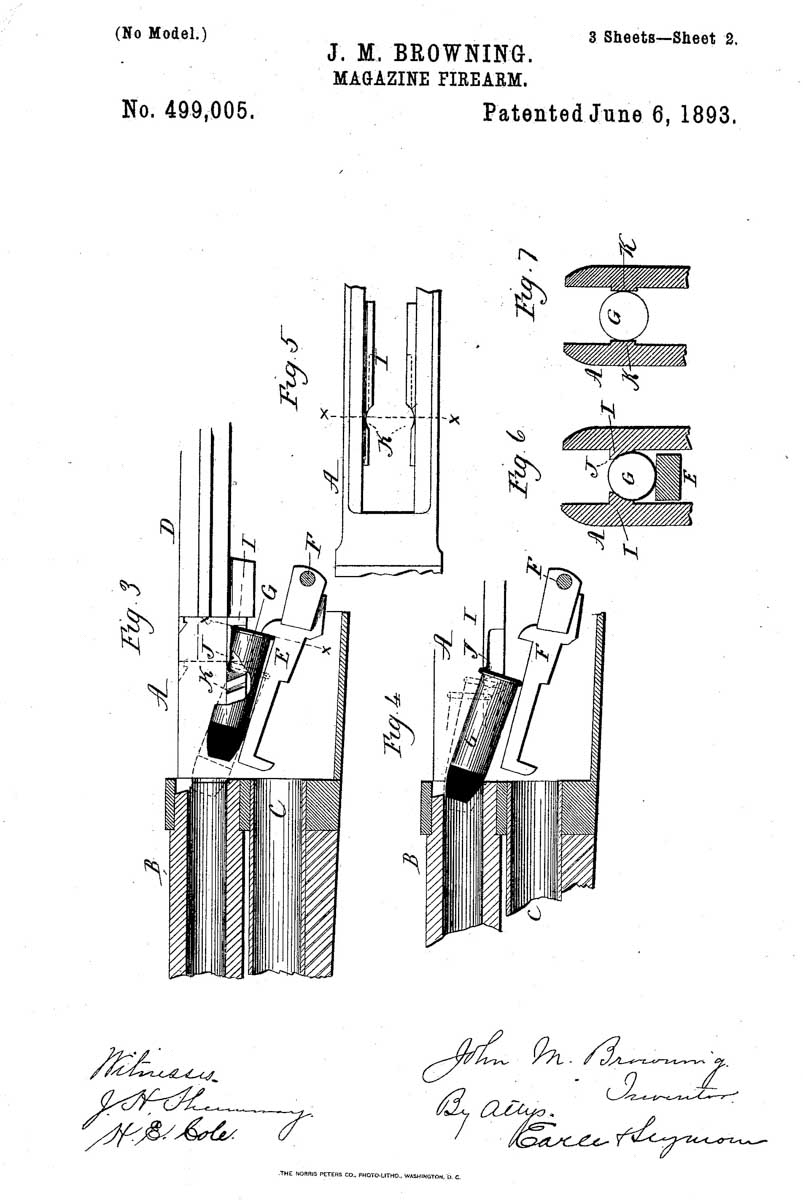 Obviously the major market for these rifles – particularly the traditional configuration models — is Single Action Shooting and competitive Lever Action Rifle match enthusiasts, but the rifles also make solid hunting arms too. 
With tube magazines holding up to 12 rounds on some models, and its reliable, iconic design, the Model 1892 rifle is still a very capable hunting rifle today, particularly at short ranges in bush or scrub. 
The .38/.357 Magnum will easily take hares, foxes and similar small-medium game, while the .44 Magnum versions have more stopping power and have been used for hunting goats and pigs, among other species.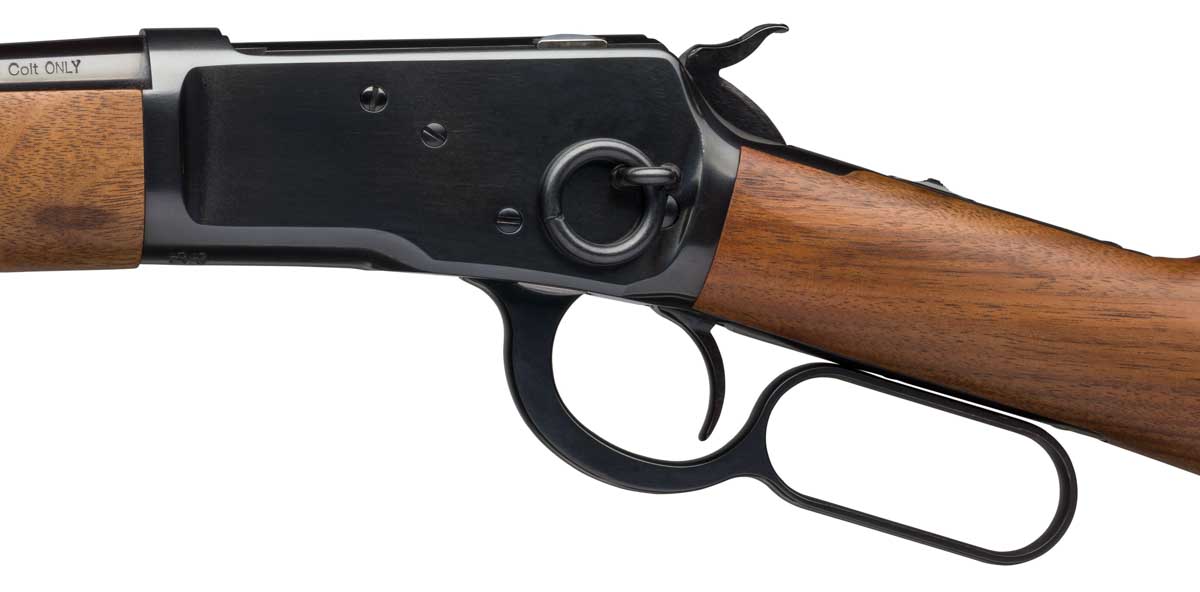 Regardless of calibre, the modern Model 1892 rifles are accurate, well-made arms from a design that's proven just as effective today as it was in the closing years of the 19th Century.
Most commonly, however, Model 1892 rifles are found on the firing line for competition events; and with more than 125 years in action across range and field, the Model 1892 hasn't stopped shooting yet — and doesn't show any signs of slowing down, either.
WINCHESTER MODEL 1892 CARBINE
Country of manufacture: United States of America, Spain, Brazil, Italy, Japan
Calibre: Various, including .44-40, .32-20, 25-20, .357 Magnum, .44 Magnum, .45 Long Colt
Action: Lever
Magazine Capacity: 10 rounds
Barrel Length: 51cm (20 in)
Overall Length: 95.25cm (37.5 in)
Weight: 2.7kg (6lbs)