Stand in front of Lionel Bibby with a cigarette in your mouth and he would shoot the ash off it. Bibby was famous across the nation as a crack shot, as well as being a war hero and the father of Australian civilian rifle design.  
He began his trick-shooting career more as a diversion in the early 1920s, when he and a woman identified only as Miss Hill used a revolver to shoot ping pong balls from each other's fingers on Sydney's Long Reef Beach.
We don't know when he first picked up a rifle but he acquired his first one, a Winchester Model 1900, when he was 10 years old. 
Born in Victoria, he was brought up in Tasmania, joining his father's gem and jewellery business.
He was 22 when he enlisted in the AIF in July 1915 as an infantry private, and in 1916 he joined the fighting in France.
He must have been a talented soldier, being promoted through the ranks before receiving a field commission as a second lieutenant in October 1917.
After the armistice, Bibby spent most of the next year in England on administrative duties and was eventually discharged back in Australia in early 1920. 
In WWII he spent a few months as a lieutenant in the Volunteer Defence Corps, giving rifle instruction to soldiers.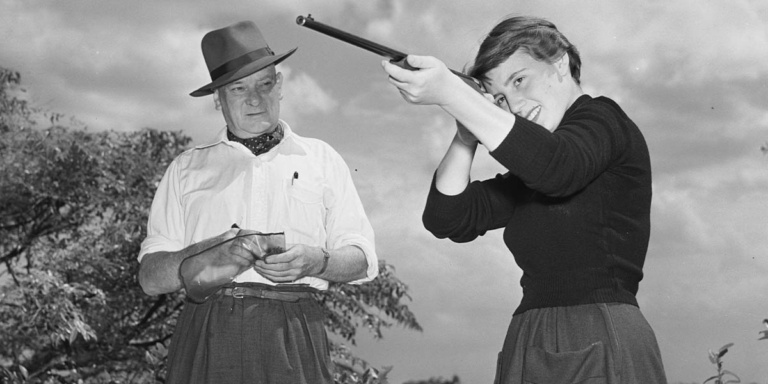 In the 1930s, '40s and '50s he would take his trick-shooting skills on tour around the country. By the '40s he would often have his son Jim — who also became a crack shot but tragically died aged only 28 — in tow.
Some of Bibby's trick shots included ejecting a spent case from a pistol by pulling back sharply on the slide, then shooting a hole in it before it hit the ground.
One account describes him holding the pistol upside down, gripped only by his thumb on the base of the butt and his finger on the trigger, and shooting out a small bulb.
He'd balance a moth ball on the muzzle of a rifle, flip it into the air and shoot it. He jokingly called this ".22 calibre trap shooting". Some reports suggest the ball was thrown up by the falling hammer of the pump-action rifle before the chambered a chambered a round and shot it.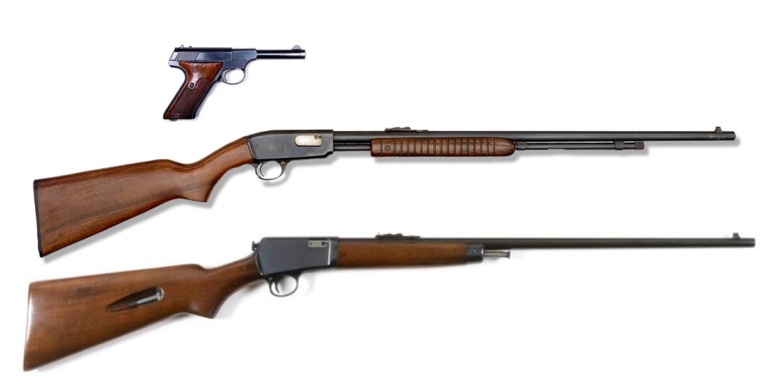 Another trick was to throw a gramophone needle into the air and shoot it, repeating the act until it was clear there was no fluke involved. 
He could cover the front sights of a rifle and still hit his targets, apparently able to shoot instinctively with uncanny ability. 
He'd toss three 7cm square blocks of wood into the air and, as they separated from each other, he'd shoot each of them using his pump-action Winchester rifel "with the speed of an automatic," according to one story in 1935.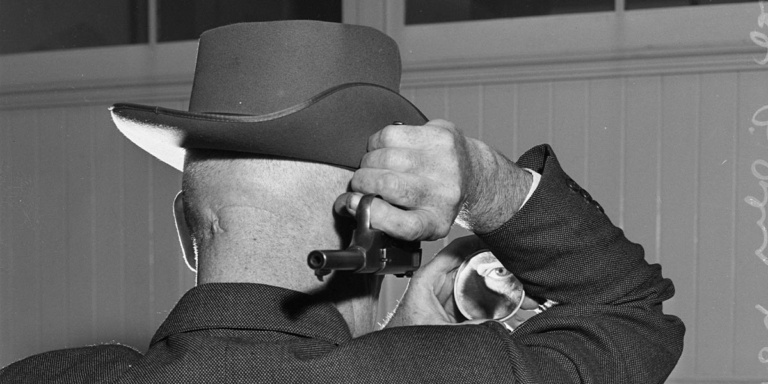 "But, of course, anything with a 2½in circumference is an oversize target to this freak shot," the reporter continued, "and the next stunt is rushed on before you thlnk: lt is all too easy.
"Now we find the rifleman handling a square piece of cardboard, about 5in to 6in square. With his left hand he throws the board out in front, and while It forms fantastic figures fluttering in the breeze, the resounding smack following trigger pull is but a prelude to your finding the 'target' with bullet mark clean on the edge!"
Clearly impressed and trusting, the reporter held his business card edge-on for Bibby, who shot with such accuracy his bullet seared a line under the address.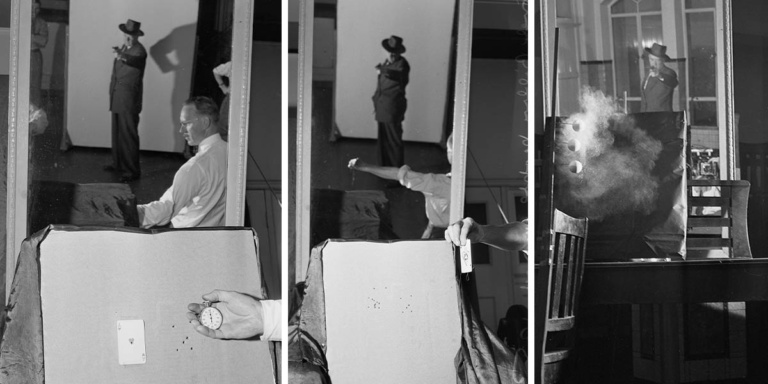 "Two points of very great importance to all riflemen is that Bibby always shoots with both eyes wide open, either with pistol, rifle, or shotgun, and consistently uses Lyman aperture sights," the story concluded.
Dan Cronin, a photographer for The News in Adelaide, balanced a piece of chalk on his camera and tried to snap a photo as Bibby shot it off. Bibby hit the chalk but perhaps Cronin didn't hit the shutter button in time because the image wasn't published.
Bibby could shoulder his rifle on the right with a pistol in his left hand and shoot simultaneous bulls-eyes with both.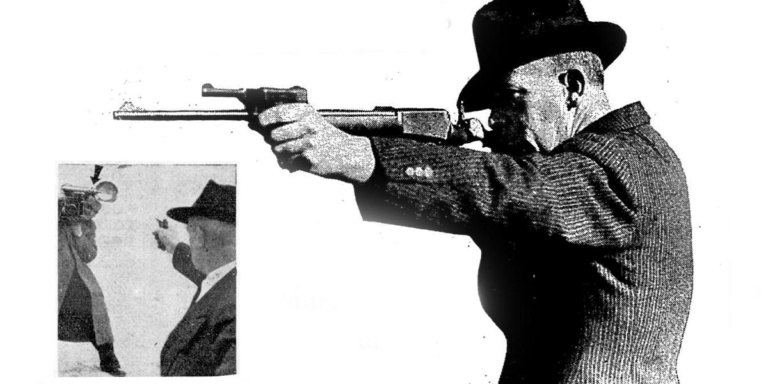 He frequently shot chalk from the fingers of people picked from the crowds of spectators — people such as, in the words of a contemporary newspaper report, the "attractive Miss Eileen Papps".  
He was so confident of some of the people he trained to shoot that he'd sometimes hold the targets for them to shoot from his fingers.
Bibby's trick-shooting skills were matched by his intelligence and critical thinking. Naturally, he was a wealth of knowledge about firearms, ammunition and ballistics.
His popularity was such that he hosted his own radio show in the late 1930s and into 1940. "Gun Smoke" was an evening show broadcast by Sydney station 2GB.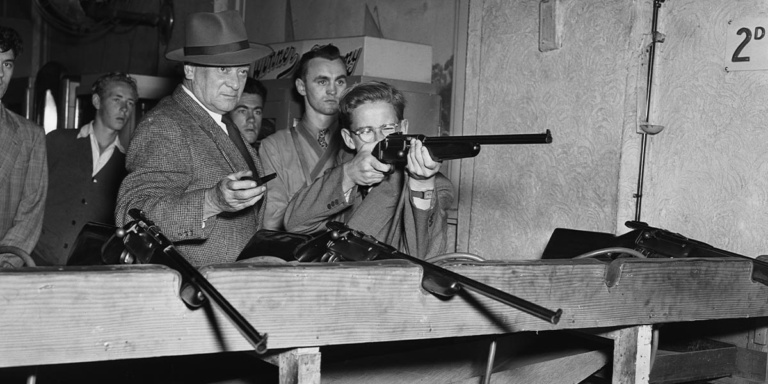 "Gun Smoke" returned for a while in 1950 on 2UW, with one publication describing it as "a discussion on firearms and their use, interwoven with philosophy in the style which Lionel made famous a decade ago".
Bibby wrote, too, contributing to magazines, newspapers and club publications in very entertaining, enjoyable and sometimes risqué style. 
Through his career he worked with Slazenger, ICI and Mick Simmons.
After WWII, Slazenger and Lithgow Small Arms combined to make civilians rifles, and Lionel Bibby was involved in the design. Reports of his input vary, but we can confidently say he was closely involved with the projects and was influential in the final result.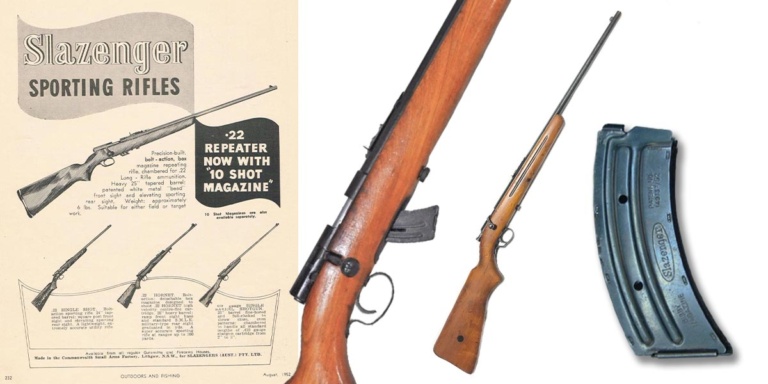 Slazenger began with the Model 1 bolt-action single-shot, very closely based on Winchester's Model 68, and followed with the Model 12 bolt-action repeater, based heavily on the Winchester Model 69A. Slazenger rifles were later branded as Lithgows.
The Model 12 initially had a five-shot magazine but Bibby was responsible for the later introduction of a 10-round magazine, which had his named stamped into it. 
Some of the rifles also bore his name, stamped on the receiver.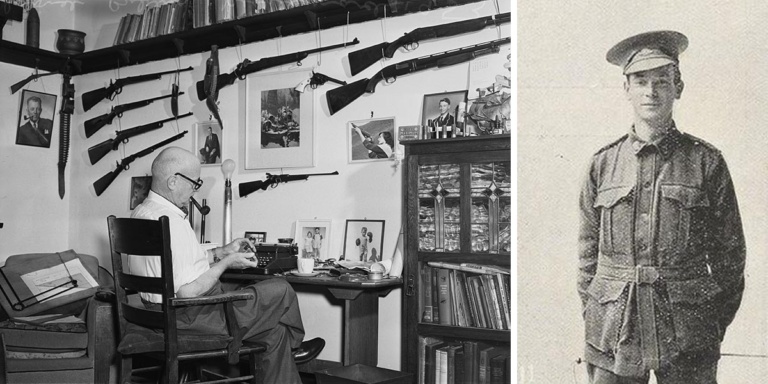 Bibby died in 1967, long before firearms went from being a regular part of Australian life to becoming a heavily regulated niche sport.  
We barely celebrate even our shooting champions now, but Lionel Bibby lived in a time when a person could be famous all over the country for his unique ability to shoot a gun with unbelievable accuracy and skill.