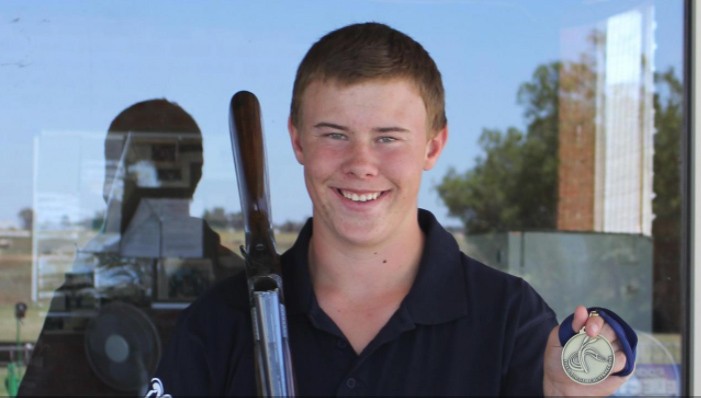 Fifteen year oldBen Kuschert took up clay shooting just two years ago and has alreadywon his first national competition in the handicap event at the 2017 Field and Game National Carnival.
The2017 Field and Game National Carnival is one of Australia's biggest clay shooting events with more than 500 competitors attempting to hit 150 targets each over the 2 day event.
The talented young shooteralso took part in the junior section of the competition where he placed 11 out of 27 shooters.
Kuschert credits his trainers Graeme Boyd and Brett Jory for his great form after just two years of practice.
Boyd has also coached Willett who now lives in Mulwala and took home fifth in the men's double trap at the Rio Olympics last year.
Kuschert, who is a C grade shooter at the moment, was up against double A shooters at the competition, which makes his win even more exceptional.
Sarah Dean from the Corowa Free Pressreported.
"I have always had an interest in hunting and wanted to try my hand at shooting for as long as I can remember," Kuschert said.
Kuschert's win at the nationals saw him presented with a medallion and he was also awarded a Browning B725 gun, which he will have to wait patiently for.
"If he lived in Wodonga he could have gone home with it, but the gun laws are different in NSW," Carol said.
Kuschert described winning his own gun as "one of the best things that has ever happened".
"I will use it a couple of times but it will probably become more of a memento of my win," he said.
Corowa High School clay target teacher Bryon Adamson said Kuschert showed potential from day one.
"He has a natural gift for the sport and hasn't been doing it for long so this will be the first of many wins if he keeps it up," he said.
"For him to go to a national event like that and come home with that prize is fantastic.
"I think originally he was only going to go there to get some experience and weren't expecting anything at all, just getting some experience shooting at that level.
"He surprised himself I think and it is absolutely fantastic."
Corowa Clay Target President Royce Wojtawyez said winning at nationals was a top effort for a junior shooter.
"The Field and Game is one of the hardest shooting disciplines because you have a lot of crossing targets and the target itself could be 30 to 40 yards out, so you have to try and judge your lead to the target and it's not travelling in a straight line," he said.
"We wish him all the best with the sport.
"James Willett started out with high school shooting here in Corowa, so we could have another shooter go through to the world stage."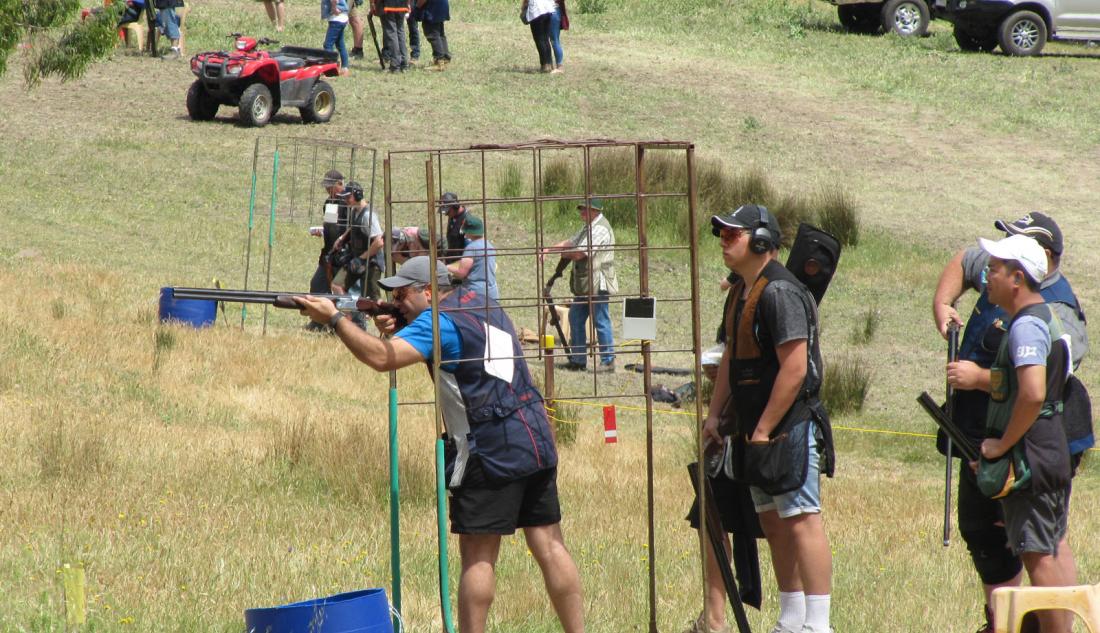 2017 National Champions Results
Winchester Australia National Championship
High Gun for 150 targets
National Champion – JOHN YOUNGER – 140 OTG
AA Grade
3rd BRIAN MORTENSEN
2nd BLAKE NANKERVIS
1st BRENTON IRONS
A Grade
3rd ANTHONY PITT
2nd KENNITH ATKIN
1st RICKY CRAWFORD
B Grade
3rd DAVID CHARLES
2nd WILLIAM MURRAY
1st ALEX LABIB
C Grade
3rd BILL MORAN
2nd GRANT MIDDLEMISS
1st ANDREW PORTELLI
Beretta Australia Ladies National Championship
3rd FELICITY RICHARDSON
2nd APRIL THOMPSON
1st BROOKE TANGEY – 106 OTG
Beretta Australia Veterans National Championship
3rd DOMINIC AZZOPARDI
2nd ALEC CECCATO
1st ROGER KERSLAKE – 122 OTG
Raytrade Junior National Championship
3rd MARK DU ROSE
2nd LUKE WILLEMSEN
1st BILLY CAIN – 129 OTG
Raytrade Sub-Junior National Championship
3rd BENJAMIN STUDHAM
2nd BRENDAN O'BRIEN
1st NICHOLAS BRIGHENTI – 109 OTG
Winchester Australia National Handicap
30th Kennith Atkin
29th Luke Willemsen
28th Mark Du Rose
27th Daniel Lillis
26th James Saliba
25th Scott McIntyre
24th George Pilipasidis
23rd Liam Hill
22nd William Murray
21st Wayne Lowan
20th Jeremy Kent
19th Billy Cain
18th Adam Bennett
17th Alex Labib
16th Con Scalora
15th Adam Du Rose
14th Mick Keirl
13th Craig McNeil
12th Jack Gibbs
11th Matthew Libbis
10th Bill Zogogiannis
9th Lee Berger
8th Noah Bazzano
7th Brenton Irons
6th Grant Middlemiss
5th Brian Mortensen
4th Blake Nankervis
3rd Andrew Portelli
2nd John Younger
1st Ben Kuschert
Into Shooting Branch Team Event
3rd PINEGROVE, Adrian Orchard, Brook Nichol, Josh Simms, Molly Nicholson
2nd BENDIGO POACHERS, Andrew Campbell, Barry Eastwood, Mark Daley, Matt Davis
1st ABZ SHOOTING TEAM, Frank Cefai, Brent Harbour, Emmanuel Attard, Andrew Portelli
Into Shooting Junior Team EventThree-person teams, 150 targets OTG
3rd O'FITZIDEAN, Riley Fitzgibbon, Kiara Dean, Brendan O'Brien
2nd SHEPP YOUNG GUNS, Xavier Russell, Harry Wilkie, Thomas Bilney
1st THE FUTURE, Mark Du Rose, Billy Cain, Luke Willemsen
We're very pleased to announce that next year's National Carnival will be hosted by the Bairnsdale branch, and we're hoping to build on the new format we've seen this weekend.