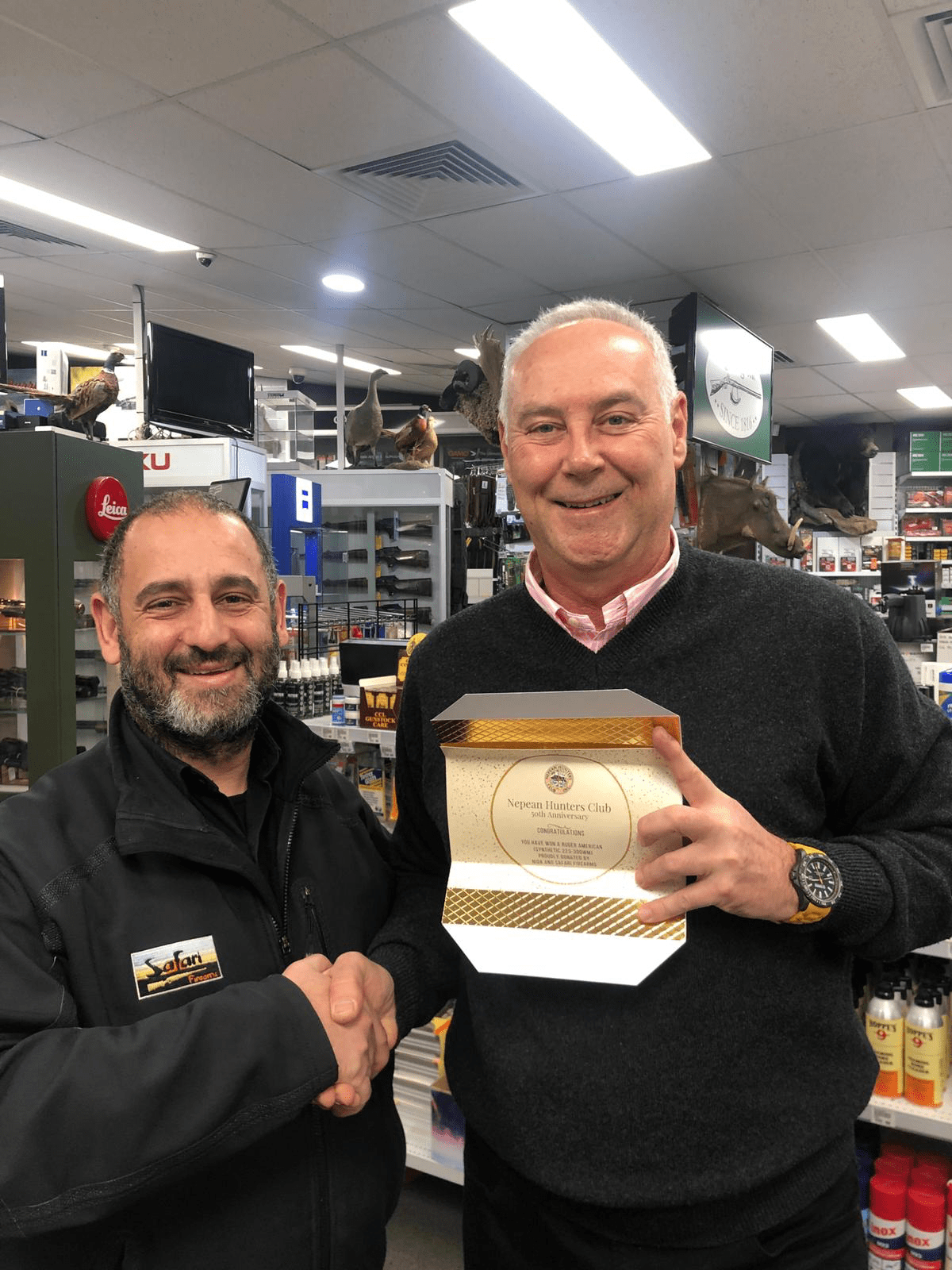 NHC member Sorin recently won the first prize raffle for the Nepan Hunters 50th Anniversary celebration which was sponsored by NIOA and Safari firearms.
Sorin was very excited about getting a new toy and applied immediately for a PTA, which came surprisingly quickly in less than two weeks. Sorin called Gary from Safari to let him know what to prepare and this is his story.
"The raffle prize was a Ruger American rifle in pretty much whatever calibre of choice up to .300 Win.Mag., which is exactly what I picked. Another piece of luck was that Gary had negotiated with Nioa for an upgrade from the standard blued with black synthetic stock to the Cerakote bronze metalwork and Go Wild Brush Camo stock. It's a real beauty".
"When the rifle came from NIOA, Gary messaged me to pick it up just in time before we got into lockdown. I have chosen a Zerotech Trace 3-18×50 30mm tube scope at Gary's recommendation. When I showed up, he mounted it to be ready for me. I also acquired a nice sling and bag to go with it and some ammo to zero it in at the first opportunity".
"As always, Gary has been a true champion and gave me some very good price reductions across everything, so I have left his shop with a massive grin on my face. When I think of it, I smile again".
"I cannot stress enough how good Gary and Safari have been to me; not only in this occasion, but every time I have shopped there, so I hope by sharing these words with the club, many will make Safari the go to shop for anything to do with our beloved pasttime, just like me".
This is a perfect example of how the relationships between hunting clubs and the firearms industry bodies can come together for a positive experience for all.
It should also be stressed that active, well-administered hunting clubs in NSW do much to foster good hunter conduct and interaction with the community. Those who wish to become part of a larger hunting and outdoor educational organisation would be well-served to investigate membership of one of the 40-plus registered hunting clubs in NSW. Click on Federation Of Hunting Clubs NSW to find out more.