With Col Allison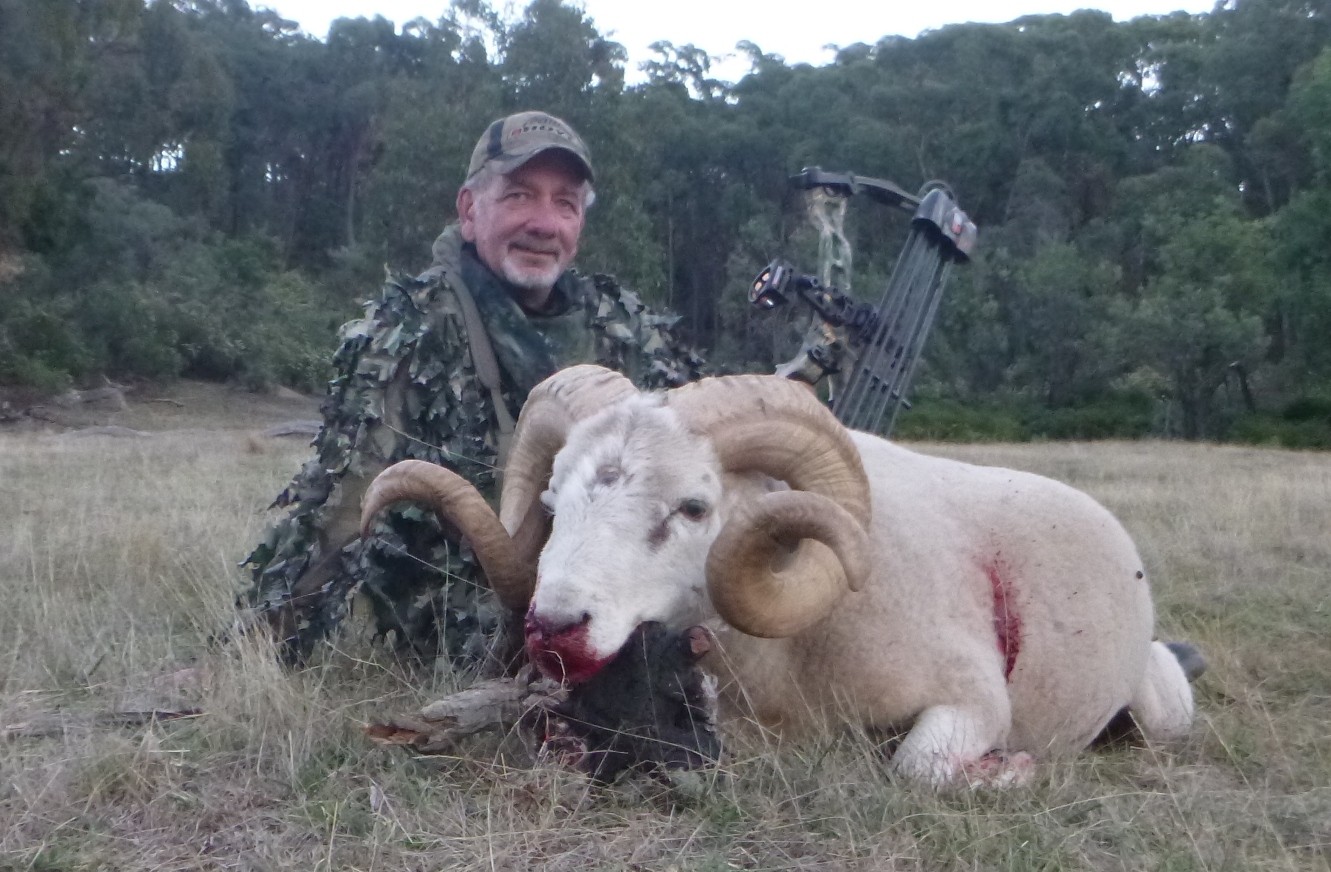 Well, here's something a lot different to most of the trophies you see in magazines. You don't spot a lot of sheep, unless they're very expensive dall, stone, Rocky Mountain, desert bighorns or Marco Polo (or other Asian argali) rams of one kind or another. This is an Aussie-grown ram, developed from cross breeding over many years in the Snowy Mountains - and a BIG one at that. It was bred by Steve, Judy and Mark Isaacs on their hunting property, Raptor Ridge Ranch in southern NSW.
The successful hunter who hung this one in his trophy room is Charlie Muscat, well-known bow stalker, and also a keen rifle shooter who likes to keep a low profile. He's a good keen man who's guided quite a few blokes to fine trophy fallow deer down Canberra way over the years as well. You've probably seen him at the SSAA St Marys shooting range, where he works.
The ram he shot has 10 inch bases on horns 31 inches long with good mass up into the entire horn: 124 SCI.  This is getting close to the dimensions of a Russian snow sheep or small dall.
Charlie booked the hunt with Steve after seeing the Snowy Mountain rams while chasing rusa with his bow. His comments to Steve and Judy were: "This has got to be the only way most Aussies will collect a wild sheep without paying $10K plus for sheep overseas (try $20k to $40k for native sheep, Charlie!). They look great too, much cleaner than the Arapawas in New Zealand and a bit bigger from cross-breeding vigour."
Charlie grassed the ram cleanly with a double lung shot after a lengthy stalk. "I used my trusty Hoyt Turbohawk bow, set at 65lb pull, loaded with a carbon express Predator 11 with a NAP Hellrazor broadhead. The ram travelled 18 metres before expiring."
Just to show you that it's not all about rams on Raptor, I took a Douglas Score 240-pointer fallow buck on Raptor Ranch last year and missed out on a 260 point head by happenstance. And here's another cracking red stag from the property, too. Brian Welsh took this red stag with a rifle. Pretty even head, eh?