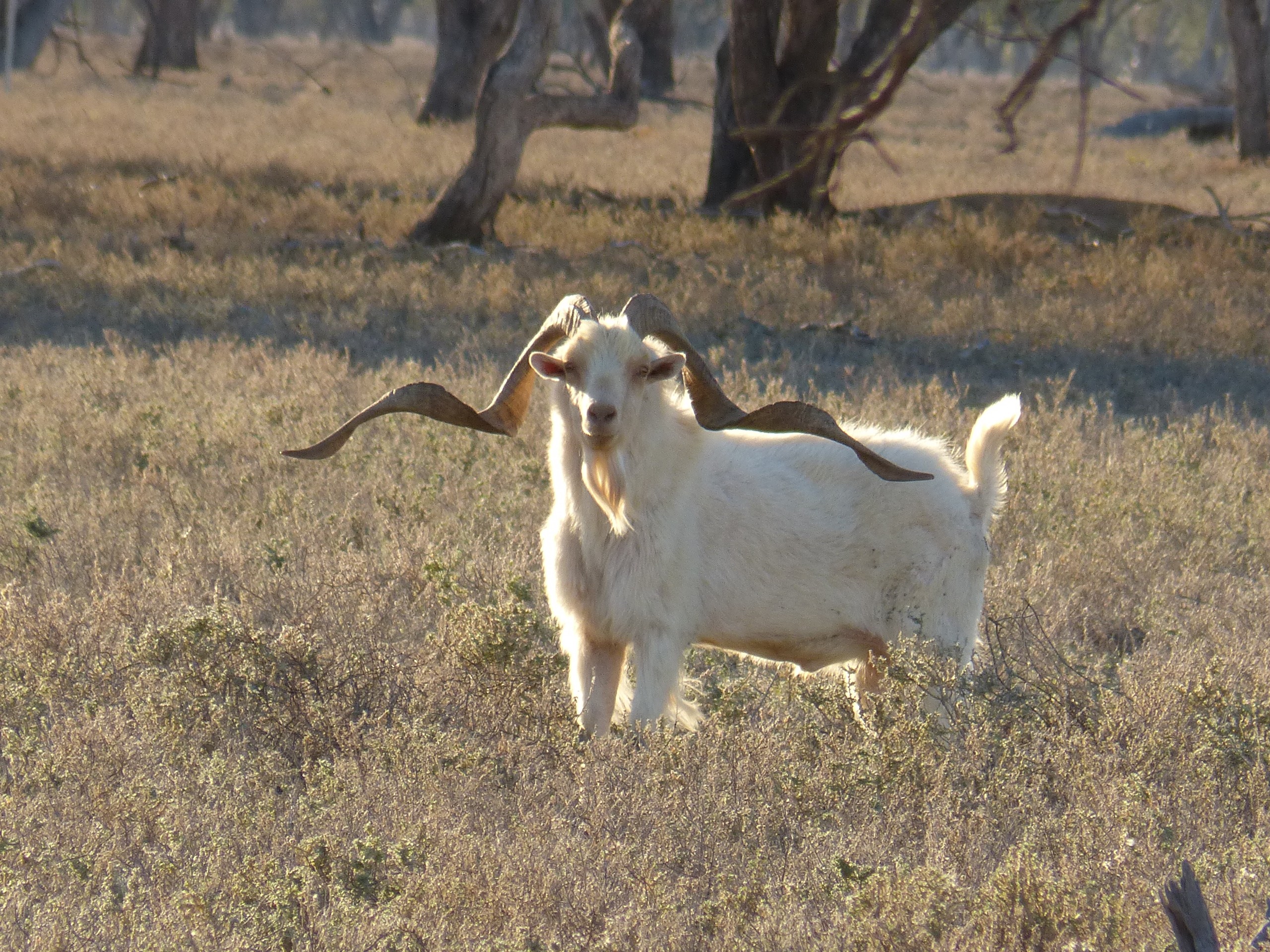 Mike Cleary heads west with the crew from Beyond The Divide to hunt monster billies out the back o' Bourke.
I was walking past the Moroka 30 stand at a SHOT Expo and saw a familiar face, so I went in and introduced myself to the multi-award winning filmmaker and hunting clothing and accessories retailer, Rob Fickling. Talk soon turned to Rob's very successful TV show, Beyond the Divide. I made a tongue in cheek comment to Rob that he should do an episode on some big billy goats. Rob defensively said "I have already done one and scored a beautiful 36 inch billy ".
Without saying a word I got my phone out of my pocket and showed Rob a few photos of some huge billies I had recently scored out west. Rob called out to his cameraman, Greg Hogan, "come and check out these photos". Their jaws dropped! We exchanged details and I wandered off into the crowd.
Rob was in touch within a week and before long we hatched a plan to do a trip out west to film an episode chasing monster billies. Two months later we were heading west of Sydney in Greg's ute. I soon discovered that these two TV stars were great guys and salt of the earth. Greg drove long into the night before we swagged it just off the highway past Nyngan.
To help us get in the goat mood, we dropped in to the old Bourke goat abattoir and then had a guided tour of the newly constructed goat abattoir on the other side of Bourke. We quickly drove out to my mate Bob's property and settled in to our home for the next few nights – the trusty old shearer's quarters.
We caught up with Bob and his son over a cuppa. When I was last up here around three months ago I had seen a monster white billy while doing some fencing. I asked Bob if he had seen him recently and he told me that one of the boys locked eyes on him a few days ago. Bob also said he had recently seen two other large billies in recent weeks. They were in a part of the property that I was not familiar with, so Bob drew me a mud map.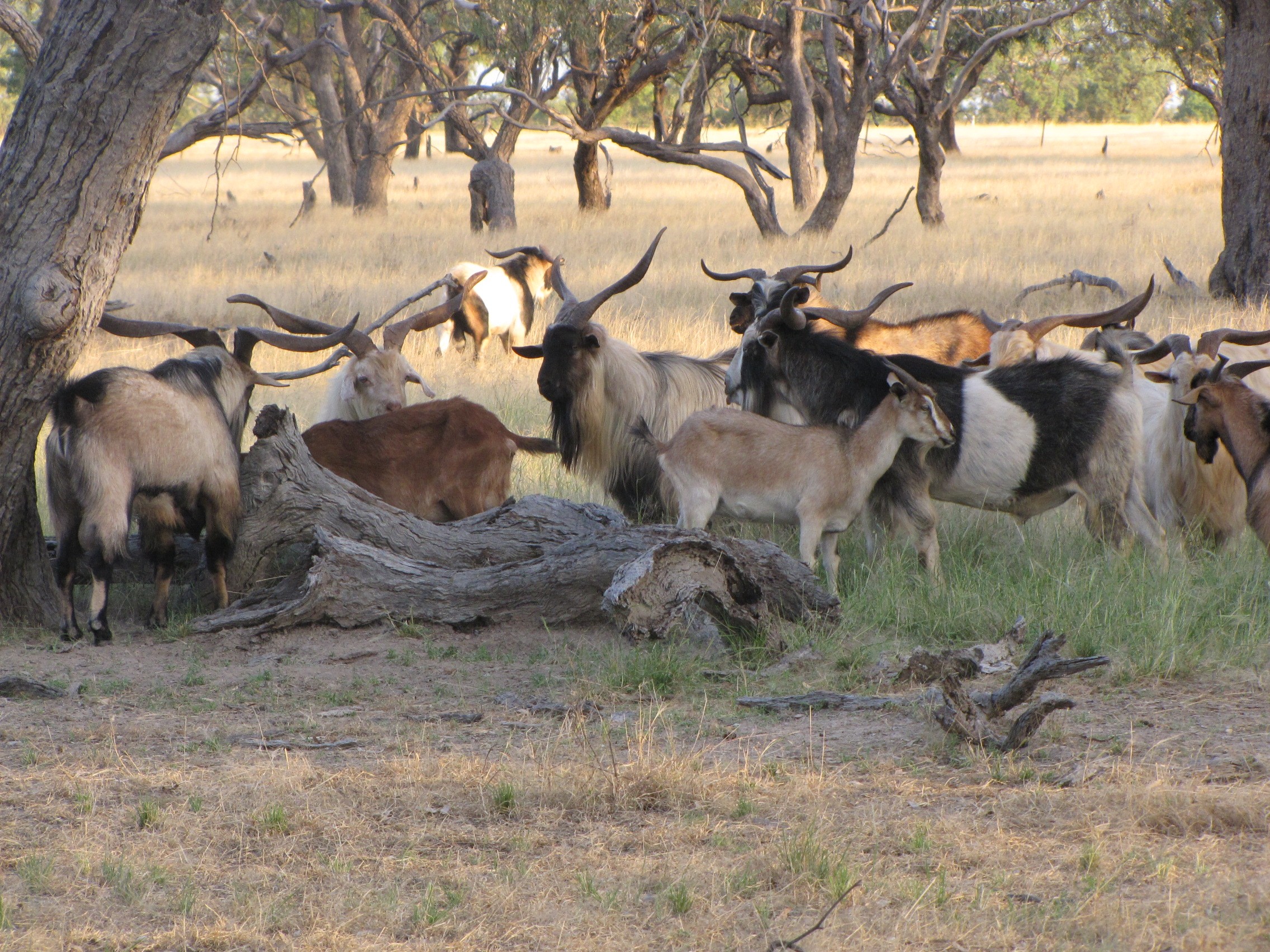 We headed out with around two hours of daylight remaining. Rob insisted that for the first afternoon that we try and get some live footage of some goats and then try to get a meat goat before dark. Twenty minutes later we were glassing three large mobs of goats that totaled around 200. Greg got some nice live footage of some young goats being playful in the afternoon sun. In the distance I could see a few larger-bodied goats bedded down in the long grass. We stalked in and low and behold – one of the goats was a behemoth! Here I was armed with only a pair of binoculars and a camera. I took plenty of photos and we backed away not to disturb the goats too much.
We headed back to the ute and the thought that we were jinxed by Rob filming live goats when the goat of a lifetime pops up did surface! Dark approaching, we started heading back to camp and would you believe we didn't see another goat until right on dark. We quietly approached the small mob of young goats, but they were on the move. We finally got into a position where Rob pulled off a nice shot off the sticks on a young billy with virtually no shooting light left. We had our meat goat and squeezed every minute out of the day.
We were up at sparrow's and after a quick coffee we hit the track to look for the mythical behemoth billy. We started our search from where we had last seen him late the previous afternoon. We found a few small scattered mobs but they were mainly nannies and kids. After an hour or so we were glassing a mob of goats in the distant tree-line that appeared to contain some large bodied animals. The goats were on the move, feeding into the wind. We got to within 400 metres and could see the monster billy in the mob. The goats had spotted us and walked right out into the open so they could monitor our approach. Every time we got closer they just kept their distance.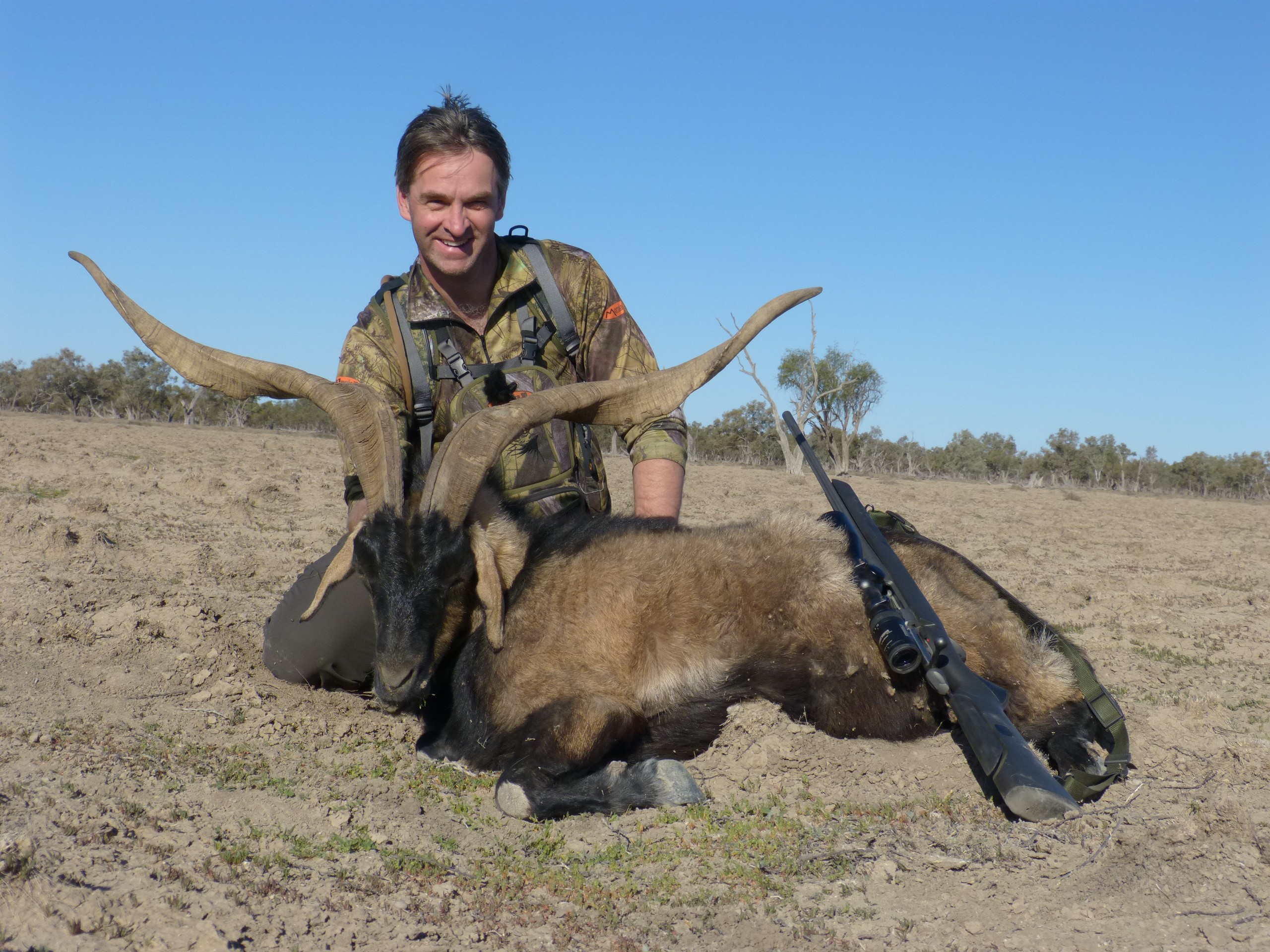 We decided to let the mob settle, so we relaxed in a clump of trees. We needed to let them move off and believe we had stopped following them. We watched the goats feed away and we backed out a bit further to stalk the goats from a different angle – whilst still conscious of the wind direction. This seemed to work as we made our way through the trees to within 200 metres of the mob. The big billy showed his cunning by staying in the middle of the mob and didn't offer a shot.
It was three hours from when we first spotted the mob, but we had to remain patient. Finally the goats spread out to feed and I got on my Vanguard shooting sticks. I ranged the billy at 180 metres and had to wait for him to turn side on at an angle where his huge horns were not behind his shoulder in case of a pass-through bullet. The billy presented the perfect angle and I squeezed off the Tikka CTR in .260 Remington. I heard the thwack and the billy took off. He bolted for around 15-20 metres and nose-dived behind a pile of logs. There was back slapping and hand-shakes as the behemoth bit the dust. I am not used to being filmed for TV and luckily I am a good Catholic boy so there were no expletives – much!
We approached the downed billy and one of his horns had buried six inches into the dirt – such was the force with which he hit the ground. There was no ground shrinkage with this bad-boy. He is a true monster. He is very wide but the depth of curl on his horns is what makes him a trophy of a lifetime. The billy was really old, judging by his worn out hooves and teeth.
Back to camp for a quick lunch and to drop the goat off before we headed to the rear of the property with the aid of Bob's mud map. We searched for a couple of hours for a big black billy that Bob had seen, but to no avail. We moved on to the back boundary to look for a large caramel billy that Bob had told us about. Bob said "you can't miss him as he hangs with a dark-coloured billy whose horns go straight back". We glassed literally hundreds of goats in the next couple of hours- but nothing worthy of a stalk.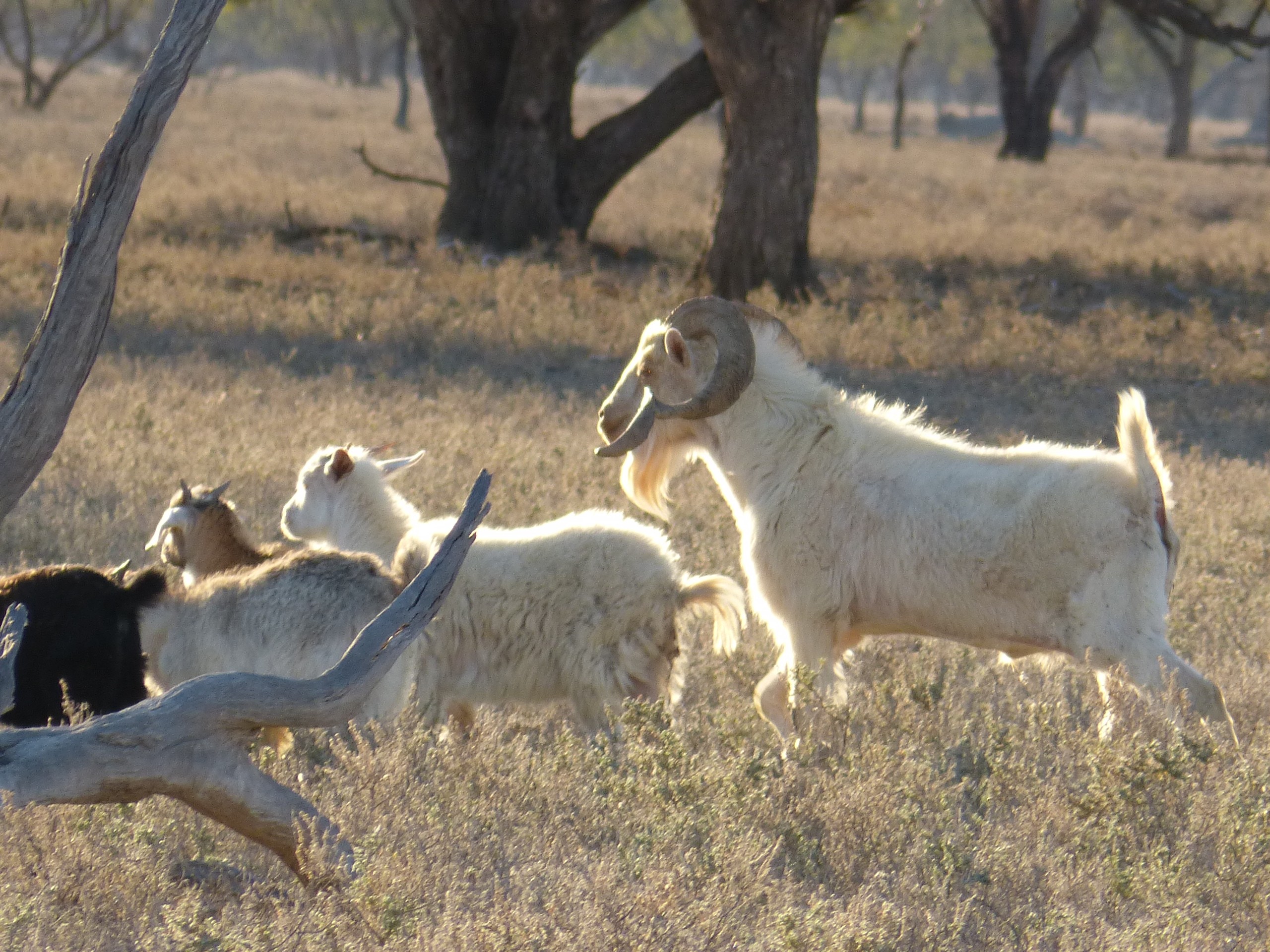 Rob was glassing overtime as it was his turn on the next big billy. All of a sudden I saw this huge smile appear on Robs face and I pointed my Leicas in the same direction. We had another huge billy on our hands. He was with around a dozen goats including the big billy with the straight back horns that we nicknamed the ibex or sable goat. They were oblivious to our presence but they were on the move to their afternoon feeding grounds.
We tried on three occasions to close in on the big billy but each time we ran out of cover beyond 300 metres. We stalked through the trees from a different angle and then crawled for 50 metres with our only cover being a tree stump. We ranged the billy at 255 metres, which is a long shot off the shooting sticks. Rob was in the sitting position with his sticks and felt comfortable although he did say he would love to be 50 metres closer. We dare not risk getting any closer as the goats were right near the boundary fence – so one jump and they were gone.
The billy presented a broadside shot and Rob's Sako 7mm/08 boomed. The goat poleaxed without a twitch. At the shot, the ibex billy bolted a very short distance and looked back. The 7mm/08 barked and Rob had two incredible trophies within five seconds. I gave Rob a slap on the back and told him that was some very impressive shooting – but apparently I didn't use those exact words as there was some bleeping and editing for the final cut.
Rob asked could we measure his billy as he had never taken a 40 inch plus goat. Whilst being filmed we measured the goat, which stretched the tape to 43 ¬Ω inches. Rob was ecstatic. We then checked out the ibex billy. The horns swept straight back and were long and thick and heavily broomed at the ends to signify a very old warrior. The ibex billy is also a very spectacular and rare trophy.
We each caped a billy and headed back to camp in the fading light. I got a fire going while Rob and Greg prepared the goat legs and the veges to put into the camp oven. Whilst the goat was cooking, Greg got us mic'd up as Rob and I prepared to do an interview about the goat industry around the fire with a beer in hand. I think I could get to like this TV gig. Just as we started our interview, Bob and his son came screaming into camp in a Polaris, with dust going everywhere. We all had a great laugh as Bob called out "Take 2". The five of us dined on camp-oven goat legs and veges around the fire in the million-star restaurant, and told stories for several hours.
After a fry-up brekky, we finished caping and salting the billies. We had achieved everything we needed for the goat episode and still had two days up our sleeve. Rob looked at me and asked "do you have access to any properties locally that hold good numbers of pigs"? I made a quick call and got the thumbs up – but as they say in TV land- that is another episode!goats divide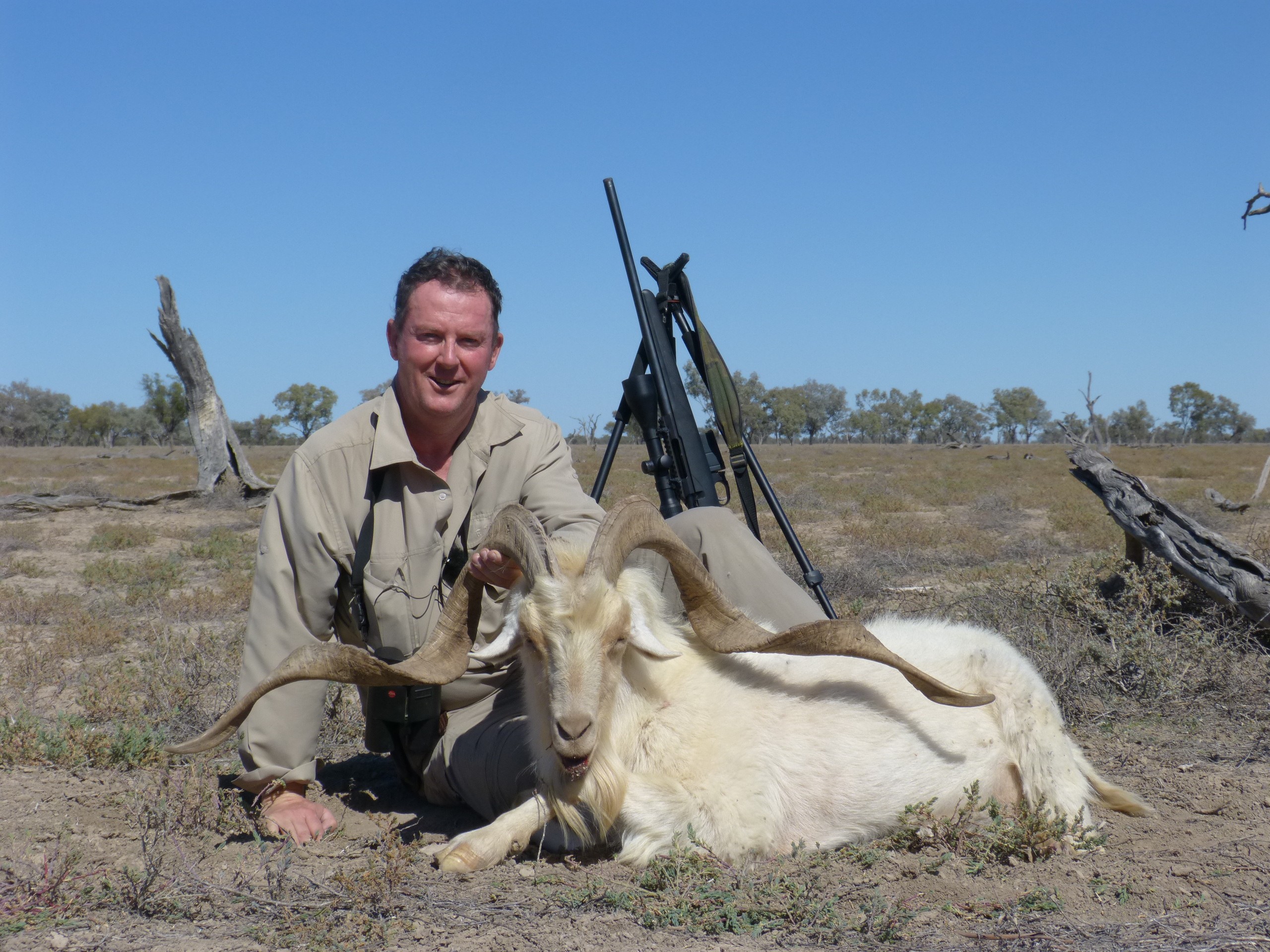 How big is the behemoth billy?
Whilst the spread of a goat's horns is the common method used in assessing and comparing trophy goats, I believe the Douglas Score is a better indication of true trophy horn assessment.
After the drying period, we measured the horns and amazingly they were perfectly symmetrical.
(DOUGLAS SCORE)
| | | | |
| --- | --- | --- | --- |
| Measurements (inches) | Left | Right | Score (shorter measurement doubled) |
| Length : (around the curl) | 46 3/4 | 46 3/4 | 93 1/2 |
| Girth at base of horn | 8 1/4 | 8 1/4 | 16 1/2 |
| Spread | – | – | 49 3/4 |
| TOTAL SCORE | | | 159 3/4 |
Is this billy the new Australian goat record??
It certainly doesn't have the biggest spread, as I know of several over 50 inches wide. A friend of mine has a goat mounted on his wall that is 52 ½ inches wide and was Douglas Scored by Col Allison at 146 ¼. This highlights the fact that it is the length around the curl that yields the full potential of a trophy goat under the Douglas Scoring method. When I first laid eyes on this behemoth it was not just the width, but the depth of curl that got me so excited.
I have asked around and done some serious googling to try and find the Australian record goat and the biggest I can find is listed on Trophy Takers, which is a bow-hunting organization dedicated to trophy measuring and rating Australian species. The record goat was taken by Ken Reichel in 1999 and scored a whopping 158 1/8 Douglas Points. With my goat scoring 159 ¾ it just surpasses Ken's monster.
There is a good chance there has been a bigger goat taken but just not recorded. So please – if you know of a bigger goat- please contact me via email (mpcleary@bigpond.net.au) as I would love to feature it in a future article.