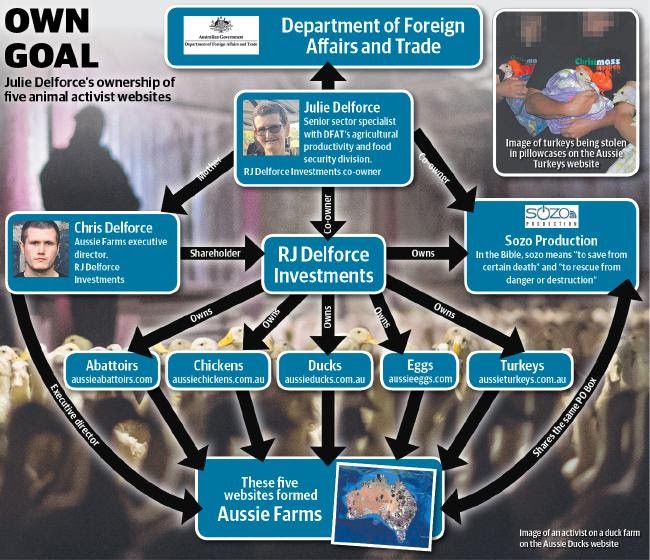 Animal activists continue to be put on notice with a senioragriculture official stood down from her Federal Government position, following new revelations exposed by The Weekly Times that she is a co-owner of at least five animal activist websites that seek donations to fund farm trespass and livestock theft.
An investigation by The Weekly Times revealed Dr Julie Delforce, a senior sector specialist with the Department of Foreign Affairs and Trade's agricultural productivity and food security division, is the co-owner of five websites, containing over 1300 photos and 65 videos from at least 42 invasions on Australian farms and abattoirs.
The websites — Aussie Abattoirs, Aussie Chickens, Aussie Ducks, Aussie Eggs, and Aussie Turkeys — ask the public to donate money to cover "legal fees" and "finance investigations'' which they describe as "undercover" and "covert".
DFAT recently conducted a month-long internal investigation which found there was "no reason" Dr Delforce shouldn't keep her job, despite The Weekly Times revealing her business links to the infamous animal activist group Aussie Farms.
The Weekly Times questioned DFAT about Dr Delforce's co-ownership of the five websites. In response, the department admitted its investigation had not uncovered the websites and Dr Delforce was stood down immediately. It said an external investigation would now be conducted.
A DFAT spokeswoman said it was unacceptable that the information was not revealed during the course of the departmental investigation.
"The department is now commissioning an external investigation of the matter," the spokeswoman said.
"This investigation will be comprehensive and include a full examination of Dr Delforce's business interests, including any links to animal activist websites.
"Dr Delforce has been stood aside from her duties pending the outcome of this external investigation."
It comes as the Federal Government recently introduced new laws, with jail time, to crack down on websites inciting trespass,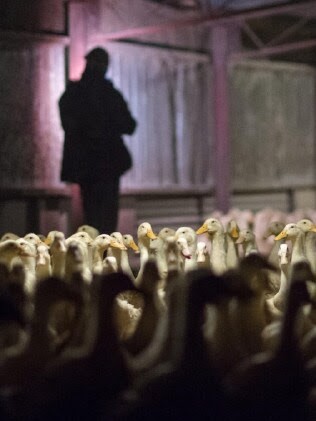 theft and damage on farms.
The five websites are owned by Dr Delforce and her husband Robert, under their business name RJ Delforce Investments.
The websites promote invasions undertaken by multiple animal activist groups and encourage the sharing of farm details and locations. Some of the sites go as far as listing farmers' places and dates of birth as well as their home towns.
Victorian Farmers Federation president David Jochinke said the initial investigation was "completely unsatisfactory".
"If only the farmers of our nation were protected and looked after as much as the staff at the Department of Trade, we might actually be giving farmers the respect they deserve," he said.
Mr Jochinke demanded the Government "shut down these websites immediately", saying the sharing of personal details on the sites was "horrendous".
"I'm completely disgusted by the fact somebody believes they can take personal information and persecute them in a public domain without there being any recourse," he said.
"If that was a member of anybody's family in the general public they would be ropeable."
The Weekly Times can also reveal the five animal activist websites co-owned by Dr Delforce have formed the Aussie Farms website, the controversial animal activist group that launched an interactive satellite map earlier this year with the details and addresses of almost 6000 farmers.
The Aussie Farms website says "Aussie Farms grew from … Aussie Turkeys, Aussie Ducks, Aussie Eggs, Aussie Chickens and Aussie Abattoirs. Together these websites formed the Aussie Farms network".
Some of Dr Delforce's websites seek donations to fund Aussie Farms — donations that are tax deductible because of the group's registered charity status.
The Weekly Times recently revealed Dr Delforce is the mother of Aussie Farms executive director Chris Delforce and that Dr Delforce co-owns the web design company Sozo Production, which has shared the same post office box as Aussie Farms since 2014.
After the revelations, DFAT launched a month-long internal investigation, after which Dr Delforce kept her senior position with the department.
"Dr Delforce will remain a DFAT employee and the department has determined there is no reason she should not continue working in the same role, which relates to the provision of technical advice on aspects of Australia's aid program relating to agricultural development," a DFAT spokesman said last month.
The department's initial decision came despite its Conduct and Ethics Manual stating all DFAT staff "must take reasonable steps to avoid situations where their private financial or other interests (or those of immediate family members, such as spouse/partners or dependants) could be perceived to conflict with their official duties".
Days after the investigation concluded, Dr Delforce ceased being a director of RJ Delforce Investments but remains a co-owner and major shareholder.
Trade Minister Simon Brimingham said "I am disappointed that initial investigations by the department failed to uncover all relevant information about this staff member, their business associations and conflicts of interest".
"I have also asked that the failures in this process are reviewed to ensure any future procedures are thorough and effective," he said.
At least two farmers have closed their businesses this year after farm invasions.
John Gommans closed his Gippy Goat Cafe at Yarragon after 70 activists stormed his property and stole three goats and a lamb, and a poultry farmer sold his Victorian property after being left "psychologically damaged" from activist attacks, including one which he says resulted in 300 chickens smothering to death.
Dr Julie Delforce did not respond to questions from The Weekly Times.