Name and birthplace?
Steven Spiekman Albury, NSW
When did you first start hunting?
I started hunting rabbits when I was 15 or 16 and slowly progressed to other species as I got older.
What are your three favourite species to hunt?
Pig, foxes and goats are my favourite species to hunt. I did some sambar deer hunting 10-15 years ago but it wasn't that successful, so I decided to hunt animals that are less alert and don't live in rugged steep country in another state.
What's your favourite hunting technique?
Over the years I've used a variety of hunting techniques and my favourite involves riding around on a motorbike looking for game. Or, alternatively, I ride around, find a likely area then stalk/walk. Of course, the advantage with using a bike is the ability to cover a large area in quick time, but using a bike can be noisy too, so often any game encountered while riding around is spooked and on the move, which always presents a challenge. I'm also a big fan of spotlighting and enjoy cruising around at night looking for foxes or whatever else is on the move.
What's your favourite hunting destination?
Arnhemland or Cape York are favourite destinations primarily because there is always plenty of game and whenever I've been up there I've always had a great time. However, in reality, I'm just as happy hunting out in far western Queensland. More than anything else, I just enjoy getting away from the Big Smoke and relaxing while having a good time hunting with friends
Tell us about the top three favourite firearms that you own (or bows).
One of my favourite firearms is a Remington 700BDL in .17 Remington topped with a Leupold fixed 12X scope. When it comes to busting foxes way out yonder, this rifle is a red hot performer that never lets me down. Up north hunting pigs I prefer my Winchester Model 70 laminated Classic in 270WSM loaded with 140gn Nosler Accubonds. It's a combination that works well, particularly on big tough boars. Another rifle I enjoy using is my Remington 700CDL in .243, which is also fitted with a Leupold fixed 12X scope. Just recently I had it fitted with an as-new take off 24" stainless fluted barrel. The gunsmith that fitted it did a great job and it shoots sub MoA all day.
When did you start writing for Sporting Shooter?
I started writing for Sporting Shooter in 1997. Back then, the editor Ian Bostock gave me a break and published my first submission only a few months after receiving it. Eighteen years on I'm still writing a few articles. Although, I must admit, it's scary looking back over some of my earlier articles as my buddies and I look a hell of a lot younger.
What do you enjoy about writing for a hunting magazine?
Not everyone has the opportunity to go hunting, so writing technical articles or hunting stories in magazines like Sporting Shooter gives others an insight into what the writer experienced during a hunt or what they determined when working up handloads in their favourite rifle.
What is the best or most satisfying article you have written for Sporting Shooter?
Earlier this year I wrote an article 'Floodplain Monsters', which is my most memorable, primarily because three weeks before writing it, I spent a month in hospital with a rare and unusual form of autoimmune encephalitis. At one point the doctors didn't think I was going to leave hospital let alone ever write again.
What advice can you give anyone wanting to get in to hunting writing?
My advice for anyone wanting to write an article for Sporting Shooter would be to talk to the editor and tell him what you plan to write about, as opposed to sending in an unsolicited manuscript. Another important requirement is good quality pics to support your article. To a certain extent, the editor can straighten out a less than perfect manuscript, but if the pics are lousy it makes his job even more difficult.
Please supply three of your favourite hunting photos from past or present.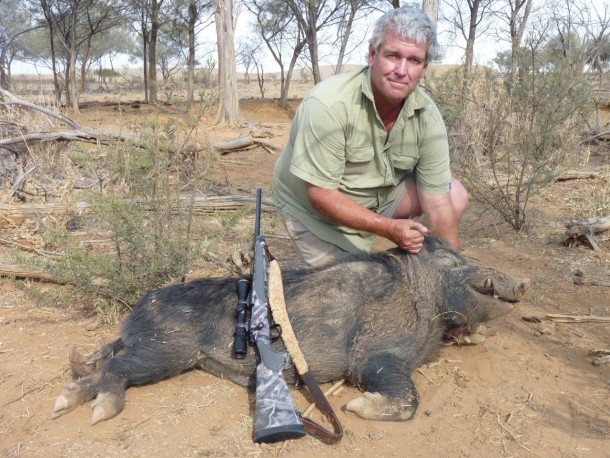 Steve Spiekman makes regular trips to western Queensland hunting pigs.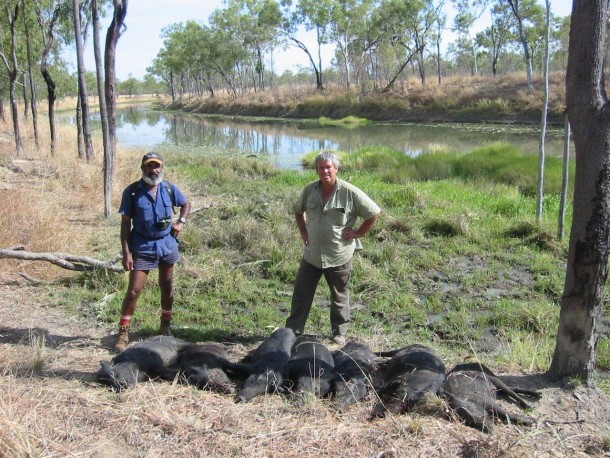 The Northern Territory is also a favourite hunting destination, owing to the prolific wild pigs.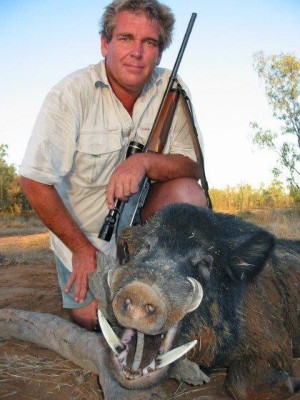 Wild pigs are Steve Spiekman's favourite game animal.