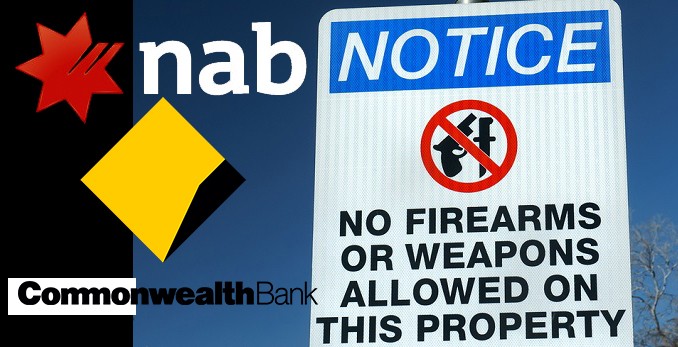 There have been more stories this week of big banks closing the accounts of businesses in the firearms industry. SIFA has responded by going into bat for these small businesses as it sets a dangerous precedent.
The Shooting Industry Foundation of Australia takes this behaviour most seriously and will be taking legal advice immediately to protect the business interests of Licensed Australian Firearms Dealers.
TheWeekly Timeshas run two stories in the past week involving the NAB and Commonwealth Bank closing industry accounts.
"Dan Shaw this week applied for a new merchant account with the bank – but was yesterday knocked back, despite being a lifelong customer and still having his personal and business accounts with CBA".
"I got a call the next day saying, 'we can't offer services to you because you're in the firearms industry'," Mr Shaw said.
"I find it unbelievably discriminatory – we're fully licensed, we're fully insured, we don't deal with just anyone off the street.
"When the bank I've dealt with my whole life won't deal with me, I just find it disgusting."
Shooting Industry Foundation of Australia Executive Officer Rod Drew says NAB's decision to remove services from Australian firearms businesses sets a dangerous precedent and should be reversed immediately.
"It is the role of the nation's law makers to set the legislative standards that reflect Australian community values, not the banks. And, frankly, it's a cheap show for one Australian industry to try and rehabilitate its reputation by slinging mud at another," Mr Drew says
Independent research shows that Australians already view bank behaviour with scepticism, and that there is a net favourability of this kind of activism of minus 41%.
"This decision is bad business for banks," says Mr Drew.
"We take this potentially discriminatory behaviour most seriously and will be taking legal advice immediately to protect the business interests of Licensed Australian Firearms Dealers from this disgraceful set of circumstances," he says.
Laura Patterson, SIFA Communications and Research, says that any Licensed Firearms Dealer who has received a letter from any Australian financial institution indicating that their banking services are be withdrawn should lodge a complaint with the institution and with their local Federal Member.
"89% of Australians believe politicians should stand up for the freedoms of everyday people and Licenced Australian Firearms Dealers are every day people just like teachers and doctors," Patterson says.
"Imagine if a bank refused to let you have an account because you work where you work? We need to stand up against this crazy behaviour because it's the thin edge of the wedge," she says.
The Shooting Industry has been the canary in the birdcage for legal Australian enterprise for over a quarter of a century and the Shooting Industry Foundation of Australia is sounding the alarm for Australian business freedom.
"If a bank can de-platform my business, they can de-platform yours. Is that a risk Australians are prepared to wear? It is not right and it is not fair that these small businesses are being heckled out of existence by big business who should actually be taking a very long hard look in the mirror," Patterson says.
What can you do?
Australian Licensed Firearms Dealers are under attack from Australian banks who are removing business critical services from small businesses without justification. If you are a LFD and you've been targeted by your bank, write to your Federal Representative TODAY.
Who is your MP?Enter Your Postcode
Here's an example letter, please copy and paste:
Dear ,
I run a legal, registered, licensed and audited business and have received notice from my bank that they will no longer host my accounts.
I have not received a full explanation from my bank, but I have lodged a formal complaint using its customer complaints process.
I write to seek your support and guidance as I struggle to come to terms with the summary removal of this critical business service. My business will close if this decision is not reversed as it sets a dangerous precedent for other Australian banks to follow.
Australians think banks are pretty low after the Royal Commission. Now they're treating respected and important business owners like criminals.
Please, help me stand up for what is right.
Yours faithfully,
For More information visit the SIFA website