Well the wait was worth it; a team of writers and a couple of bloggers were invited to the Thales Lithgow Arms Small Arms Factory and Range to have a peek and a shoot of the pre-production Lithgow Arms Crossover 101 in .22 Rimfire.
The writers were royally looked after while being given a tour of the Small Arms Factory's Military and Civil production facilities after being given an excellent presentation by Julian Elliott (Public Affairs Adviser), Graeme Evenden (Lithgow SAF Production Manager), Jason Jonker (Lead Mechanical Engineer – Weapons and Crossover Rifle Designer).
To say I was like a kid in a lolly shop is an understatement because, while I consider myself a bit of a "technical leper" when it comes to making and fixing stuff, I could really appreciate the intricacies and sheer quality that the Thales Team at Lithgow produces.
If I took one thing away from the Factory tour, it was a quote from Graeme Evenden, responsible for overall production at the facility when he said, "It is my job, my absolute mission, to ensure that there is minimal variation from component to component and finally assembled weapon, across our entire range of production." The principle that is driving this remarkable team of men is that they want to put into the hands of the Australian soldier on operations the most reliable, best-performing, dependable battle rifle ever produced. Now all of the men I met in critical management and design roles in the company were ex-Army, Australian and British, and had let me tell you, their hearts are really in their jobs.
Now, when we look more deeply into their new Civil production of the Crossover series of rimfires (and evetually centrefires), you will begin to understand the quality that is going into the production as we speak. Delivery date to the shops is due to start in May/June with a first run of 500 .22 RF Crossover 101 rifles.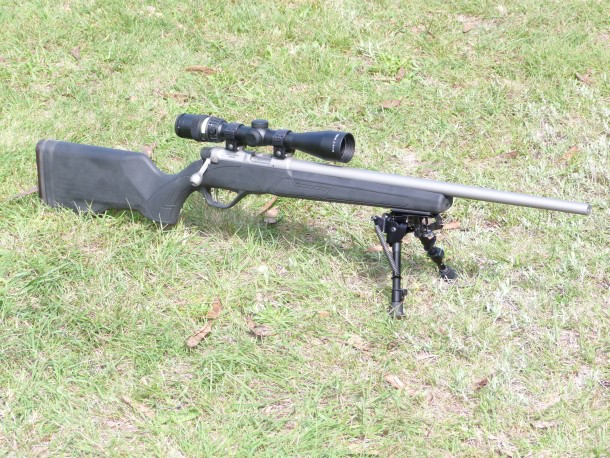 The 101 Crossover .22 Rimfire
The Crossover 101 is so named because its design parameters were to provide an affordable, accurate, high quality Rimfire sporting rifle capable for fulfilling multiple recreation roles, from informal bunny-busting to club shooting a 30BR Match or Field rifle competition and everything in between. As it appeared and handled, I believe they have fulfilled the brief.
We were all fortunate to have Nick Harvey drive down to look closely at the Crossover pre-production rifle that we would all soon shoot. His comments were that the smoothness and finish of the rifle were very good and he was eager to shoot it. The Crossover takes standard CZ .22RF magazines, comes Cerakoted as a standard finish, has a medium heavyweight barrel and will weigh 3.1kg naked, no iron sights, with integral Weaver rails facilitating scope mounting.
The rifle is attractive, businesslike and the effort put into design feature like the milti-lug, rear-locking bolt with 60-degree lift. See the images in the attached photo gallery.
Range testing
As we had one pre-production rifle to shoot by multiple writers and we were shooting seven or eight different brands/samples of .22 ammo, it is my opinion that we could not really explore the accuracy potential of the Crossover, but what I saw and shot convinced me, without reservation, that if you cleaned this barrel back to bare metal and used just one of any number of quality .22 ammo offerings available, that you would have a one-hole 50 metre grouper, operator error discounted.
My personal experience was that I started with winchester Power Points with a 5-shot group of 1.25 inches including one inexplicable flyer that enlarged the other four in .45 inch. I then hopped straight into CCI Velocitors and got an open three -shot equilateral triangle with 1.35-inch sides for the first three "foulers" and then it settled to provide a 7-shot, laterally dispersed .8-inch group. Straight away, i changes to SK match and again got four shots into .45-inch with one flyer opening it out to .95-inch. See the photo in the gallery. Bottom left group is Power Points, righthand group is Velocitors and left top group is SK Match. The flyers ina ll cases I put down to ammunition and fouling vagaries as the benchrested position and my release were pretty solid – I had a good day. Feedback from Richard Basladynski, Small Arms Testing and Evaluation Manager, for the day and Jason, the designer, confirmed this feeling.
Handling, feeding and ejection were instinctive and smooth, the comb lined my eye up naturally with the Trijicon 3-9×40 scope attached and the trigger, as supplied could have been a half-pound lighter, but was creep-free – it could have just been the curve of the trigger design, but it felt a tiny bit "alien" to me. Nevertheless, it was easy to shoot good groups with. I tried out the spinner targets from the sitting position at 25 metres with 100% success, but faired poorly on similar targets at 50 metres; the addition of a sling would have helped in that case, I believe.
All in all, and bear in mind this is a pre-production rifle, I think the Crossover 101 is a most worthy addition to the mix on the Australian recreational firearms market and those after the ultimate in fine, up-to-the-minute design, finish and performance will be lining up to buy them – deservedly so. The Aussie Rimfire is back with a vengeance and about time too! Readers will be pleased to know that Lithgow Arms will be forwarding a production rifle to Nick Harvey and John Robinson for thorough testing as they come off the line.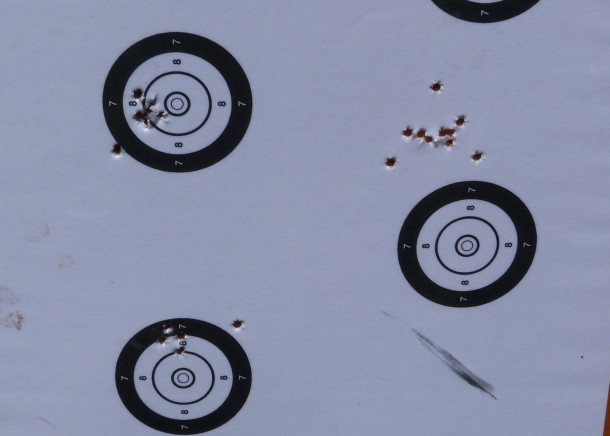 A Military Aside
The guys at Lithgow gave us a special treat after we shot the Crossover, introducing us to the brand new Australian Service Rifle, the F90, a significant upgrade and totally newly designed progeny of the old Austeyr F88.
We got to blat off a few magazines of 5.56mm Ball and throw a few 40mm smoke grenades downrange with the F90M(G) variant also. It took this scribe a magazine to get the feel of the trigger and handling characteristics but the second magazine felt like it was on the money with three-shot bursts. AAHHH! All this and I was in seventh heaven.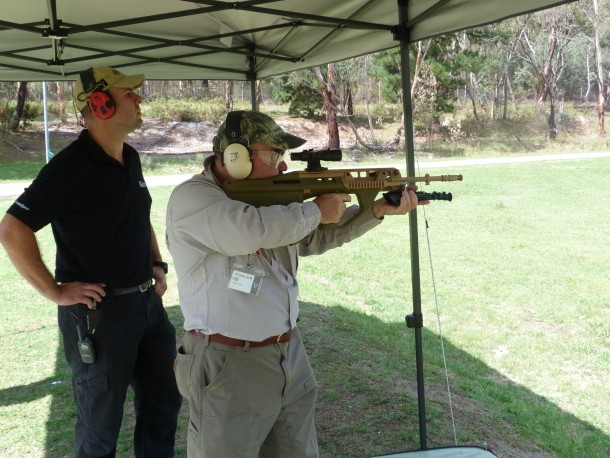 Thankyou to Julian, Graeme, Wayne, Richard and Jason. You made an old soldier's day, week and year!