CZ's brand-new range of rifles is now available in Australia, following the arrival of the first shipments, but supply has not yet filled the demand and if you want one, now's the time to see your local gun shop.
The Czech firearms maker has ditched all previous centrefire rifle models and replaced them with the new 600 Series, a totally new design with a host of innovative features.
However, after initially launching the 600 as a switch-barrel rifle, CZ has made them fixed-barrel firearms after discovering that incorrect attachment of the barrels could cause a "catastrophic failure" of the weapon. Early examples that had reached the market were recalled.
CZ calls the 600 Series a "radical generational upgrade" and it is a huge undertaking for the company, involving a massive re-tooling exercise that has modernised production in an effort to remain competitive and relevant into the future. 
CZ is no longer making the Mauser-based actions it has been renowned for over decades, opting instead for a very modern, modular bolt-action rifle.
The clean-sheet design is not short of features, with a form of controlled feed and ejection, a unique safety system, top-feed but detachable box magazines, and a patented system of trigger adjustment. 
CZ offers a guaranteed accuracy of 1MOA with match-grade ammunition in most models, and it's just 0.75MOA for the heavy-barrelled Range model.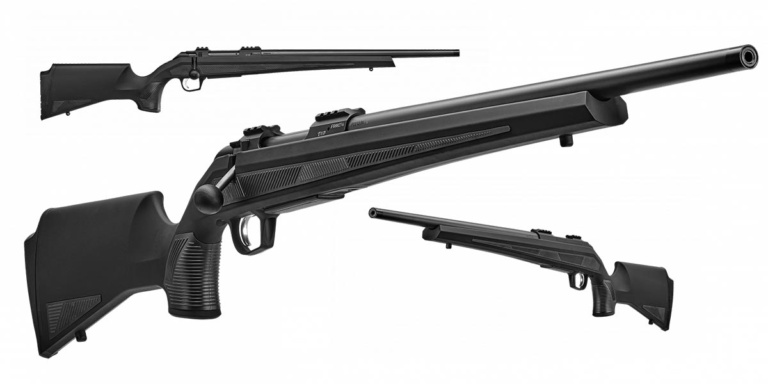 The 600 Series will be built initially in five configurations: 
The Alpha with synthetic stock in modern, angular style. Australian RRP is $1695.
The Range with heavy barrel and laminated benchrest-type stock. No stock or pricing here yet.
The Lux with traditional European hunting stock in walnut. RRP $1995.
The Ergo with a striking synthetic thumbhole stock. RRP $1995.
The Trail, a tactical style rifle with an adjustable butt length and short minimum length that mean it will fall foul of some Australian laws in standard form. No stock or pricing yet.
A wide range of calibres are available, from .223 and 7.62×39 up to .300 Win Mag and 8x57IS. There are no traditional big game or safari calibres in the list. See the full specs here.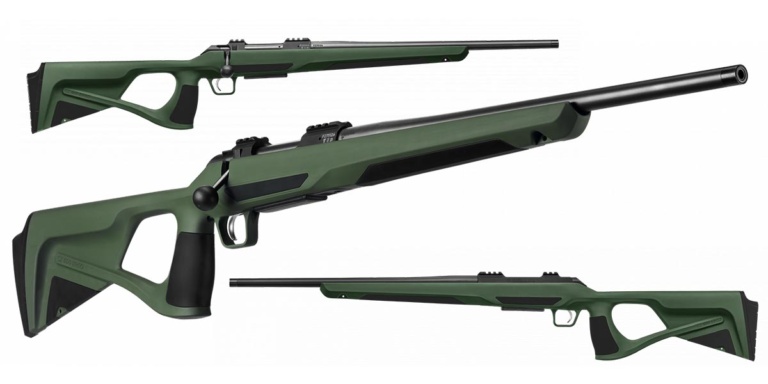 To allow for what was originally intended to be a switch-barrel rifle, the 600 Series receiver acts as a bolt carrier and barrel holder, and the bolt locks directly into the barrel. 
Some models have steel receivers, while lightweight versions use an alloy receiver.
There are three action sizes in the 600 range and, as you'd expect, options for calibres will be restricted to different action lengths. 
The 600 Series bolt has six locking lugs — two rows of three — except for the mini-action version which has just one row of three lugs. Bolt lift is just 60 degrees.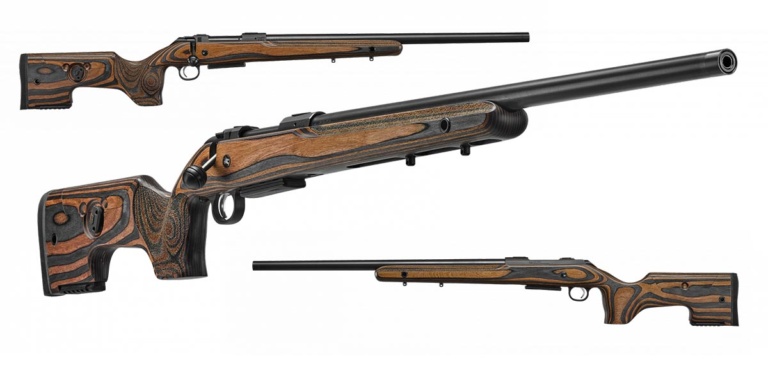 CONTROLLED FEED & EJECTION
The Mauser-type claw extractor may be gone but the new bolt still has some tricks up its sleeve. 
Instead of using a spring-loaded plunger to forcibly eject spent cartridges, its plunger-type ejector is actuated when it hits a stop. The advantage is that you can choose to eject the case a long way by opening the bolt forcefully or to drop the case close by or inside the receiver by opening the bolt gently. 
Again, it's not a unique design but it does show a lot of thought has gone into the new rifle. 
The feed is still controlled (or what you might call semi-controlled) despite the simpler bolt design, something CZ wanted to achieve to enhance the reliable operation of its new rifle.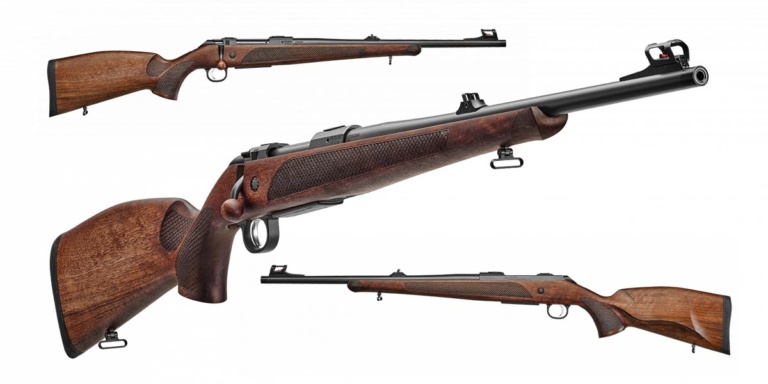 NEW SAFETY SYSTEM
The old wing-type safety is gone, replaced by a vertically mounted bolt blocker set behind the action. It is activated by pushing up from behind the trigger guard and set to fire by pushing down from the top of the tang. 
A separate bolt release button allows the action to be opened and cleared with the safety engaged. 
ADJUSTABLE TRIGGER
CZ has provided most models with a single-stage trigger. Triggers can be adjusted to any one of four weights using an Allen key, without dismantling the rifle. 
Trigger weights vary from about 0.7kg (1.5lb) up to 1.4kg (3lb).
TOP-FEED MAGAZINES
The 600's detachable box magazines are polymer and have a top-feed design so they can be topped up without having to be released.
The magazine release catch doubles as a magazine lock so there's no chance of the magazine being accidentally released.
All the magazines are an efficient double-stack design, with capacities of three to five rounds in most cases, depending on calibre, and 10 rounds for the Trail model.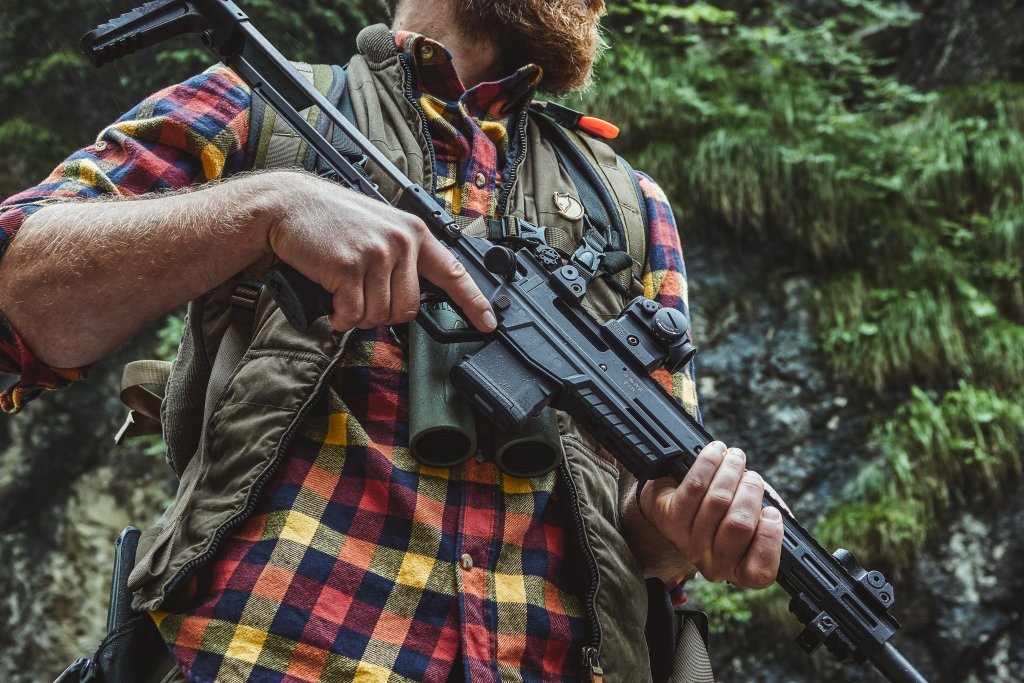 AUSTRALIAN AVAILABILITY
As of the day this post was published, CZ's Australian distributor, Winchester Australia, has delivered the first shipment to gun shops in Australia and is waiting for a second shipment to clear customs.
Australian-delivered CZ 600s were modified to fixed-barrel before distribution.
All stock of the superseded CZs has been sold, although some dealers may still have the last ones on their shelves. 
This article has been updated as information about the CZ 600 has changed.