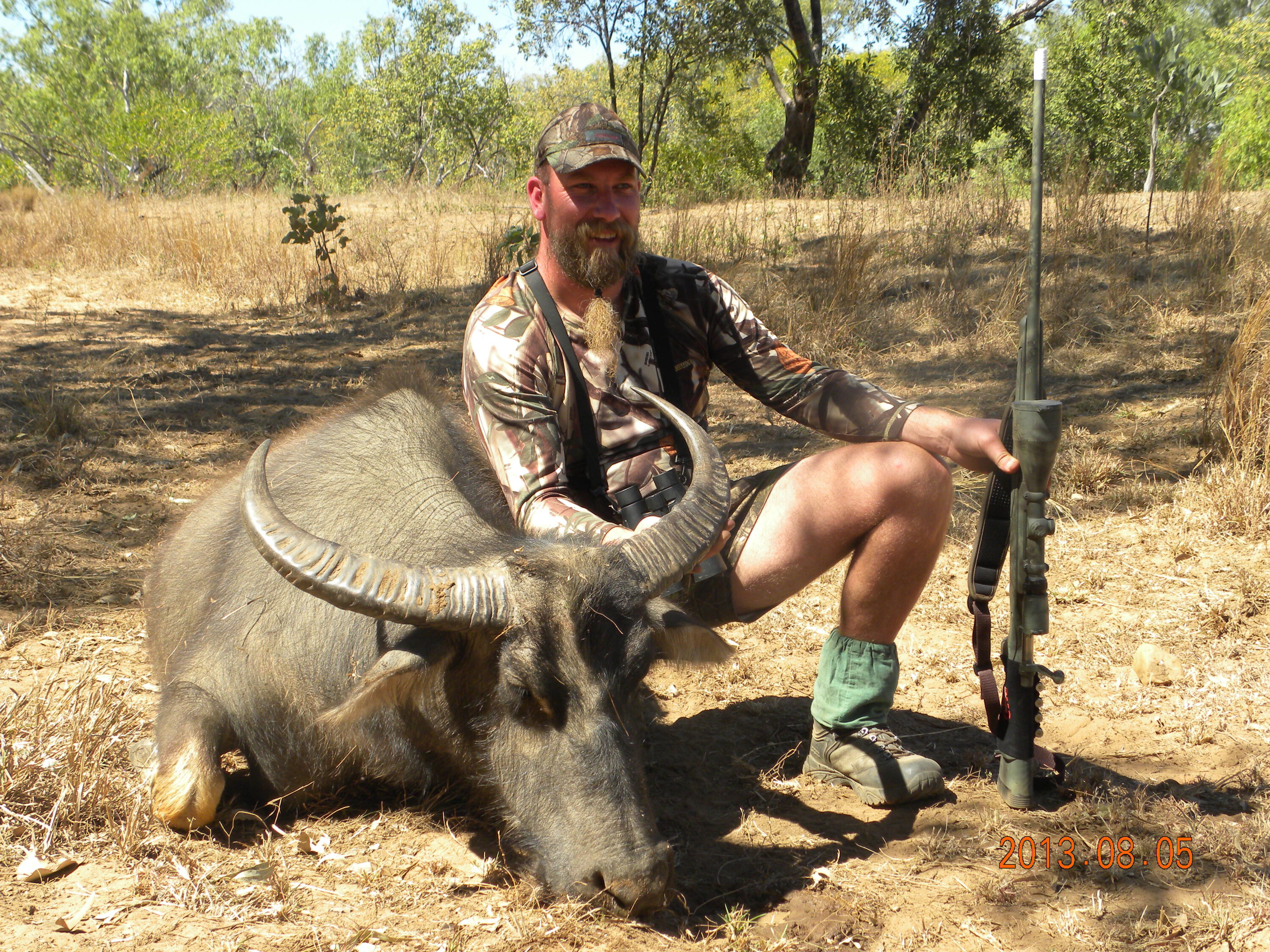 Tasmanian Damien Kay recounts the enjoyable time he spent hunting a buffalo for his birthday.
The only deal between the wife and I in regards to the amount of time I spend hunting is that I am there for Birthdays. So when I was invited on a Buffalo Hunt for a week and my Birthday fell in the middle of the trip my argument was "I can't not be there for my birthday because I am always with myself!!" (hehe) I still can't believe it worked. (Thanks Anna)
Touching down on the tarmac at Townsville and waiting to disembark the large air taxi, I was eager to get out and start covering some Kilometres. Exiting the Air taxi and BAM the heat hit me. Way too hot for this little Tasmanian fellow I can tell you. Collecting my luggage and firearm it was time to load up my mates F-truck and start the 2180km journey to our hunting destination which was situated about 30 kilometres south of Katherine N.T.
Rolling out the swags at the Three Way roadhouse at around 2 am it was time for a well-deserved rest. Rising early we were eager to get the last leg behind us so we can unload the big F-250. Arriving at our accommodation site I was ecstatic to find my sleeping quarters had AIR CONDITIONING!!!! That will make sleeping a lot more bearable. Unpacked and settling in it was time for a beverage to help us wind down and relax while anticipating the days ahead.
The first day was spent familiarizing ourselves with the large property, I did manage a stalk on a reasonable bull but when I got to my vantage point that I was hoping to take the shot from the large bovine was nowhere to be seen. They may be big but can disappear on you pretty quick in the low lying scrub. Back to camp just on dark it was fodder time, I really like and enjoy this part of the day. I always say "don't get a body like this eating rice cakes"
Early the next morning found me walking down a track that headed to a likely spot that usually holds a few Buffalo. After walking for about 25 minutes I was just ambling along when a wild Dog walked out onto the track 200 yards ahead of me, he walked along in the same direction I was heading and had no idea I was behind him. Big mistake Mr Doggy, sitting down I rested the .338 win mag across my raised knee. Lining him up I gave a little "yip" and he turned perfectly broad side. Perfect!! Placing a round straight through the large canine's shoulders he dropped on the spot without as much as a kick. It seems no matter where I go hunting feral animals like dogs, cats, pigs etc, they seem to enjoy presenting themselves to me. It is with great pleasure to oblige them with this opportunity and end their marauding ways. That night was spent having a feed and a cold beverage around the camp fire. Apparently when it gets under 20 degrees Celsius it is time to light a fire in the N.T.
As another day dawns I am at the back corner of the property walking along a dry creek bed, seeing quite a few Buffalo but no bulls I decided to take a cow. The large cow dropped on the spot with one well placed shot through the shoulders and passing through both lungs. The 225gn accubond performed flawlessly. (See pic) Approaching the fallen animal I realised how big they are and how much work I had ahead of me. 15 minutes on the UHF had my mate pulling up the F-250 80 yards from my Buffalo. 80 Yards too far I reckon. Caping out and butchering the animal it was time for an afternoon of relaxation.
Up nice and early again I was driving along and spotted a mob of pigs running through the low scrub, they had been feeding on a carcass of a dead cow that had been put down due to illness. That afternoon I decided to sit off the carcass and wait to see if I could get a shot at Mr Piggy. Within 15 minutes I seen movement on the track ahead, it was another wild dog. A single shot front on entered his chest and exited out the back of his leg. Another feral taken down and it was time for a feed and bed.
The sun was just rising when the property owner pulled up in his flat tray cruiser. I was standing outside wearing only shorts, he said to me "oh you are making me feel cold". I noticed he was wearing gloves, a large jacket and hat. I replied to him "bit cold is it?" and his reply was "ohhh it must be 18 Degrees!! I laughed, "It's a summer day for me". (August in Tasmania would sort him out).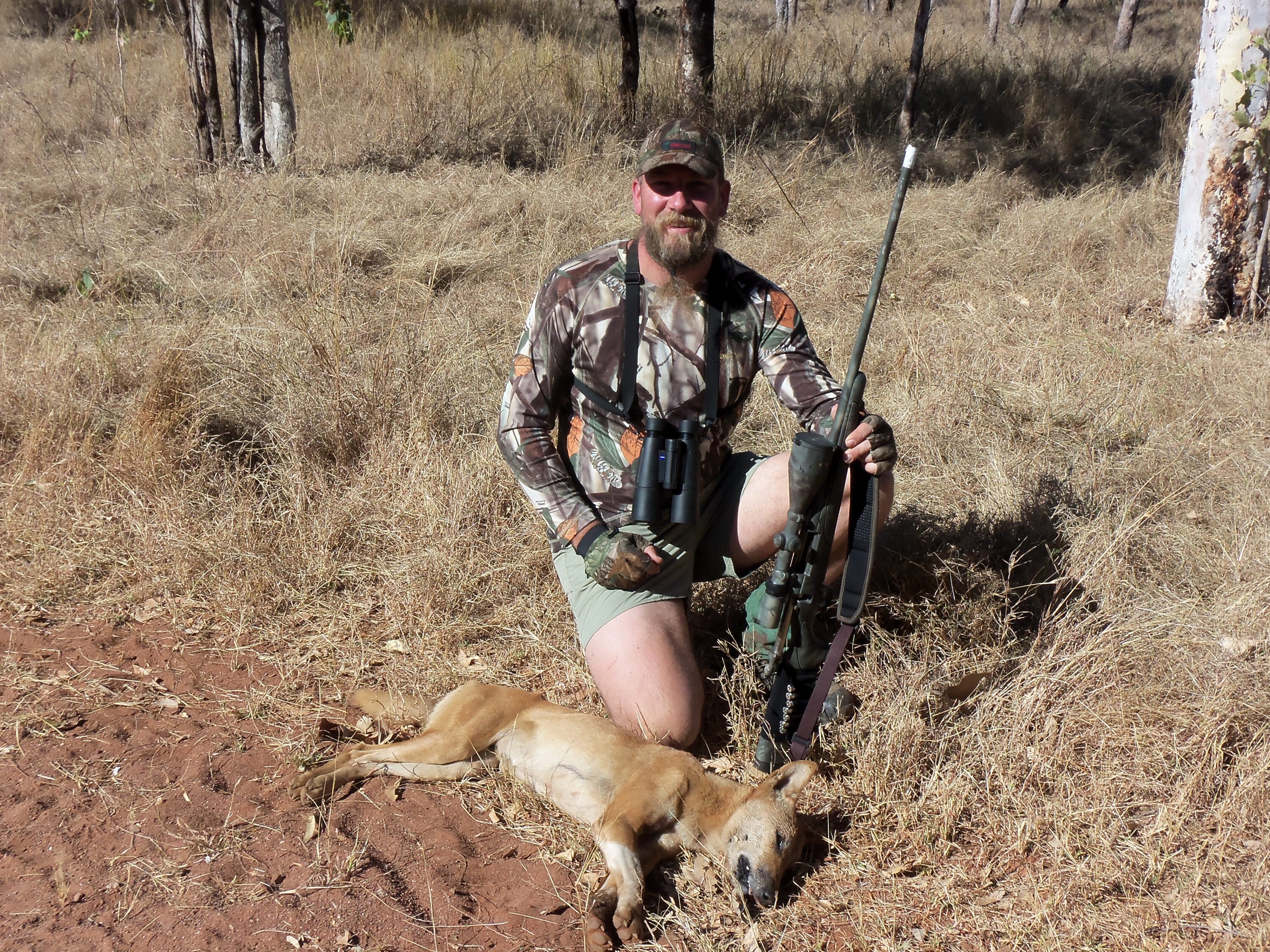 I covered a lot of ground that morning with no luck so I decided to sit off the cow carcass once again. A few hours passed and I started feeling a bit ill/vague. I asked my mate if he could return me to camp for I was not feeling well at all. Even the horizon was moving on me. Standing up the hot and cold flushes started. I believe this is called heat stroke, something that doesn't happen in Tasmania very often at all. Back at camp, a well needed feed and a few bottles of water over a few hours and an early night was had by me.
Waking at 4 am due to my early night I found myself feeling 100% better so I cooked every one breakfast as a thank you for looking after me the day before. Two hours later found us working our way through a fairly rough track on the other side of the property and low and behold we found a lone bull buffalo. A quick glass with the Zeiss Bino's confirmed that he was big enough for my first buffalo bull. Planning and then successfully stalking into around 80 yards I was ready, I waited for the large bovine to stand broadside which seemed to take a lifetime. Placing the shot perfectly I was sure he was dead on his feet but another well placed shot made sure his feet came out from under him. Still standing, still dangerous I was told. Yippee I had finally taken my first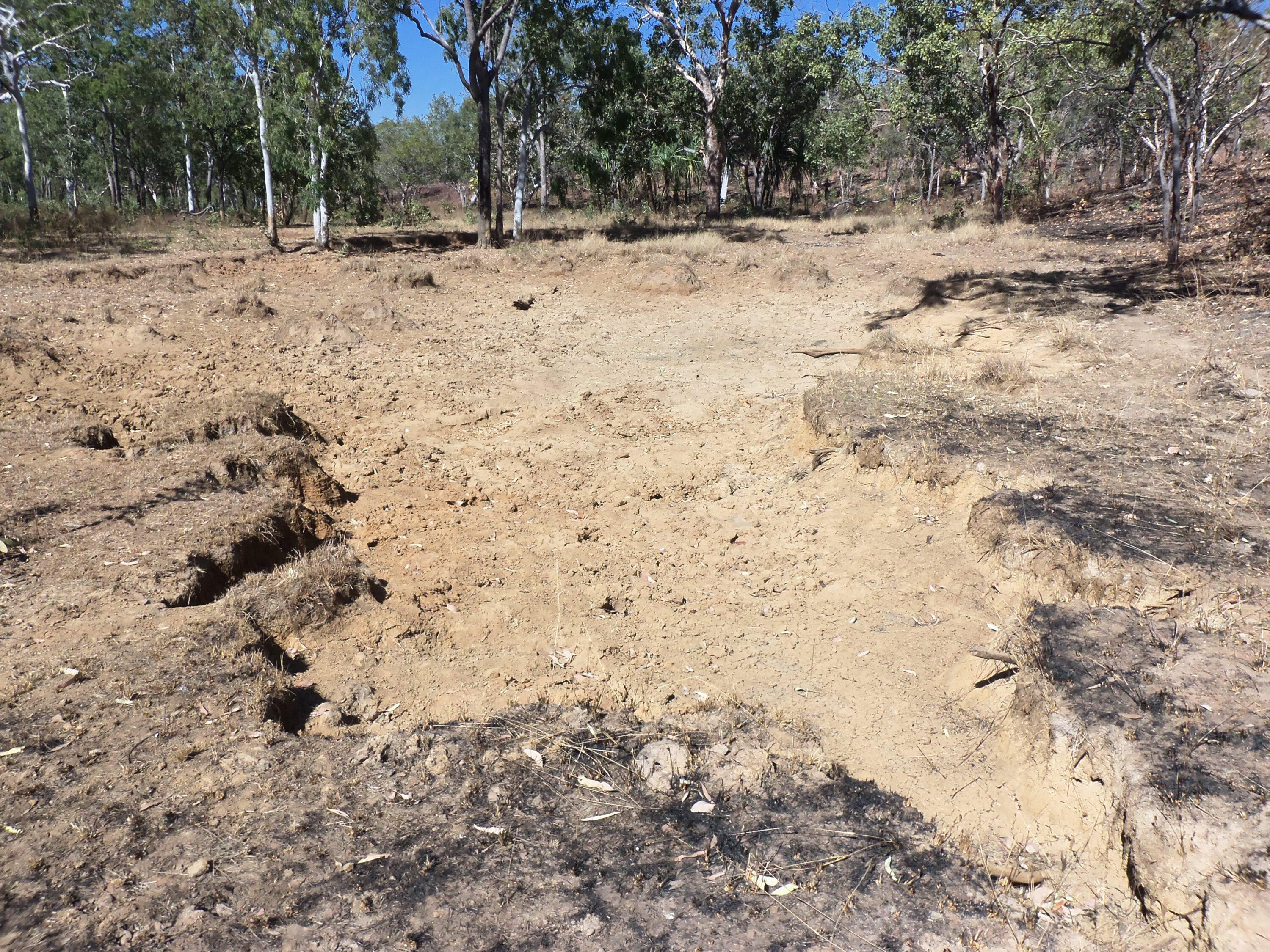 Buffalo Bull and I was ecstatic. All hands were on deck (there were five of us) and it wasn't that long and we found ourselves sitting back at camp around the fire having a few cold ones and celebrating the day just had.
The last day was spent walking along the vehicle tracks searching for a donkey, I really wanted a skin off one but these funny looking horses played the hunting game better than me. The last night was spent packing and organising our gear ready for an early get away the next morning for our road trip to Cairns where I boarded another air taxi and made my way back to the cool state of Tasmania.