Once successful, some who hunt big game will move onto the next species in an effort to secure a grand slam of big game animals and I thought I'd do just that the first time I hunted buffalo in Australia's North. However, obsessed with the magic of the Top End, I'd booked yet another hunt to Arnhem Land. Having secured a respectable bull or two, it wasn't the trophy so much that had me wanting to plan a return trip, but the adventure, the remoteness and mystic of Arnhem Land and all it's beauty that I was missing.
This was the third trip I'd made in as many years with Greg of Greg Pennicott Safaris and to date he'd never let me down. Greg had recently acquired a new block situated in East Arnhem Land comprising of some six million acres, with one flood plain alone estimated at over 100,000 acres and as I'd soon find out, although a little further to get to, it offer some great fishing, a trophy boar or two and a huge number of buffalo.

Arriving at camp, it turned out Mark, a seasoned hunter and excellent guide whom I'd known for years was also guiding for Greg. He'd been out with Rick who was after a big buffalo and also wanted to enjoy some barra fishing as well. Loading the 4WD with all we'd need for the day, we headed out at first light and it wasn't long before buffalo were encountered. The open flood plain was also teaming with a large variety of bird life. At that moment a lone Dingo emerged from a grassy patch surrounding a water hole. It was evident that the cool morning air had wildlife on the move. But that wouldn't last for long, as by mid morning the soaring temperature had already reached the high 30's,
Continuing out into the vast open wilderness, we encountered many small mobs of buffalo cows, their calves and at least one bull per herd. I could see literally dozens of mobs out feeding at any one time, regardless of which direction I faced. In most cases, however, the big old bulls were out on their own, in fact from a distance you could pick them purely by sheer body size. It reminded me of a scene from the Wild West, where the bison once roamed in big numbers and could be seen peacefully grazing in scattered mobs over a vast open area.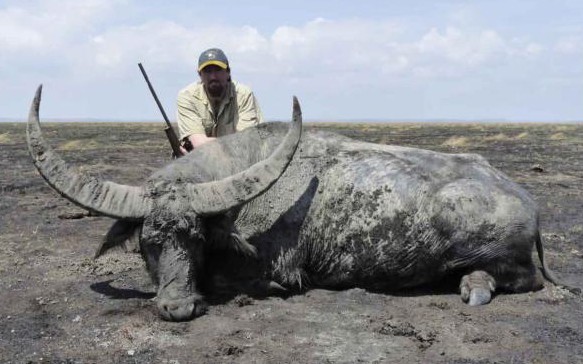 Rick and his big bull.
At times, we'd spot several bulls out grazing in different directions and having a guide that knew at a glance through his binoculars what the head was likely to score, saved driving up too close and spooking the entire mob. Amongst the many bulls we saw that day, Greg had estimated two that would score high, with enormous horn spread, but with four days hunting up my sleeve, we hunted on. The following morning as we neared
the edge of a small lagoon, a mob of pigs were spotted heading back to the bush line. A little further and the outline of a black object gradually materialised into a trophy class boar. He was wallowing in a mud bath on the edge of a water hole in an effort to cool his body from the rising temperature. The opportunity at a trophy class boar is not uncommon while out hunting buffalo in this area and opportunities like this just couldn't be passed up. Chambering a round of .375 H&H into the Blaser R93, I knew I was a little over gunned, but also knew he wouldn't go far if and when hit. Quickly settling the cross hairs on the big boars front shoulder, I slowly squeezed the trigger and it was all over. The boar was in fine condition and weighed approximately 85-90 kilos. A closer inspection revealed an excellent set of tusks and after removing the bottom jaw as a memento of the hunt, we continued on for buffalo. Through out the day, lots more buffalo were encountered, which offered me the opportunity for more filming and photographing.
That evening Mark and Rick spoke of a big old bull they had watched on sunset and were going to return the following morning to take and offered me the opportunity to film the episode.With plenty of time to hunt for myself and eager to do so, we all headed out together that following morning and sure enough, the big old bull was spotted not far from where they'd last seen him. With very little cover out on the huge flood plains, you can virtually sit and glass for hours from a vantage spot and cover many different mobs. Although the bull was still about a kilometre away and unaware of our presence the boys couldn't get any closer as the bull was on the wrong side of a narrow waterway that stretched for about six or seven hundred meters long and trying to cross it by 4WD would probably sink us in the soft mud.
Leaving the vehicle behind, Rick decided he'd close the gap on foot, so he and I headed off leaving Greg and Mark to keep an eye on the bull and us. Eventually close enough for a shot Rick lined then old bull up while I filmed the episode on camera. O.K. I signalled, "take himî. As the bull collapsed, I could hear the vehicle's approach, as the boys had already started to work their way round the muddy waterway to pick us up. Walking in cautiously, Rick delivered a final insurance shot to make sure the bull had expired. After many photos, our guides Greg and Mark removed the cape and horns for Rick then we headed for home. Later that afternoon we ventured out in a different direction and spotted another good boar wallowing in a nearby lagoon. As Rick hadn't shot a trophy boar, I offered him first shot and from the offhand position Rick drilled the boar where he lay. The big old warrior had torn ears from fighting and enormous tusks, in fact they measured just over three inches out of the jaw. As it was Rick's first trophy boar, he couldn't believe his good fortune.
By day four we'd seen literally dozens of bulls and I'd managed some great live photos and footage. Cruising the dusty track Greg spotted a big old bull holding a mob of cows. I thought it quite unusual to see a mature old bull in with the cows as they tend to feed alone, but Greg assured me he was worth a closer inspection. Closing the gap to no more than six or seven hundred yards, Greg and I simultaneously lifted our binoculars for a closer look at his head gear. He looked extremely heavy in the horns but maybe broomed on one side. Greg confirmed all this as he peered through his binoculars. "He's a good bull, probably around 49-50 inches wide" he whispered. Looking at him through my binoculars, I agreed he was a shooter. Although quite heavy from his bases through to the tips of his horns, he was slightly broomed on one side, but very even. The big old bull was holding several cows and wasn't at all impressed we were there. Cutting away from his harem and swaying his head from side to side like a rutting bull moose, he continued to close the gap between us. Heading in our direction and now only
a matter of 30-40 meters away, I could clearly see the rolling whites of his eyes.
"The choice is yoursî Greg whispered. It was now day four of a five day hunt and I'd already passed up several trophy class animals per day, holding out for a truly Jurassic Bull. Greg had estimated his spread from tip to tip at around 49 inches with bases pushing eighteen or nineteen inches in circumference. This bull should easily score what he'd quoted. " Lets take himî I whispered. Chambering a round into the Blaser with safety set, I raised the gun. At that moment the bull took off, rounding up his girls and fleeing in the opposite direction at a gallop. This in turn caused other nearby mobs to spook and within moments it seemed a stampede had begun. Running back to the 4WD we both clambered in and headed in his direction. The huge flood plain could have been twenty miles across and who knows when they'd choose to stop.
Thankfully the bull led his cows away from the other now galloping herds and it wasn't long before they slowed to a brisk walk. Again we tried to cautiously approach for a shot and again the bull fled at a gallop with his team. Finally, after seemingly, a game of cat and mouse, the bull held his ground at the edge of a creek bed. Again leaving the vehicle, Greg and I approached with caution. There was no stalking required, he knew we were after him and he was standing firm this time. Now within 100 yards of the big old bull, it wasn't us who continued to closed the gap, but he who had decided to head in our direction. His decisive steps and swaying head from side to side, made me feel a little intimidated I must admit, however, I had already chambered a round into the Blaser and pushed forward the cocking mechanism, just in case he'd decide to charge. Greg was right beside me and carried a firearm for back up.
Shouldering the Blaser and watching the bull approach closer through my rifle scope, I remember taking a deep breath and squeezing the trigger. The bull turned and in a series of leaps and bounds cleared the narrow creek, then turned broadside towards me. Another shot at less than 80 meters distant and the bull collapsed to the ground. Approaching cautiously, I could still see movement, so I delivered an insurance shot between the shoulder blades as the final coup de grace. Unlike some deer, buffalo don't suffer from ground shrinkage and this guy was enormous. As I approached, his body and horn size seemed to just get bigger and bigger. After much congratulating, Greg ran a quick tape over his horns and revealed the bull would roughly score 106 S.C.I. with a tip to tip measurement of 49 7/8 inches.
Heading back to camp, we were greeted by Mark and Rick who had decided to catch dinner for the evening and had both headed down to the river after their hunt, returning with a fine catch of barramundi and some huge mud crabs. That evening we all feasted on a sea food dinner and toasted our success.
For further details regarding a buffalo hunt in the "Top Endî, Greg can be contacted at Greg Pennicott Safaris on Phone; 03-6254 1381 cell; 0417 105 940 or email; greg@gregpennicottsafaris.com