Corey poses with his first sambar stag, a very nice 23×24 with 23 inch spread.
Corey Night is a mad-keen hunter with bow and rifle. Here he recounts his most memorable hunt for his first sambar.
It was my favourite time of the year, our annual trip down to Victoria to chase sambar in July. It was a long six-hour drive but it was worth every minute. We got there around lunch time on Sunday and that  meant we could go for a hunt that afternoon; nothing like striking while the iron's hot. It turned out to be a very eventful few hours, with my uncle Andy seeing a 25+ incher but not being able to get a shot away in the thick ti-tree. He was devastated but kept at it and looked for him all week, but no luck.
Monday and Tuesday we saw plenty of does and younger stags which we weren't really chasing (let em go let em grow). On the Wednesday it was my birthday and I was hoping for a birthday stag. It nearly happened when I followed some big tracks into a new gully system. A handy stag charged out of the tea tree but did not give me time for a confident shot opportunity, so I just watched him charge through the thick scrub sounding like a bulldozer. To say I was devastated was an understatement, but I was happy with my decision not to pull the trigger.
It was Thursday morning and we were up early, keen to get out there because we had had some rain overnight and consequently,  it would be easy to tell if the tracks were fresh or not. Being the youngest and the fittest I offered to go the highest spot on the hill (best decision of my life). It was only 20 minutes into the hunt when I thought I heard a tree getting smashed not very far away, so I got the rifle up and put it to my shoulder in case he was just in front of me.
As I was looking into the gully below me I saw something move out of the corner of my left eye level with me on the ridge. I looked at it for a couple of  seconds before lifting up my binos to see a stag's head and antlers staring at me. I quickly got the gun and used the tree I was standing at to get a steady rest; all I could see was his head and part of his chest. I put the cross hairs on his chest and pulled the trigger. Adrenalin was pumping, so I got on the radio to tell Andy and Sav that it was me and I thought it was 20-plus inchers or so.
I waited a couple of minutes before heading over there and excitement quickly turned to panic when I couldn't find any tracks or blood. Once I found where he was standing there was blood on the rocks where he was and it wasn't too hard to follow the tracks and lots of blood heading down the hill. He had run about 120m downhill then jumped into a wallow before expiring.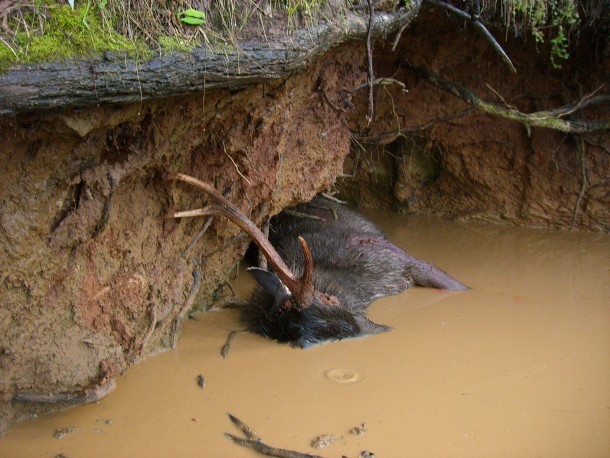 First person to meet me was Andy with a big smile on his face;  Sav wasn't far behind and it took the three of us just to get him out of the wallow. After taking a few photos Lynn came up and helped cape him out and helped carry the meat. I was naturally very grateful for their help.
He went 23×24 inches with a 23 inch spread I am very happy with him.  Many thanks to Ken, Lynn, Camo, Sav and Andy for all the tips and guidance on stalking sambar over the years – it wouldn't have happened without you guys. It took me four years but I finally made it happen.