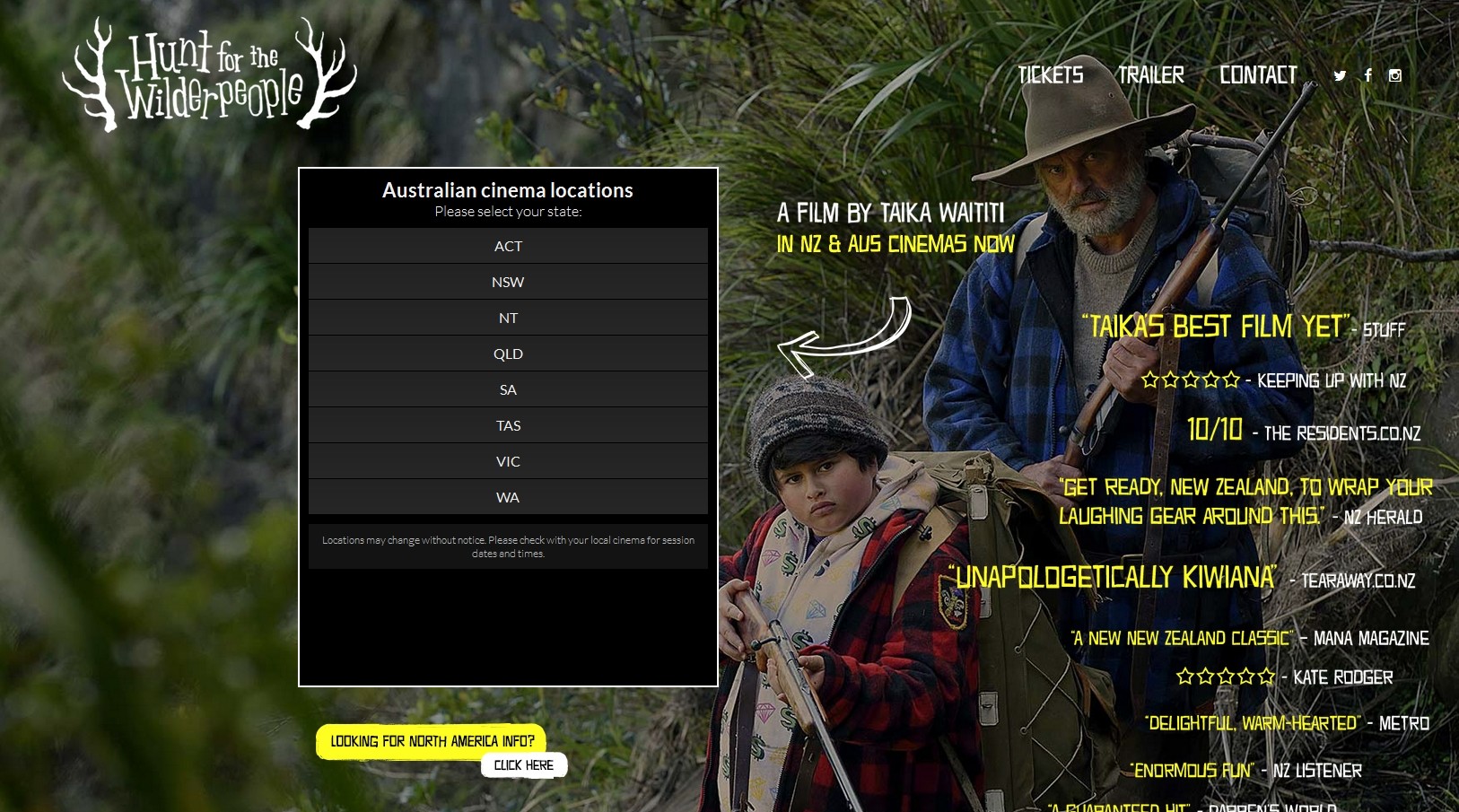 A movie directed by Taika Waititi
Reviewed by Marcus O'Dean
I had the pleasure to see this delightful Kiwi movie recently and can sum it up as a humorous rollicking ride that takes many unexpected turns. The story involves a young boy (Ricky baker, played by Julian Dennison) who has been in strife with the law and the child welfare agency assigns him his last chance foster home with a rough farming couple in the bush – Bella and Hec, played by Rima Te Wiata and Sam Neill.
After a rough start with the taciturn and unimpressed Hec, Ricky starts to respond to Bella's kindness, but Bella's unexpected death leads child welfare to seek Ricky's return. Circumstances lead Hec and Ricky to rove the bush, surviving on their wits and evading the law. Their odyssey leads them to some incompetent hunters, a mad bushman (Rhys Darby – marvellous) and fleeting encounters with the law and the welfare officers. There's also a charming, innocent depiction of Ricky's sexual desires awakening with a lovely Maori bush girl on horseback.
Throughout, the story alternates between slapstick and/or quirky "un-zed" humour and deeply felt pathos and you come away identifying and sypathising with the main characters. Hec, an ex-con who has had a rough hand dealt to him when younger and Ricky end up bonding through their similar shared experiences. Sam Neill plays his best role for years – I just wanted to hug the old bugger – and Julian Dennison portrays intelligence, insight and compassion brilliantly.
Throughout the movie, governments and their employees are portrayed very unsympathetically as patronising, unfeeling and unintelligent. That depiction may be from a shared attitude to bureaucracy by director Waititi and the writer of the book from which the story originated, "Wild Pork and Watercress" (1986). This culminates in a car chase across the bush that descends into high farce, but the story can bear it.
One theme weaved throughout this engaging survival-bonding story is the use of rifles as an integral tool in the bush. Pig dogging scenes include the death of Hec's old kelpie "Zag", shot by Hec as he lay mortally gored after Ricky cooly dispatched a rough monster boar. My wife cired uncontrollably at that point and I had to assure he it was only a movie after all – that did no good. All the way through, Ricky carries what looks like an old BSA rimfire (with a report like .340 Weatherby Magnum) and Hec has a .303 sporter. There were no gasps in the genteel Randwick audience or people walking out because a kid was carrying a gun and shooting pigeons, possums, deer and wallabies to survive; it seems it's OK if it's a story from across the ditch, removed from Australia. Maybe it was an indicator that most of our wider population don't see much wrong with private gun ownership. Who knows!
What I do know, is that "Hunt For The Wilderpeople" is a beautiful, funny, sad exploration of relationships, New Zealand bush life and culture and it leaves you feeling very fulfilled for the experience of viewing.
I recommend every Australian should see this for themselves and demonstrate solidarity for our ANZAC cousins in the process.
Have a look at this trailer.