The Territory beckoned. I'd read countless stories and heard of Australia's so-called last frontier and simply had to see it first hand. Having missed opportunities to accompany my dad and cousin Mick in the past, now was my chance for a water buffalo hunt and although it was a little early in the season, I was eager for a look. It was now or never.
Taking to the sky with my hunting mate (and Dad), we headed for Australia's red dirt country. Dad had organised to meet up with good friend and well-known outfitter Greg Pennicott of Greg Pennicott Safaris, who was in Darwin organising the coming season for his clients. A late wet season had pushed the hunting back a little and although Greg was originally going to take us into an area of Arhnemland he normally guides on, he suggested we hunt a little closer to Darwin because the roads to his other concession were still under water and inaccessible.
Before I knew it we were in Darwin and greeted by Greg. After a quick g'day, we commenced the three-hour drive East from Darwin to an area just beyond Bark Hut, where we'd be camped for the next five days hunting. The drive out was all I'd imagined; in fact we saw dingos, pigs and even the odd buffalo on the way. Contrary to my expectations, Greg had arranged for us to stay in luxury at Point Stuart Wilderness Lodge, a four star complex for barra fishermen with bar, restaurants and a swimming pool … minus the crocs. I wasn't going to argue with that and neither was dad. Discussing the next morning's plan, Greg mentioned he'd spoken with the property owner prior to our arrival and had been told a nice bull had been seen in an area of the property that would fit the bill for this eager hunter.
Just before daylight the following morning we headed off and pretty soon we had binos out, scouting the flood plains for buffalo. Later, we met up with the property manager who was out doing his rounds and he assured us there were plenty of buffalo about and he had seen a good bull or two in the last few days. Taking his word for it our guide Greg drove us to a secluded area the manager had indicated the bulls were in.
The huge floodplain supported an abundance of bird life and after a closer look, to my amazement, a small herd of buffalo. "They're only cows and calves", Greg muttered and shortly after, "Quick Mick, there's a good pig!" he shouted. Lifting my binos, I could see the boar heading out of the flood plain and directly at us towards the safety of the bush. Locating a good rest for my rifle, we all waited as the pig closed the gap to around 120 metres and stopped. That's all I needed to send a shot from the .375 H&H in his direction, dropping him where he stood. "A little over gunned for pigs", dad commented, but what the heck! I was hunting buffalo. After a few photos we moved on and continued our search for buffalo.
As time passed we sighted a number of buff and later Greg's attention was drawn to some movement in a dense paper bark swamp that led out into another flood plain. It was a mob of cows with a decent-looking bull some 400 metres behind. A closer look revealed a respectable bull, but as the day grew shorter and we were running out of time, we decided to leave them undisturbed as it was only the first day of our hunt.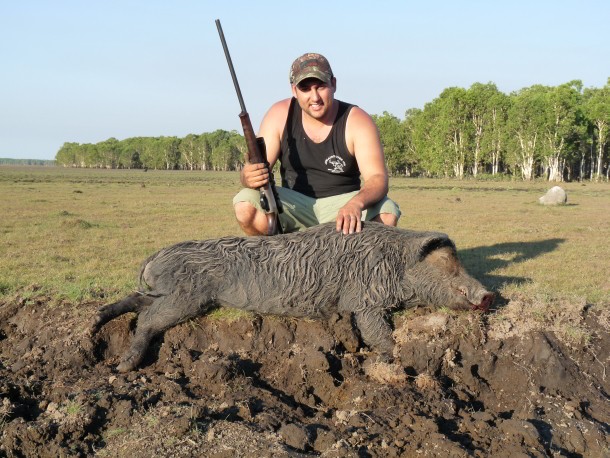 The following morning we headed out at first light again and in no time were glassing the flood plains. A family mob of pigs, a lone dingo and a couple of scattered buffalo could be seen over the large expanse. What a sight! Again Greg noticed some movement in a fairly dense patch of timber and a mob of buff slowly materialised, working their way to the edge of a nearby swamp. As luck would have it, the buffalo seemed to be working a pattern and sure enough, one by one, they soon became visible emerging from the thick timber and into the open flood plain. The cows moved out into the open with their young but back at the swamp, we were soon greeted by what seemed like a nice representative bull, hot on their tails. With plenty of time still in our favour we remained were we were and watched the bull.
Greg was confident the bull would score in the high 90's and knowing where he was, decided we'd check one final place before making any hasty decisions. Backing away and only a short distance down the track, we were greeted by another bull standing broad side at less than 200 metres. Working our away a little closer, we glassed the bull and Greg suggested he wasn't as good as the one we'd just passed up. A little further on we saw more cows and calves but no bulls.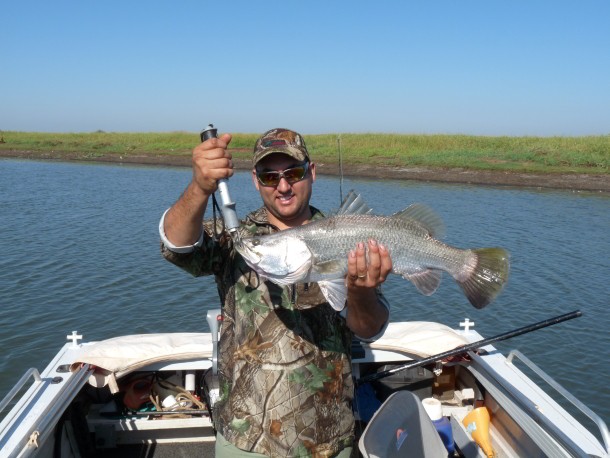 After lunch, mindful of what had transpired, I asked Greg to take me back to the original bull's location to see if we could find him again. Moving on to where we had last seen the bull, Greg suggested we make our approach similar to our earlier walk, in the hope the bull would still be near the mob of cows.
Grabbing all our gear, we slowly made our way around the water's edge using the paper bark trees as cover. Gradually closing the gap, Greg spotted the bull with his cows on the water's edge several hundred metres ahead. He was now in with them and obviously one of the cows was on heat, keeping him there.
Leaving dad behind with the camera to capture what was about to unfold, my blood began to pump in an almost fast forward motion from the sheer excitement of the unfolding scenario. Using the last few termite mounds as cover, Greg took one last look at the bull through his binoculars to ensure this was the same bull as previous and confirming it, he motioned we move in for a shot.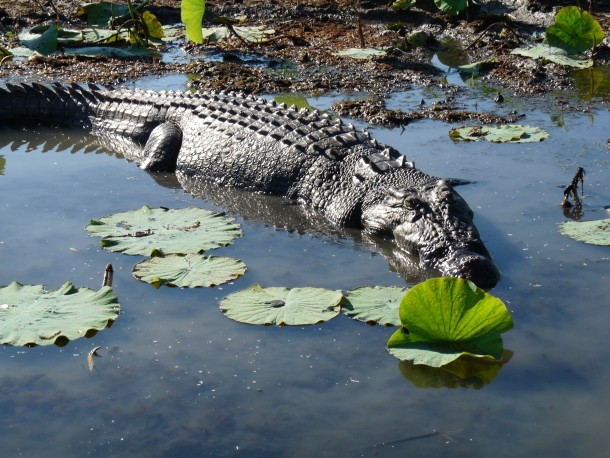 Greg stressed to make the first shot count and then let him have another for reassurance, as the deeper he entered the water, the harder he would be to retrieve. With every last square inch of ground we could take as cover in order to make the shot successful, we pulled up at about 100 metres from the unsuspecting bull.
He was now standing broadside as I raised the Blaser .375 and placed the cross hairs just behind his front shoulder. Slowly squeezing the trigger, I lost sight of him momentarily due to recoil, but finding him again it was evident he'd been hit solidly, causing him to spin almost 360 degrees. I didn't waste any time placing a second shot into his vitals, which ensured that he went down for good.
Dad and Greg were over in a flash to congratulate me and I was on cloud nine with another dream now reality. Setting the bull up for a few snap shots we were quickly onto caping the beast out for a shoulder mount on the water's edge and another day had come to an end.
With another day still up our sleeve, Greg suggested we do a little Barra fishing and, after setting the deal up that evening at Point Stuart, all was in place for the trip. The Mary River is where we'd be fishing and it's also home to some of the biggest crocodiles in the Territory. The rivers banks were teaming with birdlife, wallabies, and an assortment of flora. A relaxing half day on the water with our fishing guide Jay was all I needed to top off a very enjoyable and successful trip to Australia's Top End. As it turned out I was the only fisherman amongst the trio, because I was the only one lucky enough to catch a couple of barramundi, with one for the frypan. Greg joked his lure was of camo pattern and probably why he hadn't caught anything. "They couldn't @#%$ing see it". That's typical of Pennicott. For details of a hunt with Greg Pennicott phone him on 0417 105 940.