Tetra offer a huge range of superior gun care products to ensure your firearms are cleaned and maintained in top condition. To do so they offer high performance cleaners and solvents for the removal of lead and copper fouling, Action Blast for degreasing, plus gun grease, lubricants, oils and wipes to assist in preventing rust, while ensuring metal parts are protected and well lubricated.
Tetra's bronze brushes, mops, patches and premium cleaning rods are also a big part of their professional gun care range in fact they even produce a "Gun Care" vise for all your "do it yourself" gunsmithing like mounting a scope or simply cleaning a firearm. Referred to as the Provise or the Professional Gun Care Vise, it's strong, sturdy and features rubberised parts to protect your firearm from scratches. Approximately 28 inches long and ideal for any longarm, the Provise as the name implies actually allows you to clamp the stock or butt of a firearm and hold it safely in place while you work on it.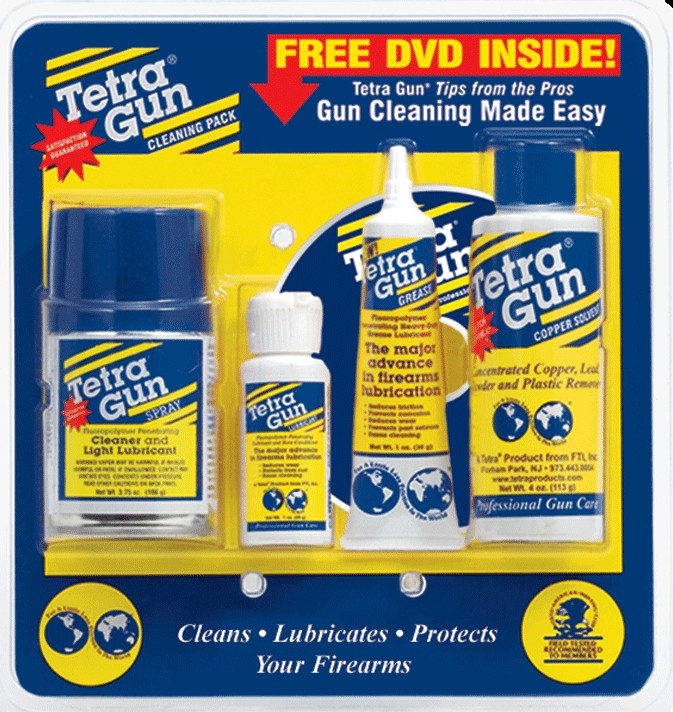 Have you ever been cleaning a firearm and accidently knocked over the oil or solvent bottle, well this shooter has and for that reason I must also mention this vise has provision on the base of the unit via moulded "holders" to house small bottles and tubes and eliminate that very problem. Well though out, the Tetra Professional Gun Care Vise also features rubber feet for non-slip grip to a table or bench. Ask to see the full range of Tetra Gun Care products at your local gun shop. Trade enquiries contact Australian agents for Tetra-Outdoor Sporting Agencies or visit www.osaaustralia.com.au
Check out the cleaning video the Sporting Shooter team made a while back here.