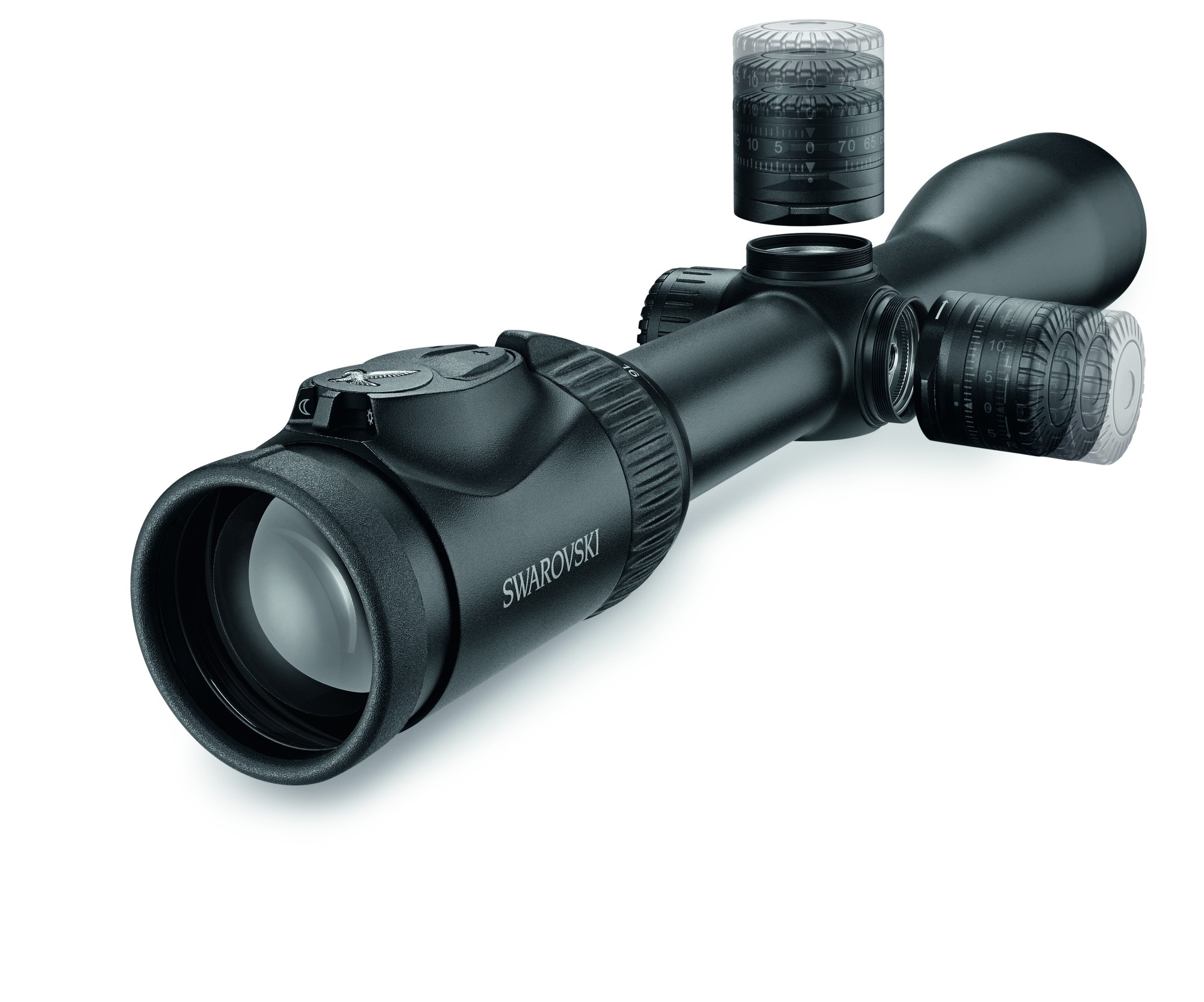 At the March Wild deer Show, held in Bendigo, Victoria, Swarovski Optik Australia announced their new range of Z8i riflescopes. The Z8i as the name implies offer an 8x zoom that has been integrated into a 30mm tube with other features I had never seen to date. In my opinion, Swarovski are leaders in innovation and quality when it comes to top-of-the-range optics and the new high-performance Z8i is no exception.
In addition to its 8x zoom capability that offers high magnification and a large field of view, this scope also offers the optional extra of FLEXCHANGE- the first switchable reticle 4A-IF which was developed by Swarovski Optik to accommodate different hunting scenarios in Europe. For example, on driven hunts where quick, off-hand shots are the norm, the new 4A-IF reticle has an illuminated ring that can be switched on or off with the press of a button. Designed more so for low magnification, point and shoot scenarios, the illuminated ring allows you to swing and shoot on moving game, with ease via its fast target, illuminated ring. While Flexchange is available for all four scope models in the Z8i series, it is more suited for low magnification at close quarters shooting, but equally at home if desired for longer distance shots.
Next, their Ballistic Turret Flex (BTF) can be configured separately using three different types of rings and attaches by simply clicking it on/off. Designed to be used as a top or side turret, the BTF makes it possible to stay on target at your desired distance. If it is used as a top turret, it compensates for bullet drop, or when used as a side turret will allow windage adjustment or estimate lead distance. As an optional accessory to the BTF, Swarovski also offer Personalised Ballistic Ring (PBR) for individual adjustment to all the relevant hunting distances. This PBR is engraved, based on the personal data input into the Swarovski Optik Ballistic programme and adapted to the ammunition selected.
The Z8i will soon be available here in Australia in 1-8 x 24 (optional 4A-IF reticle), 1.7-13.3 x 42 (optional 4A-IF reticle), 2-16 x 50 and 2.3-18 x 56mm.
Although I haven't had the opportunity to test the new Z8i on a firearm as yet, I did have the opportunity to take a look at one at the show and like all Swarovski Optics, they offered excellent clarity, sharpness and field of view. At the time of writing I was told the new Z8i would be available around June, so we will no doubt test these scopes in an up and coming issue once available. Meantime ask at your local authorised Swarovski outlet or visit www.swarovskioptik.com for further details.