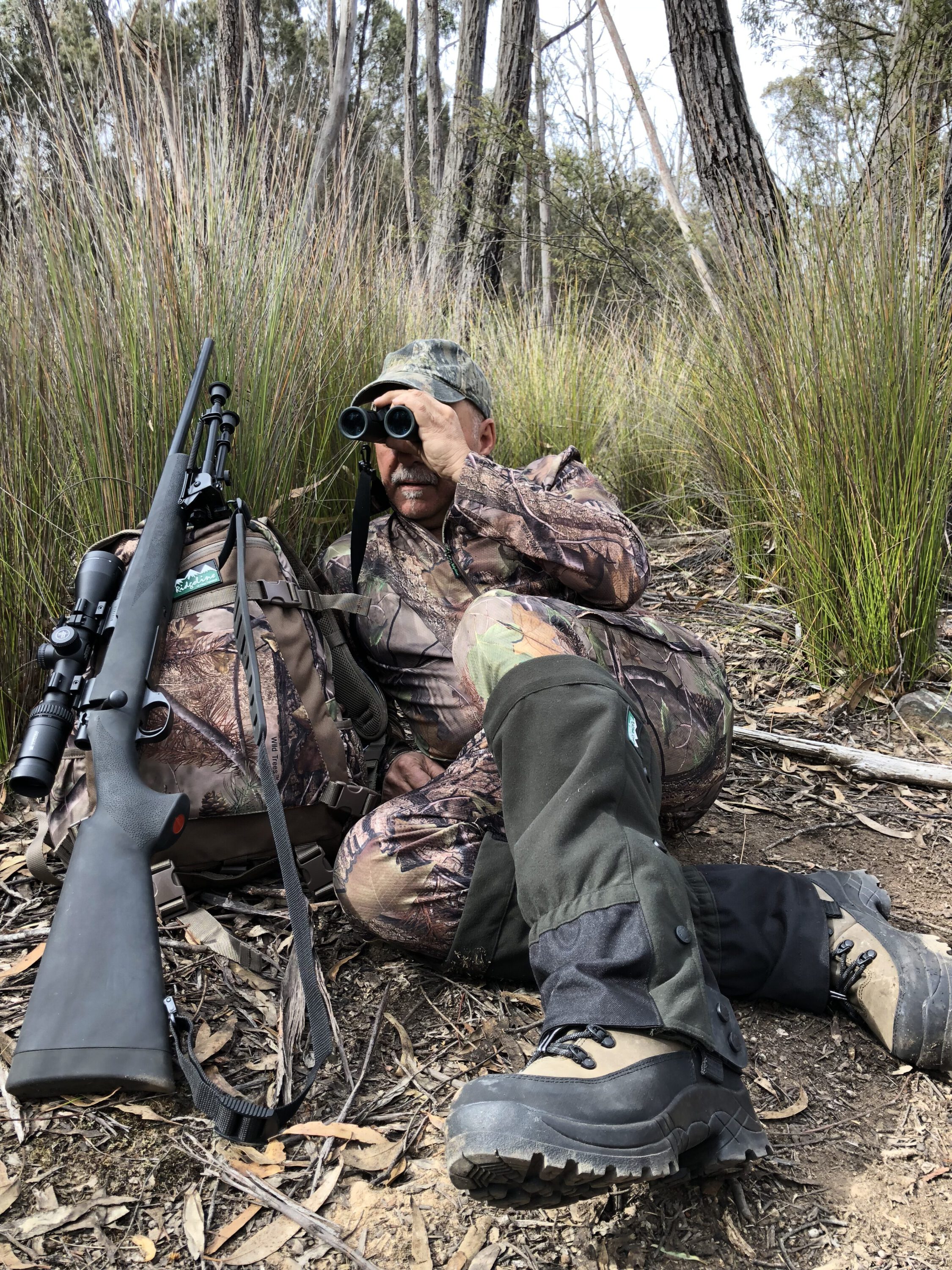 Tony in the field in Ridgeline Defender Gaiters and Apache boots.
Over years of hunting I've worn the soles of many a new pair of boots, some of which were quite pricey. In recent years though, I've been using Ridgeline's Apache Boot for around the hills and their Warrior High Cut in the steeper country. Both perform well with the only noticeable difference being the high versus a low cut. I personally find the high cut gives a little more support around the ankle and also when wearing gaiters they offer a little more body and fit for my gaiters. In fact I wore my Warrior High Cut boots on a recent chamois hunt in New Zealand and found they stood up to the test well. Made from full grain Nubuck leather with HydroGuard waterproof membrane and a 200g Thinsulate insulation layer not only ensures they remain dry on the inside and hence comfortable to wear, but also offers extra warmth when up in the high country's snow and ice. Add to this a full rubber rand around the base to protect from knocks and bumps and I found this boot very lightweight, yet tough enough to tackle rough, rocky terrain.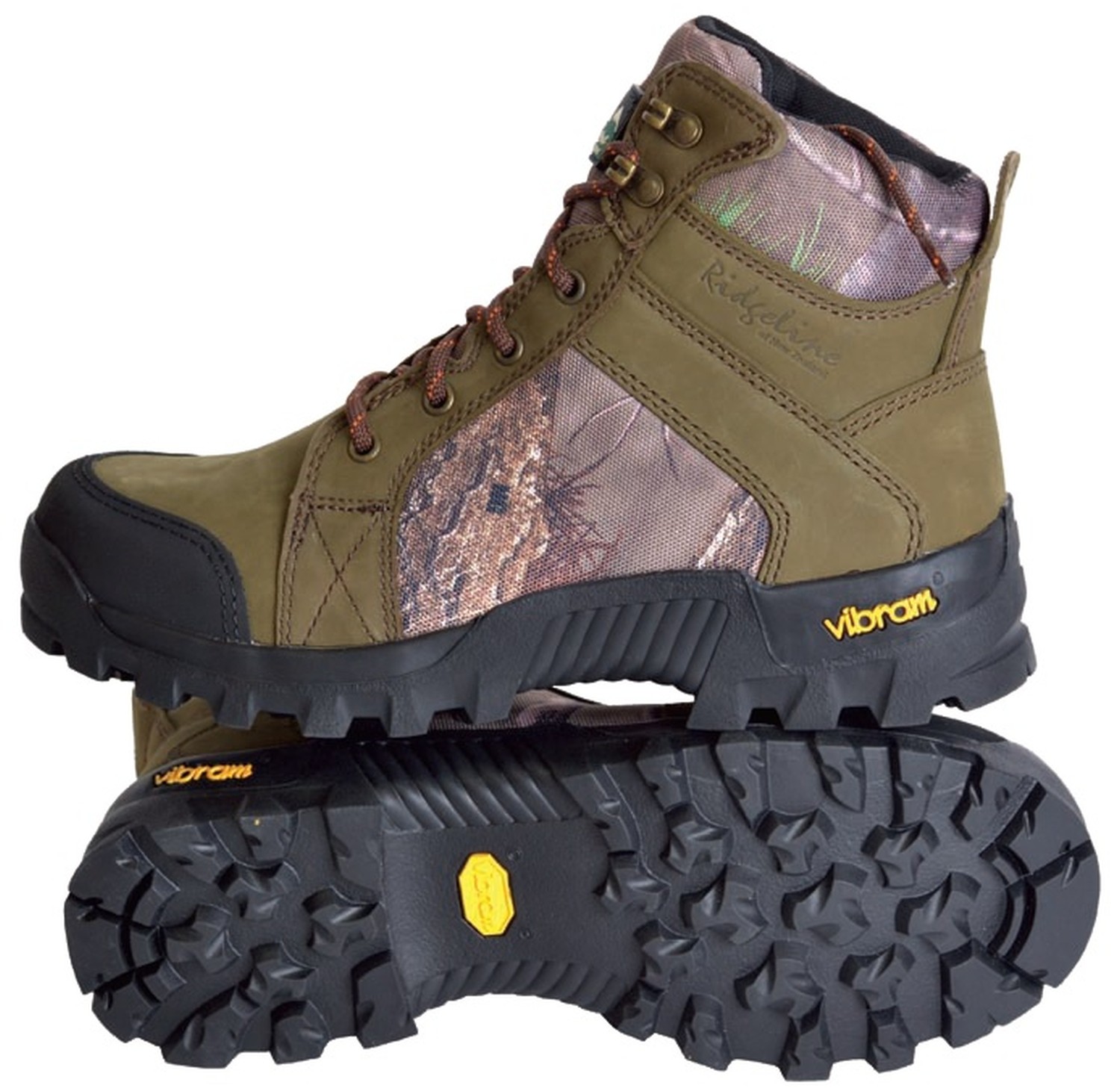 Ridgeline Arapahoe Boots
As mentioned in previous tests, I personally don't like a super stiff sole. Some will argue that in steep, rocky terrain you need a boot with no flex at all. But this only results in sore feet at the end of the day for me. While Ridgeline's Apache and Warrior is not a super stiff boot, they have just enough flex in the sole for comfortable hiking and ticked all the boxes for me, including their price tag.
Ridgeline recently released another well-priced boot to their range for the Aussie outback referred to as the Arapahoe boot. Make no mistake, these boots are built tough, but in my opinion are more so for the lower hills and would suit most of what Australia has to offer including the top end as they are lightweight, breathable and extremely durable. The Arapahoe boot offers a blend of traditional Nubuck leather with durable denier canvas nylon camo inlays. These boots are extremely comfortable to wear, while an inner membrane keeps them waterproof yet breathable. Next a Thinsulate lining helps regulate foot temperature in warmer weather and a highly supportive mid-sole ensures the ideal boot for tramping around the Aussie bush. Featuring a rubber rand around the toe area also offers protection to the boot while a high-performance Vibram sole ensures their comfort underfoot and excellent traction.
Ridgeline recently sent me a pair of Arapahoe boots to test and I was amazed at how lightweight they were. The construction of these boots has been well thought out as the Nuback leather wraps around the heel, ankle, mid step and toe area where support is most needed, with camo denier canvas panels for breathability where it counts. This low-cut boot also features a well-padded tongue with a series of lace eyelets and quick-hooks at the top for easy lace removal when wet or muddy. The new Arapahoe boot also comes with a bonus boot bag and spare pair of laces, something most manufacturers don't think of. The Arapahoe boot retails for around $180.00, the Apache Boot (low cut) around $200.00 and the Warrior Boot (high-cut) around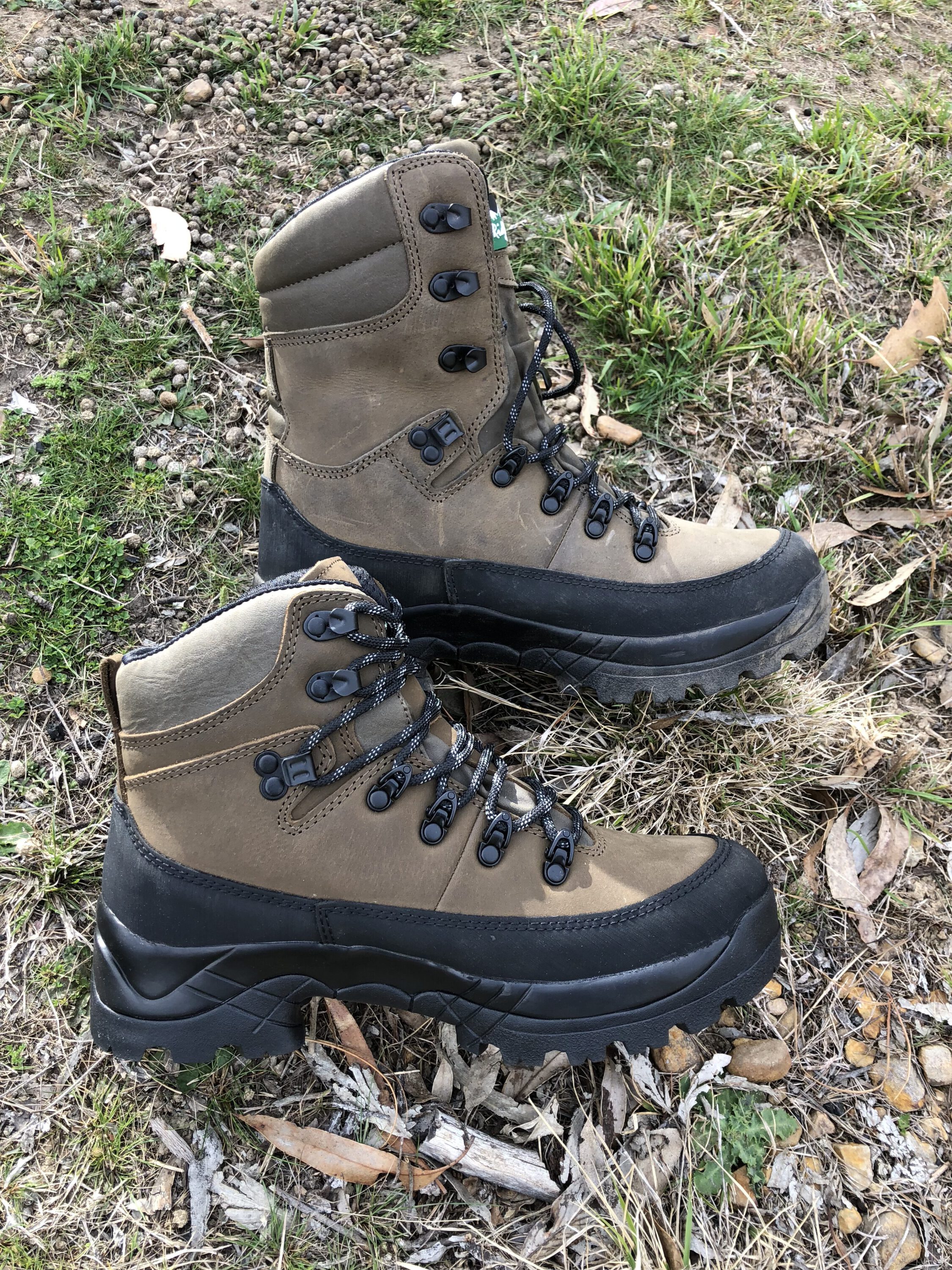 Ridgeline Warrior and Apache boots mentioned in text.
$225.00 but shop around as I've seen them better priced in some stores.
To compliment their boots Ridgeline recently released their new range of "Defender" gaiters. At a glance I note they have been designed slightly longer than the previous model. This is a welcome change as I found unless the gaiters came up over the top of my calves they had a tendency to slip down when walking or hiking regardless of how tight I strapped them on. Again, these gaiters have been well thought out as the bottom section is constructed of a tough nylon web material with waterproof membrane on the back and the upper section, a super quiet, tough polyester with waterproof backing that won't spook the game as you stalk through long grass. Next, a full-length YKK zip and over-flap with press-studs ensure a secure, waterproof and snug fit. Add to this a Velcro strap at the top and mid section of the gaiters, an elasticised centre-band and a non-slip fabric strip at the top ensures they are guaranteed to stay up. Like all good gaiters, a front lace hook and provision for under-boot strap is also provided. The new Defender gaiters by Ridgeline are available in the choice of Olive or Nature Green Camo and a size to fit S/M or L/XL. They retail for under $80.00 a pair and are excellent value for money. Ridgeline has come a long way over recent years to provide hunters and outdoorsmen with an innovative range of outdoor clothing, boots, backpacks and more at realistic prices.
Ask to see them at your nearest Ridgeline outlet or visit www.ridgelineclothing.com.au