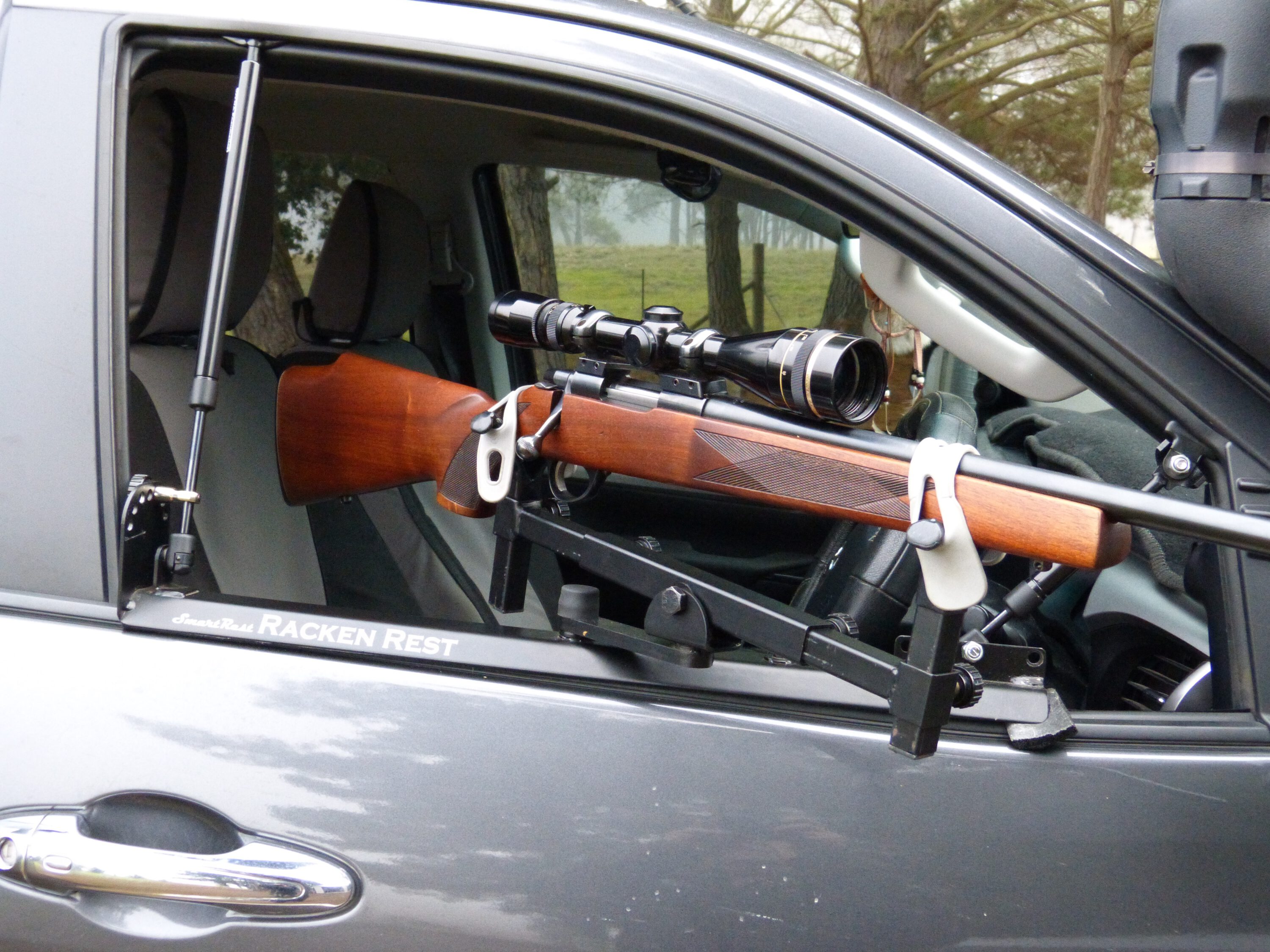 The boys from Eagleye have come up with yet another great idea to compliment the SmartRest range of gun rests to better your accuracy when out shooting from a vehicle. Referred to as the Racken Rest this unit is designed for use as a window-mounted gun rest. The Racken Rest can be mounted in seconds using gas struts and a padded base that fits snugly along the top of the windowsill.
In past when out spotlighting at night alone, I always struggle to quickly get the firearm out the window and into position for a shot, however, the Racken Rest has taken care of that as your firearm is actually secured to the rest and safely held in place even when driving around in the paddocks. When required all you need do is swing and shoot. The Racken Rest performs smoothly from side to side or up and down so you can follow a moving target and hold with accuracy. The tension of vertical and horizontal movement can also be controlled and the main frame of the unit is fully adjustable in length and height so almost any firearm can be cradled, secured and operated with safety in mind. What's more it can be used for left or right handed shooting and can be mounted in the driver or passenger windows of a vehicle.
The Racken Rest is made of powder coated steel, premium grade struts and nylon washers and bearings. Tension can also be controlled for vertical and horizontal swivelling. Like all the Smart Rest range, the Racken Rest is designed by hunters for hunters. So the story doesn't end there either. Recognising the fact that some vehicles have smaller windows like Land Cruisers and land Rovers, or even rear window mounting, the boys at Eagleye have also released a Short Base Model and optional Double Swivel Mount. As smaller windows would naturally give less freedom of movement the double swivel mount allows a lot more play which drastically increased the amount of movement and scope you have in a smaller window space. While the Racken Rest fitted my Hilux window like a glove, I actually had the optional double swivel mount added to the larger version of the Racken Rest as I prefer sitting a lot closer to the wheel which restricts my movement out the window. The Double Swivel mount took care of that offering me a lot more play when getting the firearm into position for a shot. There's lots to be desired and loads of features with the new Racken Rest. To find out more check out their video promo at www.eagleyehg.com.au or ask at your local gun shop.