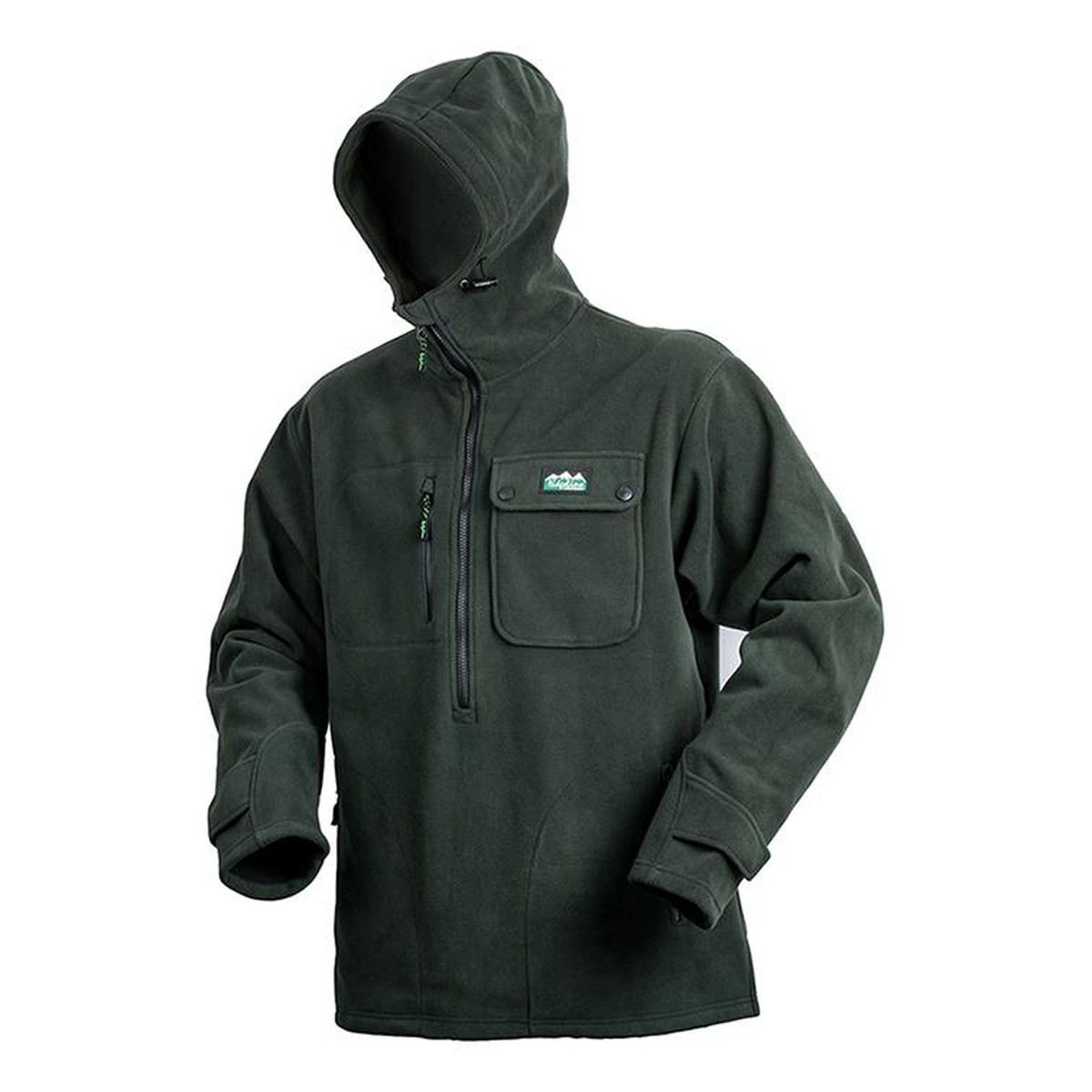 In 2019 Ridgeline has introduced a host of new products to their extensive range of outdoor apparel. Jackets, pants and tops for hunting, around camp or getting together with friends are all a part of their range. There is a full range of gear designed specifically for adult male, female and children. Add to this a host of associated product like backpacks, travel bags, head wear, boots and lots, lots more. One new product that caught my eye is the Cyclone Smock. Constructed of Southern Star 300-microfleece, it's warm, windproof and very hard wearing.
Featuring a high collar with fixed hood, the Cyclone Smock is ideal for cold weather and offers a zip-up front, Velcro cuffs and draw chord around the hood to keep the wind out. Next, zipped, dome hand pockets and double chest pockets offer plenty of room for the essentials and an extended back/tail will keep your arse warm when seated glassing, riding the quad bike or driving the tractor.
The Cyclone Smock in olive colour is available in sizes S to 5XL and retails for under $100.00.
Another great new product from Ridgeline is their Recon Bino Harness.
Lightweight, versatile and fully adjustable, the Recon Bino Harness is designed to not only protect your binoculars, but also offer a more comfortable way to carry them, distributing the weight evenly across your shoulders, back and on your chest. Unlike a few models I have tried, the Recon Bino harness by Ridgeline will accommodate a variety of full size binoculars. My binos are full size with built in range finder and hence a little more bulky that others, so I found they were awkward to remove and replace from the pouch. The Ridgeline Recon Bino harness is a lot more generous in space and design, offering a lot more room and also features two internal removable cushions and an elasticized draw chord around the protective top to take care of movement once fitted.
I've always used a bino harness strap on my binoculars and while very comfortable to wear didn't offer any protection to the binoculars themselves via a harness or bag on the front. The Recon Bino Harness offers the same comfort but with the added advantage of complete protection to my expensive optics with snug fit and comfort in wearing. In addition, the harness also features a front zip-up pocket for mobile phone or ammo and small side pockets for my powder puffer and fox whistle. The Ridgeline Recon Bino Harness also includes a rain cover and separate, detachable rangefinder pouch in Natural Green camo. All this retails for around $120.00. Ask to see them at your local gun shop or visit www.ridgelineclothing.com.au for a look at their new catalogue.