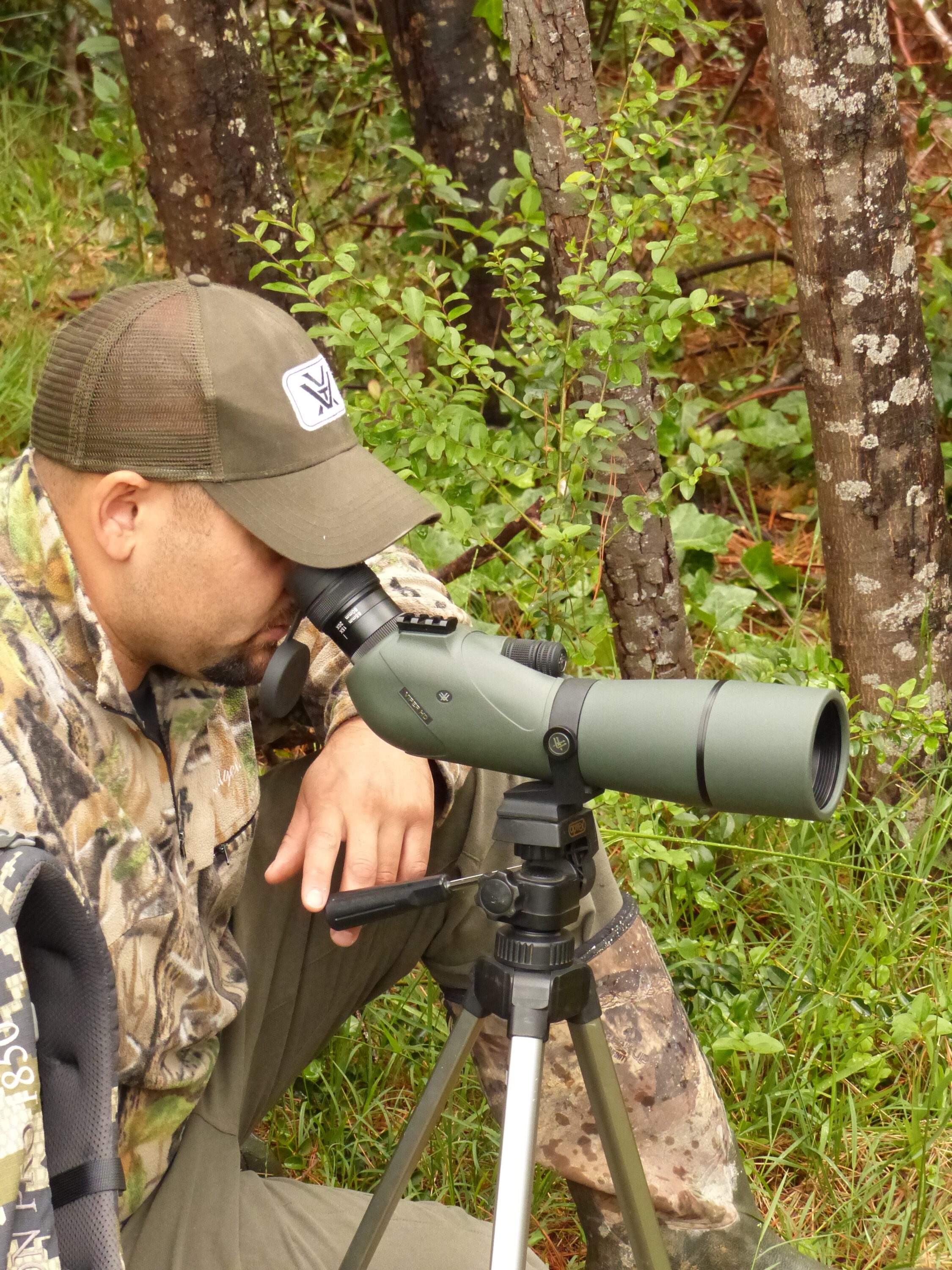 Vortex Optics are an American based company who have rapidly gained momentum here in Australia with their fine range of riflescopes, binoculars, spotting scopes and more. Add to this their VIP (very important promise) unlimited lifetime warranty and you simply can't go wrong. In short, this means Vortex will repair or replace your Vortex product in the event that it becomes damaged or defective.
In addition to an excellent range of binoculars and riflescopes, Vortex also offers an excellent selection of spotting scopes. These include the Diamondback in 20-60 x 60mm or 80mm objective in straight or angled body design and an excellent range of premium HD (high density) spotters in their Razor HD and Viper HD models.
While the Razor HD is at the pinnacle of their range, I chose to take a look at the Viper HD spotting scope for field purposes. Now I say field purposes, so while the Viper HD is available in the choice of 65 or 80mm objective, I chose the 65mm purely to eliminate a little extra weight when backpacking into alpine country where every extra gram counts. Sure the 80mm objective might offer a little more light transmission and clarity in low light, but that's the compromise I make for a little less weight when back packing. Under normal conditions though, you won't see a lot of difference particularly when both offer the same HD extra-low dispersion glass and anti-reflective coatings. In fact I'm told their XR fully Multi-Coated proprietary coatings actually increase light transmission with multi anti-reflective coatings on all air-to-glass surfaces. And overall, you get very impressive resolution and colour fidelity.
Another consideration was the choice of straight or angled body design. I find the angled body design works well in the field, as once attached to a tripod, you can view a subject through the ocular end quite comfortably while seated down low or standing. Some will argue that a straight body works better when used in a vehicle, however, Vortex have taken care of that in this particular model, with its "rotating tripod ring" which allows you to rotate the angled eye-piece to a sideways position and hence providing adjustable viewing angles.
Like all Vortex spotting scopes, the Viper HD is "O" ring sealed and Argon gas purged to prevent moisture and dust penetration, so all are water, fog and dust proof. Next, an adjustable eyecup ensures comfortable viewing with or without glasses and Dual-Focus wheels allow for fast and fine adjustment at your fingertips. To reduce glare this model also features a built–in sunshade that will also reduce rain or snow hitting the lens in poor conditions. Finally, this scope also features a small Picatinny rail system to allow attachment of a red dot sight or other accessory. While the Viper HD features a rubber-armoured body to absorb knocks and bumps, Vortex also offer an optional, made to measure neoprene spotting scope cover for extreme weather conditions and total protection.
To compliment your spotting scope when out hunting Vortex also offer a range of tripods and window mounts. When out fallow hunting I often glass from my vehicle at a high vantage point overlooking miles of country. Once I've located a mob of deer I plan a stalk. To do so, a window mount for my spotting scope ensures a steady rest. A tripod is of equal importance in the field and not only serves me to attach a spotting scope to for trophy evaluation, but can also be used when taking video or photos.
Last but not least, Vortex also produce a range of Phone Skopes for digiscoping. These custom moulded adaptors simply fit over your mobile phone and look very similar to a normal protective phone case, but feature an eyepiece adaptor that can be attached when required for attachment to your spotting scope. While the phone skope is the ideal way to capture amazing photos or video through your spotting scope, it's equally at home as a simple screen to view your target without having to look through the eyepiece. Precisely engineered to fit several models of smart phones, they are the absolute way of the future for budding wildlife photographers and videographers.
To see the full range of Vortex Optics ask at your local gun shop or visit www.extravision.com.au