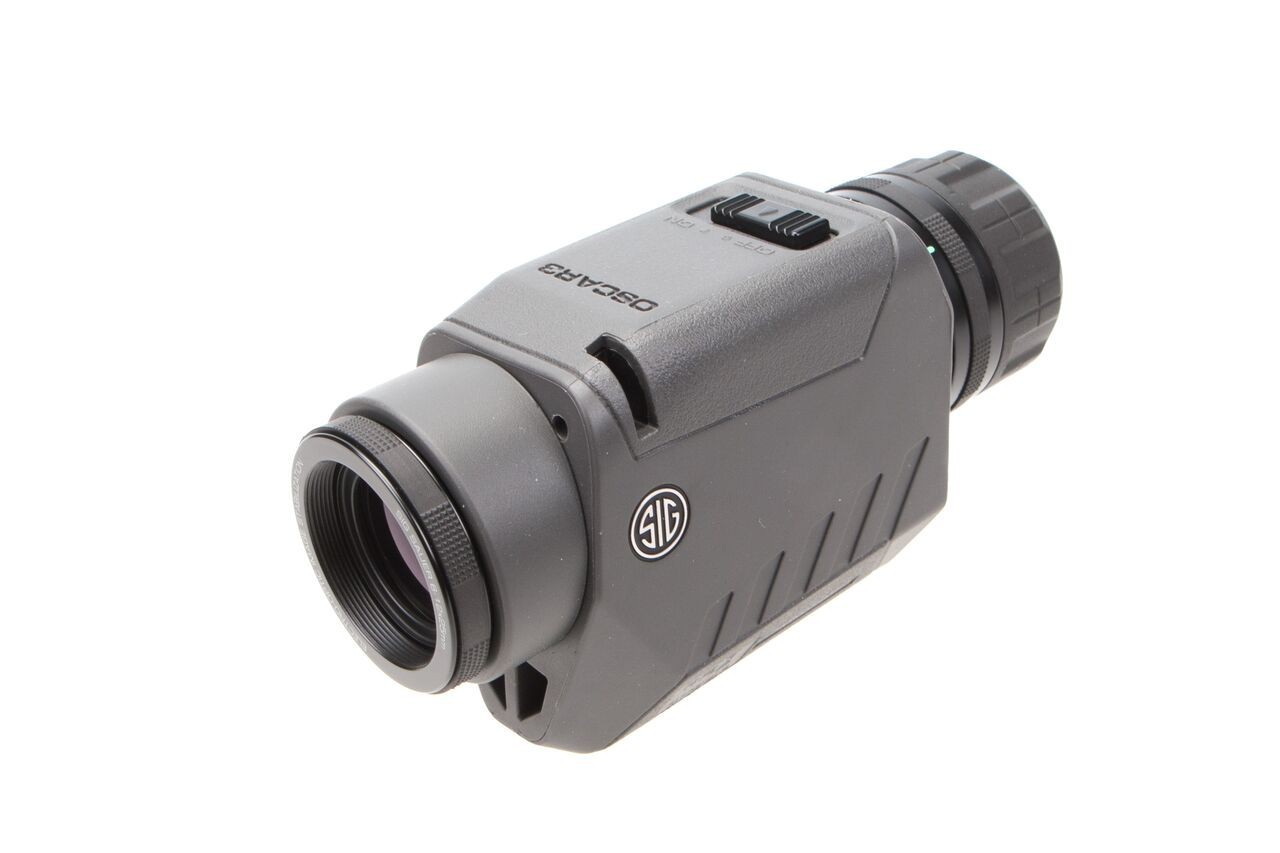 If you are a serious alpine/backpack hunter you'll probably carry a spotting scope and tripod for antler/horn evaluation at long distances. On many a chamois and tahr hunt in New Zealand I did, in an effort to evaluate the horns from miles away which saved a lot of leg work and energy. Trying to evaluate a set of chamois horns with only a pair of binoculars simply didn't do the job, which resulted in having to cross a lot of steep country only to find my quarry was to small or in fact a nanny not a buck. Hence the need for a spotting scope.
SIG SAUER , well known for the handguns among other product has recently added a range of optics to their portfolio of product referred to as the SIG Sauer Electro Optics Range. This incorporates riflescopes, binoculars, Red Dot sights and more. One such product is the SIG Oscar3, a mini spotting scope that features an innovative electronic image-stabilizer. What a great idea for backpack hunters. If you do a lot of alpine hunting and cart a spotting scope and tripod around to evaluate game at long distances then the new SIG Oscar3 mini spotter will take up a lot less space and will weigh a fraction of the weight of a conventional spotter and tripod.
The Oscar3 spotting scope by SIG is a 10-20 x 30mm spotter that will fit in the palm of your hand and thanks to this industry first innovation the image stabiliser takes the shake out of trying to hold a spotting scope steady without the use of a tripod. The way it works is via its proprietary SOS (SIG Optic Stabiliser) system that gyroscopically stabilises the unit to cancel out the shaking and vibrations. All you need to do is switch the "on" button and the image you are viewing stays perfectly still. This also works at the spotting scopes higher magnifications.
The unit also features a focus ring on the ocular lens and I'm told, to get the most out of the unit start at the lowest magnification with the stabiliser "on" then slowly wind it up to the required magnification for the best shake free result. While the Oscar3 does not take the place of higher magnification spotting-scopes, I'd imagine the biggest benefit of this unit is the fact you can cut down the weight in your backpack while still having the luxury of high magnification optics for long distance evaluation.
To find out more about SI's exciting new range of optics contact your local gun shop or visit Australopithecus Trade enquiries to Outdoor Sporting Agencies.